Come and walk in our beautiful rolling Shropshire hills and raise money for blood cancer research.
"A great route and a great cause"
This circular Ramble (23 miles) runs between Bishops Castle and Clun, taking in Bury Ditches, the Walcot Estate and bits of the Shropshire Way and Offa's Dyke. It divides into a fairly gentle Amble (10 miles), more challenging Scramble (13 miles) and shorter distances if you choose.
We mark the routes thoroughly with arrows, and send detailed maps with full directions in roughly 3-mile sections to your email address: "the best marked route, by far, we have ever been on".
Enter here by donating £10 per person to Blood Cancer UK then contacting jeanshirley@btinternet.com for your pack and further information.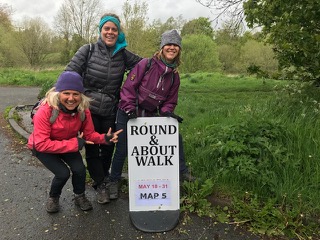 Apply between March 1 and May 16. After that, you decide when to walk between May 17 – 30, on which route or routes and with whom.
You provide your own refreshments and, most importantly, are responsible for your own safety.
Our first aim is for you to enjoy the walking and the scenery. If you feel able to get sponsorship for Blood Cancer UK, that achieves our second aim to help beat blood cancer, and makes us very happy. Please give your friends the following link. FACEBOOK
Places to eat along the route
BISHOPS CASTLE
The Castle Hotel, The Square (01588 638403)
Food served Mon – Fri. 12.00-14.30 and 18.30-20.45

 

Sat/Sun open all day including breakfast 08.00 – 9.30
The Chai Shop, High Street (07790 194782)
Food served Tues – Sat. 12.00 – 18.00
The Ganges Balti Restaurant, 12 Market Square (01588 638543)
Food served daily between 17.30 and midnight
Sat/Sun also open for lunch 12.00 – 14.00
The Happy Bap, High Street (07805 797746)
Food served daily except Sun/Weds 10.00 – 15.00
Kirsty's Café, New Street (01588 638115)
Food served Mon – Fri. 08.30 – 15.00
The Poetry Pharmacy, High Street (01588 638069)
Tea/coffee and cakes served Thurs – Sat 10.00 – 16.00
The Poppy House, 2 Market Square (01588 638443)
Food served Thurs – Sun. 10.00 – 16.00
The Six Bells, Church Street (01588 638930)
Food served Weds. 16.00 – 20-00,
Thurs – Sat 13.00 – 20.00, and Sun. 12.00 – 18.00
The Three Tuns Inn, Salop Street (01588 638797)
Food Served Mon – Sat. 12.00 – 14.30 and 18.30 – 21.00
Sun 12.00 – 15.00
Yarborough House, High Street (01588 638318)
Tea/coffee and cakes served Thurs – Sun 10.30 – 16.30
CLUN
The Maltings Café, 12 High Street (01588 640539)
Food served daily 10.00 – 16.00
The Postcard Café, Church Street (07584 858608) 
Food served daily 10.00 – 17.00
The White Horse Inn, The Square (01588 640305)
Food Served daily 18.30 – 20.30 and

 

12.00 – 14.00 (12.30 – 14.30 Sun)
LYDBURY NORTH
The Powis Arms (01588 680254)
Food served Tues – Sat. 12.00 – 14.20, 18.00 – 20.00
Sunday 12.00 – 15.00