The Bishop's Castle Walking Festival is one of the hidden gems of Britain and
this year is held from Thursday 5th to Sunday 8th May 2022.
The walking festival contains a wide variety of walks and is an excellent way as an introduction to the South Shropshire Hills and Borders with Wales. Offa's Dyke path is included in a number of the walks which is only a few miles West of Bishop's Castle. In the evening of the Friday and Saturday there is some splendid entertainment; check these out on our Evening Events page.
The walking festival started in 2000 after a number of friends considered that Bishop's Castle would benefit from a festival to introduce walkers and others to the area. Sadly for the last two years due to Covid the festival has been cancelled, however, with fingers crossed we are hopefully that this year it will go ahead as planned.   So please consider the walks on offer and should we have to cancel there will be a full refund accordingly. To book a walk go the Walk Programme pages of the website and at the bottom of the detail of each walk is a link to the booking facility.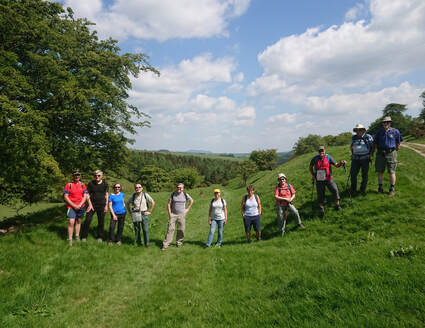 Website – https://www.bishopscastlewalkingfestival.co.uk
Facebook – https://www.facebook.com/bishopscastlewalkingfestival
Contact – bcwalkingfest@gmail.com