There are great adventures to have in Shropshire for you and your little ones. From interactive museums to open parklands to run wild in, a holiday in Shropshire will gift you and your family memories for life. Check out Shropshires best kids activities below.
Are you kids obsessed with furry friends? Get ready for a fun-filled day at Park Hall Farm.  Why not spend your morning meeting the bunnies and learning about their daily routine before the kids try it out for themselves in the brand new Burrowland! Need to rest the legs? Tour the park on the barrel train or refuel on-site at the Hungry Farmer Café. Ready for round two? With over 25 things to do including a Maze, WW1 trenches and go-karts, you're sure to have a quiet car ride home!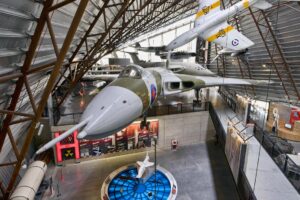 Soar through the skies and learn the amazing stories of those who have served at The Royal Air Force Museum. One of the largest aviation collections in the UK, RAF Cosford houses over 70 historic aircraft including three post-war V-bombers and the world's oldest Spitfire. For more interactive fun, make sure to stop at the Fun 'n' Flight exhibition. This interactive gallery is packed with experiments designed to help you learn how aircraft fly and practise flying yourself! For an educational fun-filled day, make sure to visit RAF Cosford.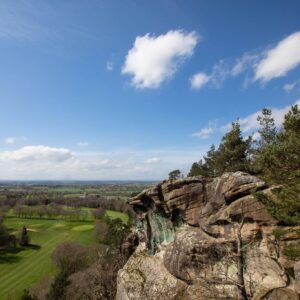 Set in 100 acres of Parkland, the Follies is a range of dramatic and rugged natural sandstone hills that were developed to include gullies, caves, towers and bridges becoming one of the most visited landscapes in Britain during the 19th Century. Make sure to take part in the Troll Hunt Trail, a magical trail throughout the landscape with fun activities along the way and lots of troll hunting to do!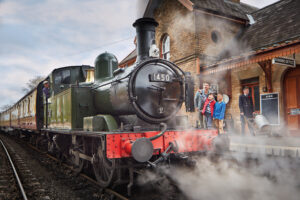 See the steam engine, feel the heat and experience the train rumbling under your feet. Prepare to venture back in time…
The Severn Valley Railway is a 16-mile long heritage railway running between Kidderminster and Bridgnorth. Whether it's the beautiful countryside, fabulous engines or the many interesting places to stop on the journey, the Severn Valley Railway will thrill the family. Make sure to stop off at the engine house mid-way along the line. Here, you'll be able to interact with many steam engines and carriages. If you need to refuel, pop into Highley Café whilst the kids have fun in the Children's playground.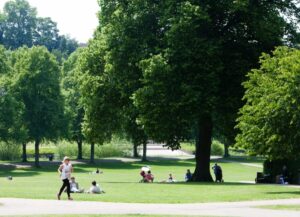 If you're stopping in Shrewsbury, make sure to visit the Quarry. A 29-acre parkland encircled by the loop of the River Severn. At the heart of the Quarry lies the Dingle, a sunken garden landscape with alpine borders and charming water features. The Quarry is the perfect place to set up for a sun-soaked picnic. Make sure to let the kids loose in Shrewsbury's largest outdoor play area for hours of fun.
Need more convincing? Check out our family fun page for more ideas!