Shropshire is not only a deeply rural corner of England, of rolling hills, ancient woodland and great swathes of prime farmland. The county is also blessed with a plethora of beautiful landscaped parks and spectacular gardens, many of which come with long and interesting histories.
We've picked out below the best parks and gardens you can visit. Some are well-known attractions while others are little-discovered gems. For the lesser-known parks and gardens, do check opening times before setting off: some are open only on certain days of the week or even month.
We've also selected some places to stay that are set in lovely grounds or have particularly fine gardens.
Attingham Park
This grand estate a few miles east of Shrewsbury is one of the National Trust's most visited properties in England. It's easy to appreciate why. Its 200 acres of glorious parkland were enhanced by Humphry Repton, the great 18th-century landscape designer, and include a deer park, tracts of planted woodland and a scenic section of the River Tern. There's also a two-acre walled kitchen garden dating from Georgian times which has been wonderfully restored to a bounteous state, with fruit trees, glasshouses and much else besides.
More information: Attingham Park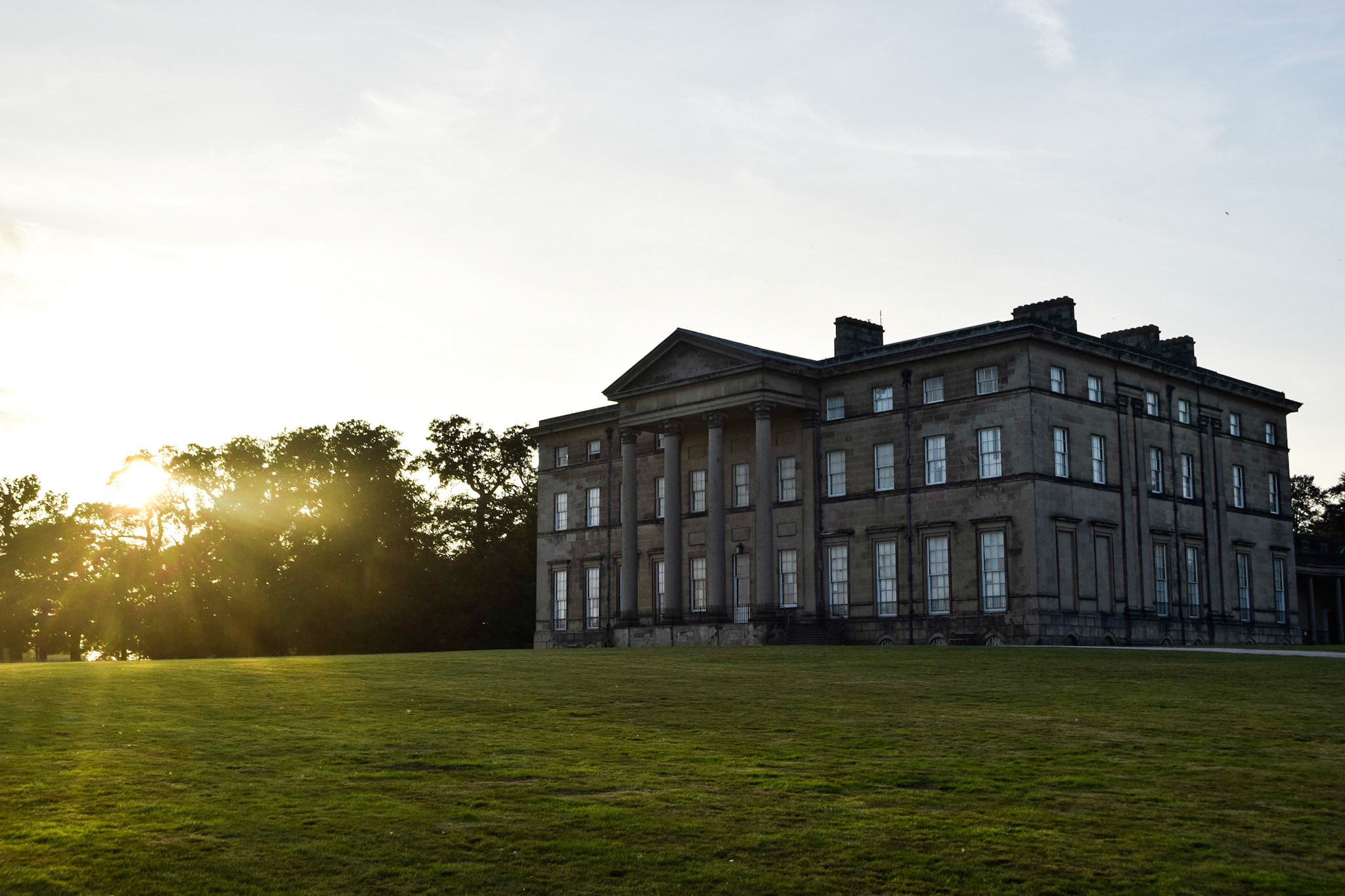 Quarry Park
Shrewsbury's best-known public park slopes scenically down to the banks of the River Severn. The park's centrepiece is The Dingle, once a stone quarry, now an award-winning, beautifully-tended, oval-shaped sunken garden, with magnificent trees, shrubs, formal ornamental flowerbeds, rockeries and lawns, all set photogenically around a large pool. In the Dingle, hunt out the bust of one-time gardening legend Percy Thrower, who was Shrewsbury's parks superintendent for 28 years.
More information: Quarry Park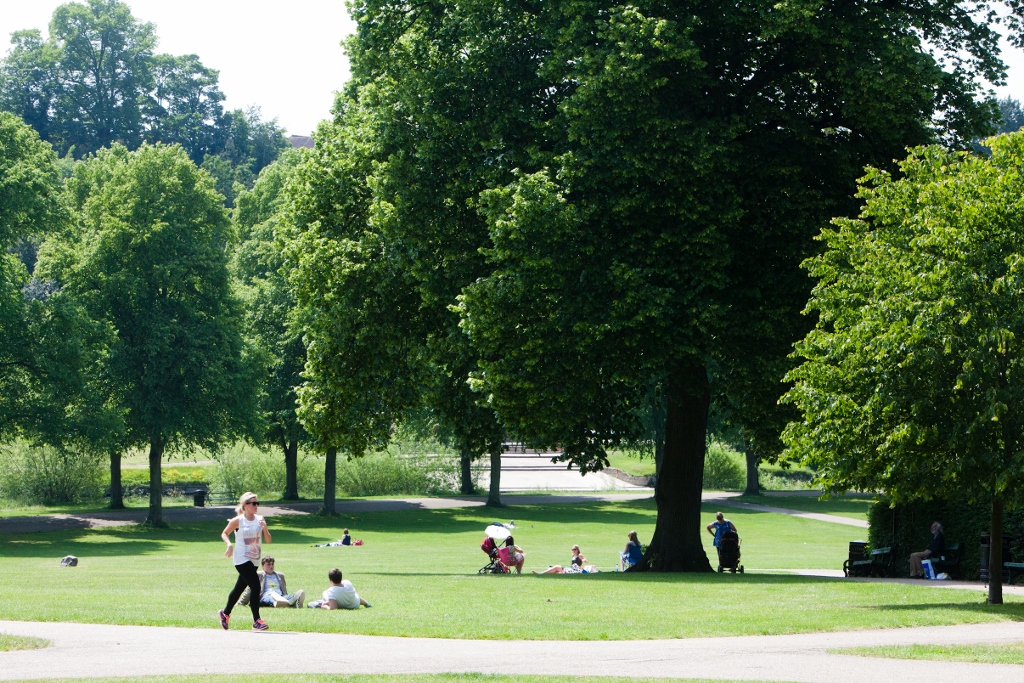 Hodnet Hall Gardens
The Heber-Percy family open their historic gardens and parkland to the public a couple of days a week from March to October. The 60 acres encompass a series of distinct environments – ornamental pools, sweeping lawns, woodland with magnificent specimen trees, a structured Circular Garden and colour-filled herbaceous borders. In springtime the place is a riot of camellias, azaleas and rhododendrons. Other noteworthy features include a kitchen garden, 17th-century dovecote and tithe barn.
More information: Hodnet Hall Gardens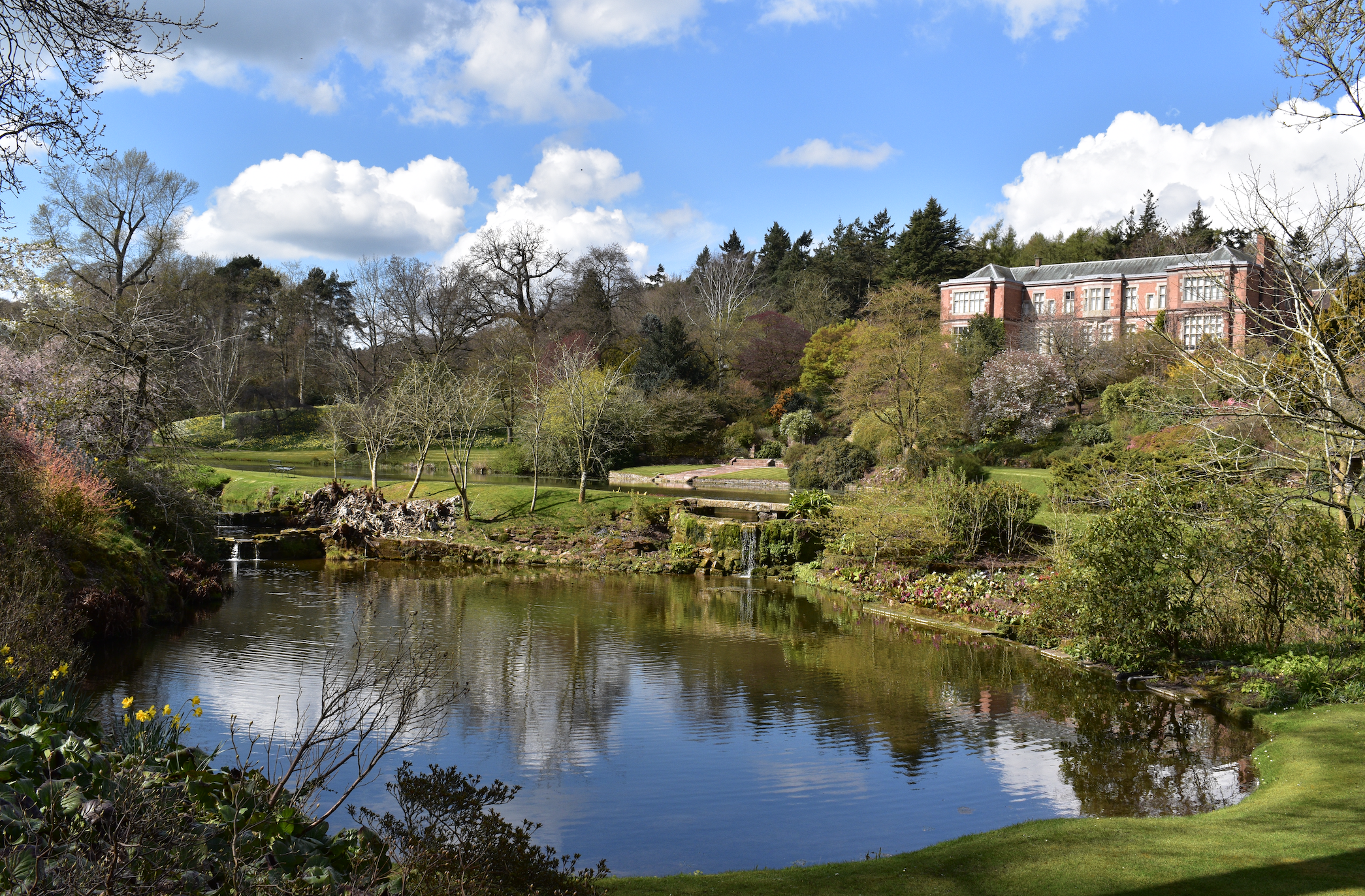 Wollerton Old Hall Garden
Lesley Jenkins returned to Wollerton Old Hall, her former childhood home near Market Drayton, in the 1980s with her husband John. Since then, the Jenkins have created a magnificent formal English garden that is modern yet on an old site. The four acres are divided into a collection of separate gardens that could be described as outdoor rooms, each with their own distinctive style and design. The property is renowned for its clematis, roses and salvias, and the topiary and water features are memorable too.
More information: Wollerton Old Hall
Dorothy Clive Garden
This 12-acre plantsman's paradise on the Shropshire, Staffordshire and Cheshire borders was started by Colonel Harry Clive in 1940. He wanted to provide his ailing wife Dorothy with some interesting walks. A network of meandering paths takes you to a laburnum tunnel, alpine scree with a pool, a rose walk, a woodland quarry with a waterfall, a Mediterranean glasshouse and sparkling seasonal borders. The collections of rhododendrons, azaleas, camellias and hydrangeas are noteworthy. The property – a charitable trust – is open all year and has a highly-rated winter garden area.
More information: Dorothy Clive Garden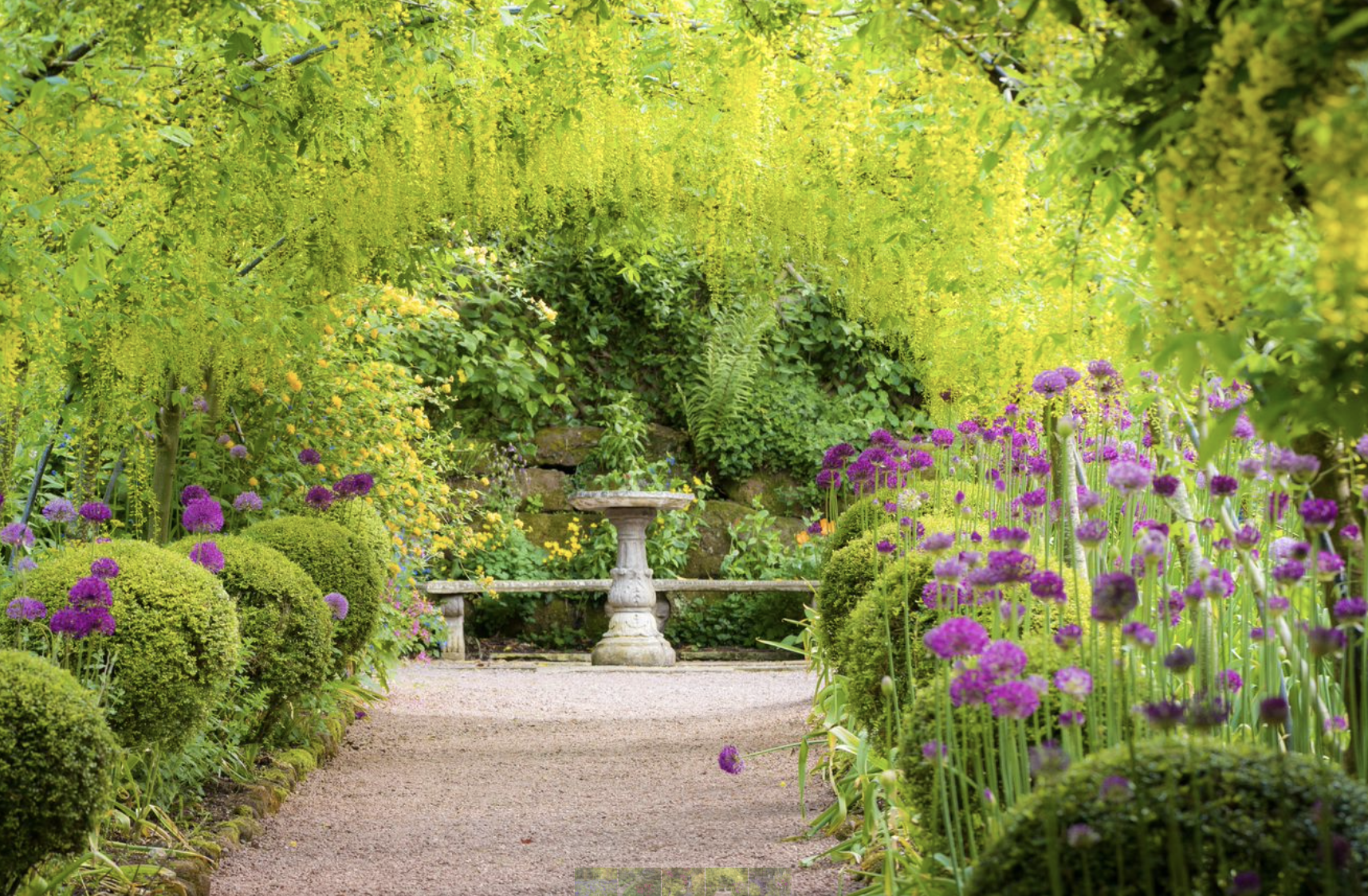 The David Austin Rose Gardens
World-renowned David Austin Roses has been breeding roses just outside Albrighton since 1961. The award-winning, aroma-filled gardens, which are free to visit, are home to the National Collection of English Roses. You'll find some 700 varieties of roses – climbers, ramblers, shrubs – within themed gardens that include a Long Garden (interlaced with pergolas), Victorian Garden (walled, formal and with circular borders) and Species Garden (wild roses and hybrids). The plant centre sells a vast selection of potted roses and much else besides.
More information: David Austin Roses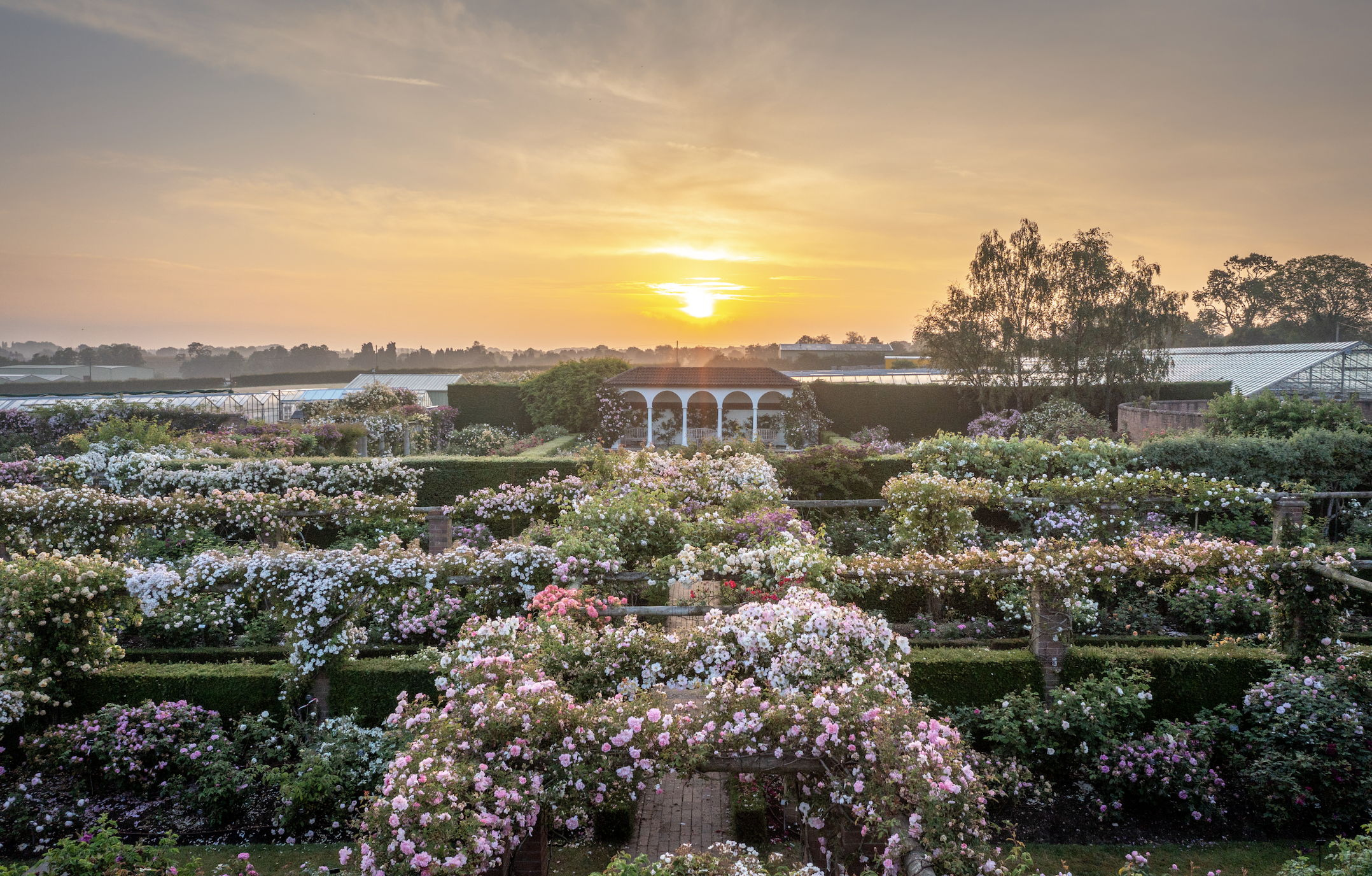 Weston Park
This stately home and one thousand acres of parkland landscaped by Capability Brown provided likely inspiration for PG Wodehouse's stories as Blandings Castle. Within the grounds – which are now used for all sorts of events, from triathlons to air shows and pop concerts – you can explore a deer park, woodland and an historic walled garden with a yew hedge maze, orchard and thriving vegetable-growing area. Younger visitors will also enjoy the extensive miniature railway and the Woodland Adventure Playground.
More information: Weston Park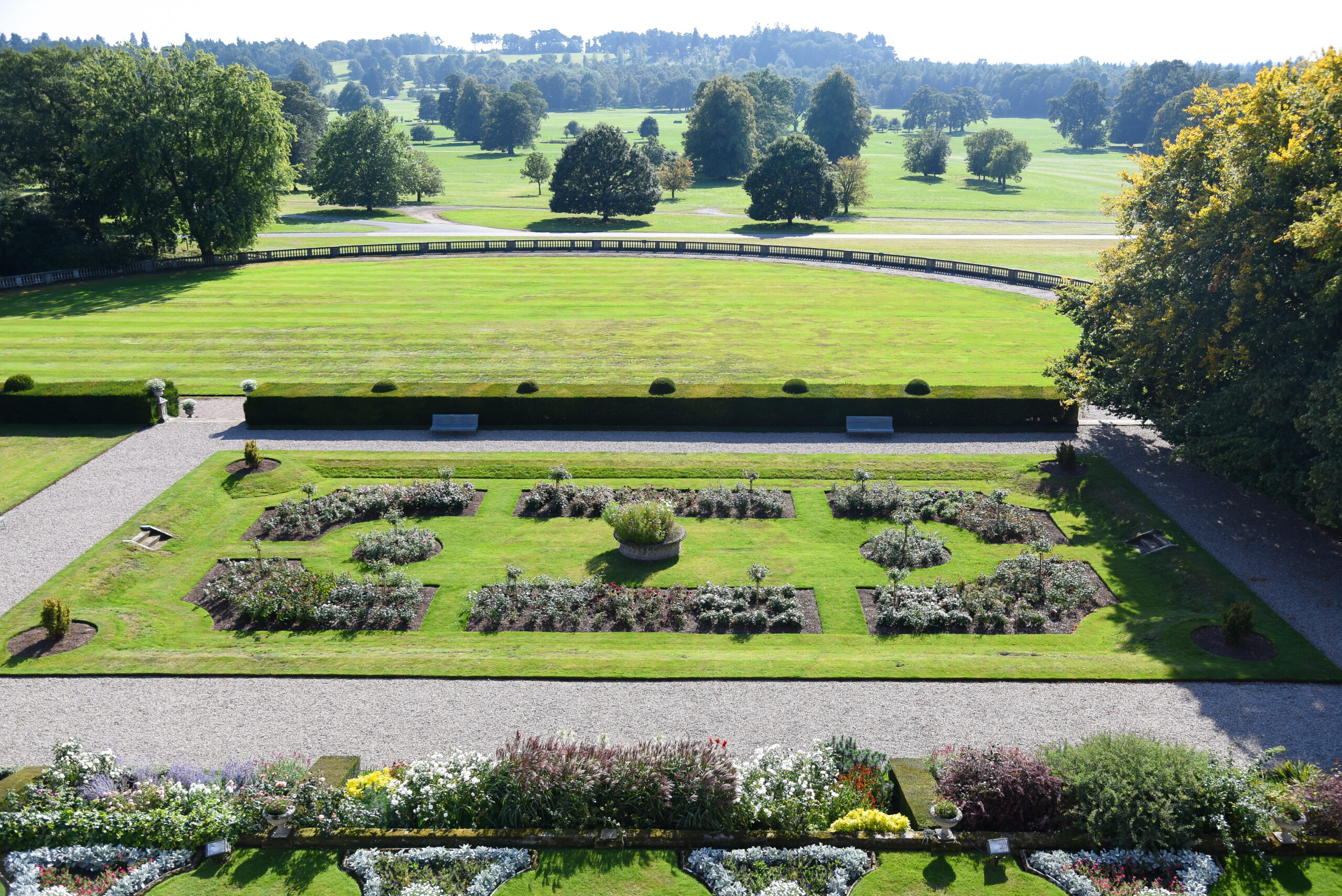 Benthall Hall
This stone Tudor manor and its grounds are set on a plateau above the River Severn's gorge. Benthalls have been living here since medieval times – they do so nowadays as tenants of the National Trust. George Maw, local tile manufacturer, botanist and passionate bulb collector and breeder, resided at Benthall Hall from 1860 to 1890, and the garden is famous for its crocus displays in the spring and autumn. The rose garden with its dovecote is another highlight, and there are dog friendly walks through the parkland where you can see wild orchids in early summer.
More information: Benthall Hall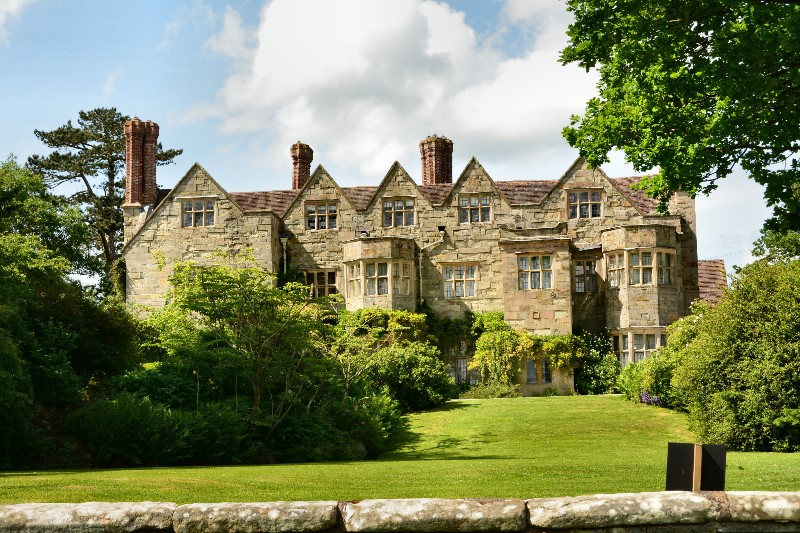 Copyright: Shropshire Guide
Dudmaston
The National Trust-owned Dudmaston estate dates back to the 1100s. Among its varied highlights are the scenic Big Pool lake with its quaint boathouse and the Dingle Woods, which are carpeted with bluebells mid-April to late May and a riot of oranges and golds in the autumn months when the leaves turn colour. The stand-out feature in the American Garden are rhododendrons (planted with hybrids from America), while the orchard is a lovely spot, producing 15 varieties of apple. Walking trails lead you around the lake and through the woods.
More information: Dudmaston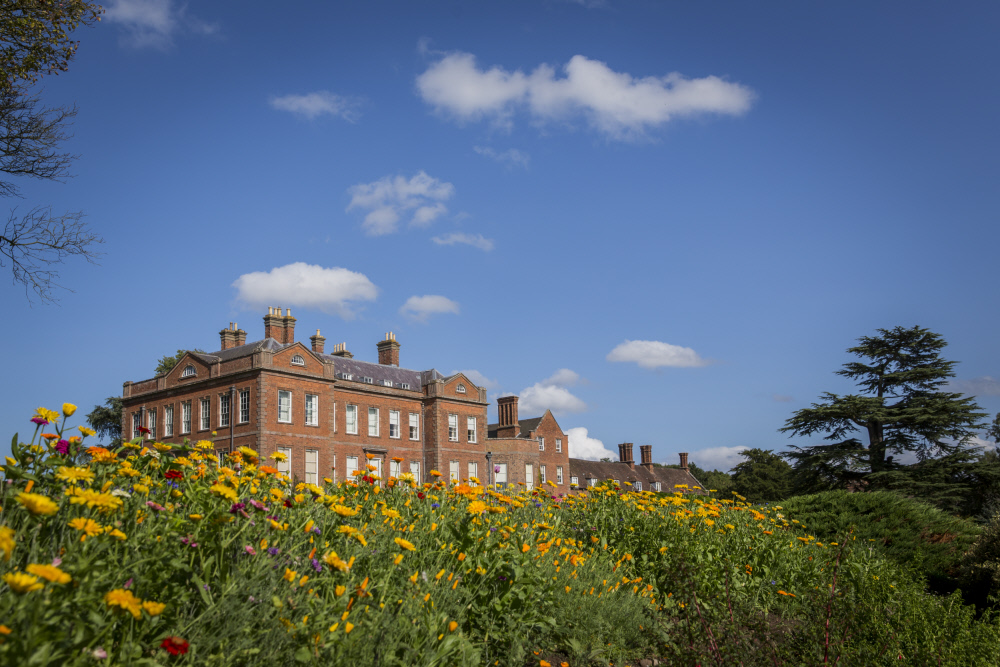 Wildegoose Nursery
This nursery and two-acre garden is housed within the old red-brick walls of Millichope Park's former kitchen garden, which lies about 20 minutes' drive from Ludlow, Bridgnorth and Much Wenlock. Despite the historic setting, the garden is modern in style. Divided by newly-planted hedging, it comprises a series of rooms such as a plum orchard, ornamental vegetable and cut-flower garden, crab apple walk and floral meadow. There are also magnificent, recently-restored 1830s glasshouses. The nursery specialises in violas: Wildegoose has over 160 varieties in its collection.
More information: Wildegoose Nursery
Oteley Garden
The 2,000-acre Oteley Estate, in Ellesmere, lies on the eastern side of the Mere, the biggest of nine glacial lakes that make up north-west Shropshire's mini Lake District. Oteley has been in the same family since the 1500s, and includes gardens, rolling
parkland and herds of native breeds of British cattle (Beef Shorthorn and Highland). The 10-acre gardens were created in the mid 1800s in an Italianate style, and feature a boathouse, walled garden, tower, Swiss cottage, wild woodland walk and stunning views across the Mere to Ellesmere. The gardens are open just one Saturday a month, April to October, through the National Gardens Scheme's Open Days.
During your visit make time to explore the public park that surrounds the rest of The Mere. Its level paths and trails make it a firm family favourite. More information: Oteley Garden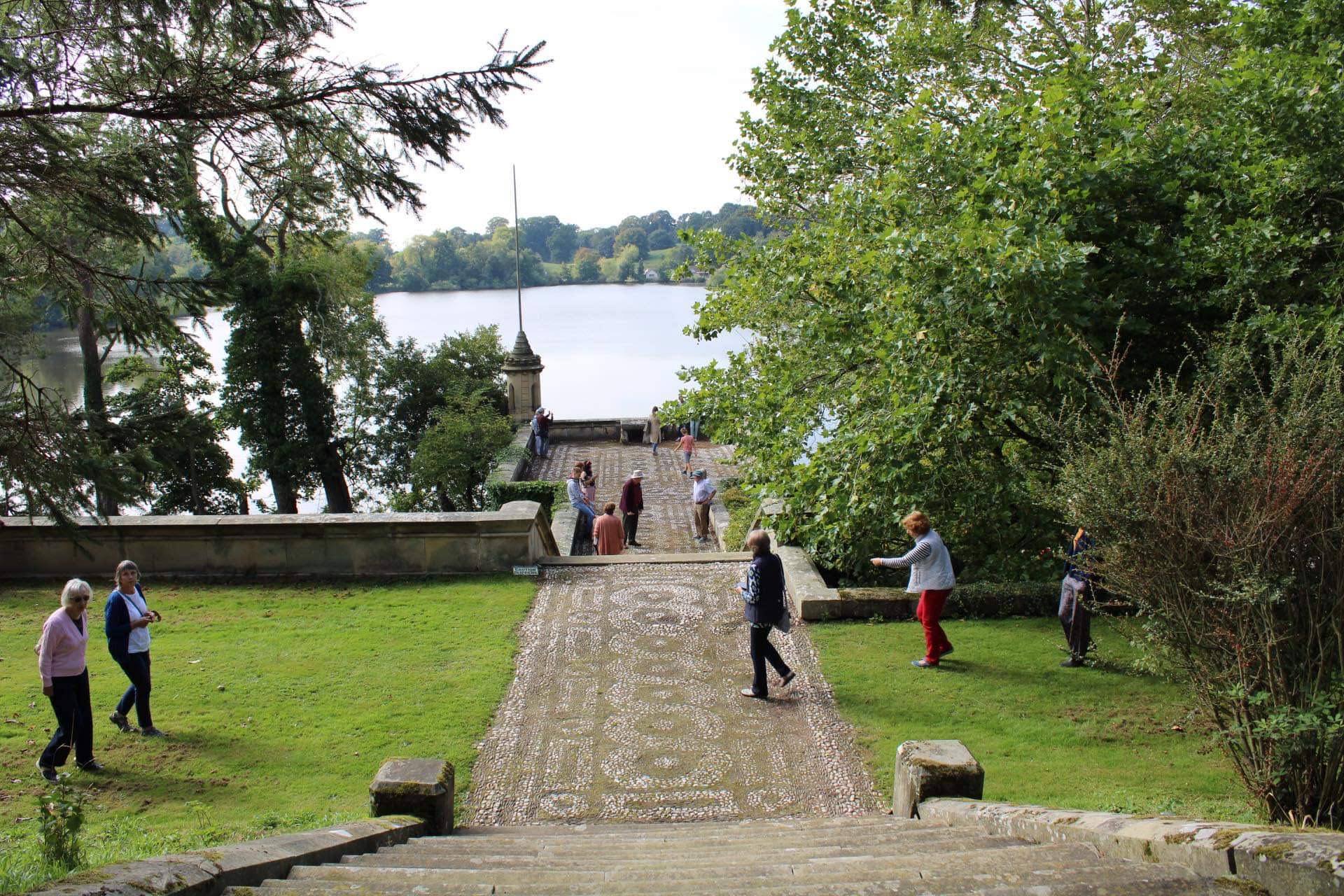 Places to stay in Shropshire with lovely gardens and grounds
Goldstone Hall Hotel
The Cushing family's red-brick Georgian country house, near Market Drayton, has much to commend it as a hotel. But it is best known for its immaculate, mature and award-winning five-acre garden. Open to the general public from March to October, it includes a walled area, wide herbaceous borders and a vast and immensely productive kitchen garden, which provides much of the vegetables and summer fruit for Goldstone Hall's restaurant.
More information: Goldstone Hall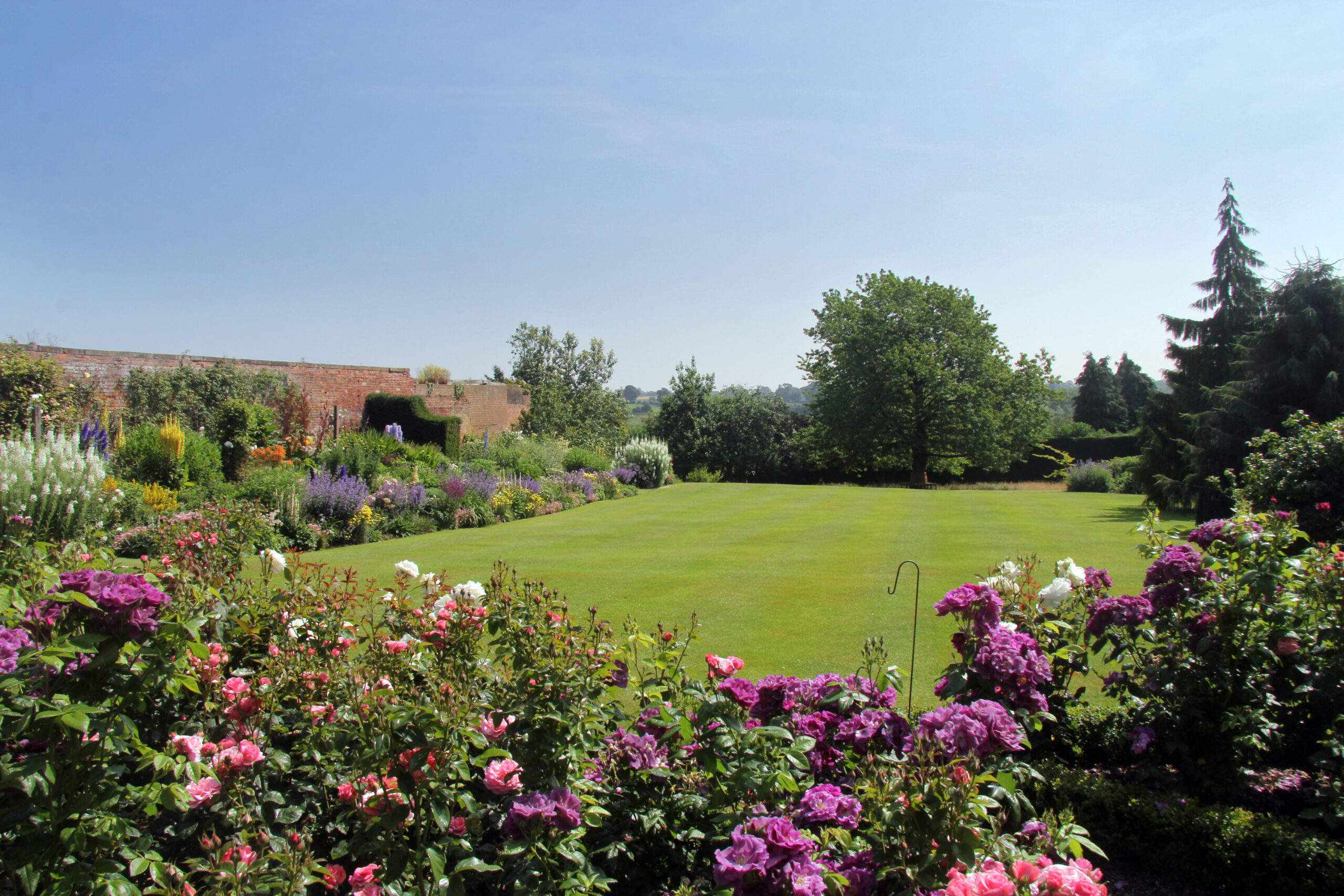 Hawkstone Hall and Gardens
This 18th-century mansion is set within 88 acres of grounds – cycling, running and walking routes are provided to guests, and dogs are welcome. The hotel is close to separately-run Hawkstone Park Follies (https://www.hawkstoneparkfollies.co.uk/): dramatic wooded and hilly parkland turned into a famous tourist attraction in the 1700s and 1800s with the addition of man-made caves, arches, towers and bridges.
More information: Hawkstone Hall Gardens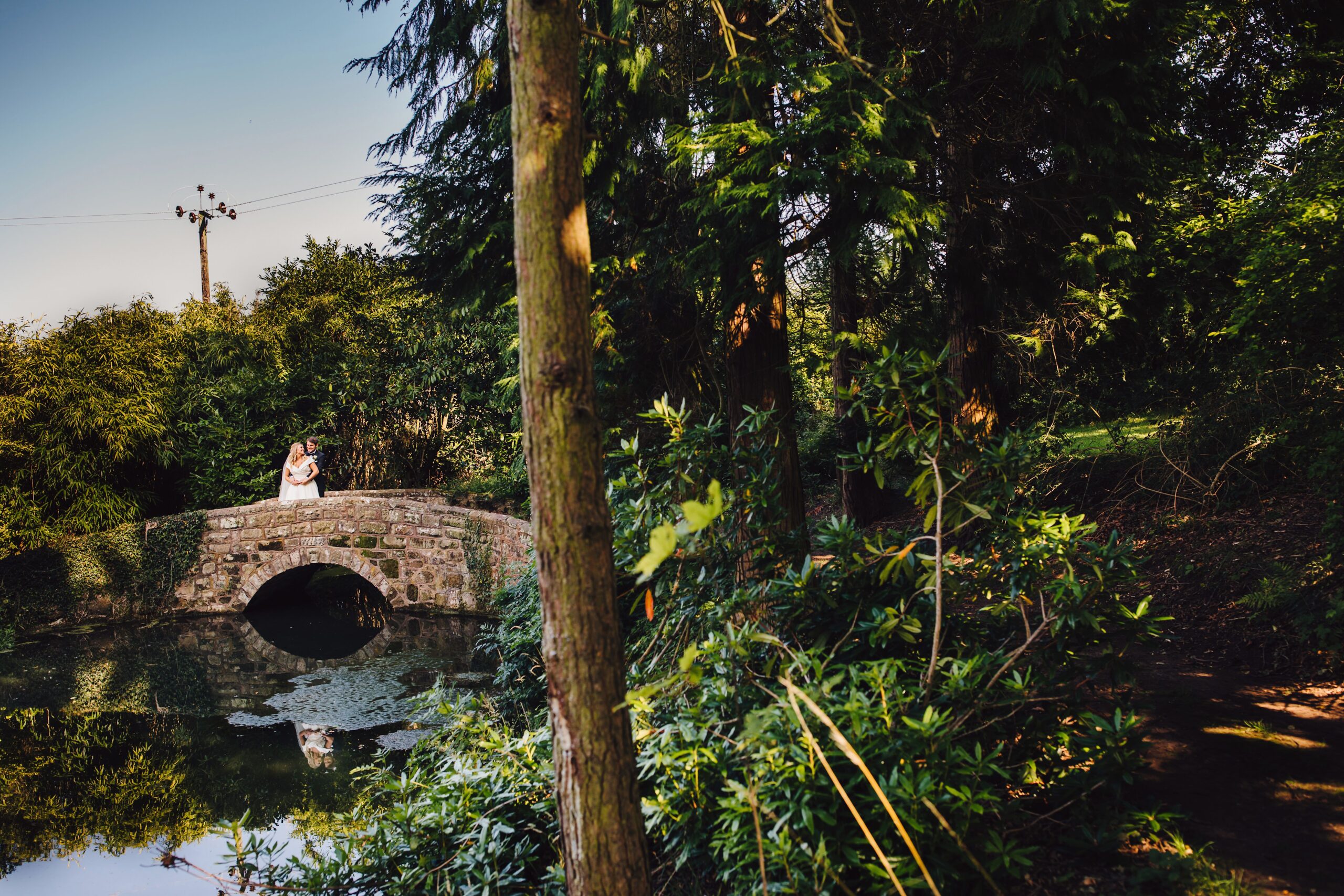 Combermere Abbey
On the Shropshire/Cheshire borders, the 1,000-acre Combermere Abbey Estate covers parkland, woodland, a pleasure garden and walled gardens. You can have access to all this by staying on the estate in smart self-catering cottages, most of which are converted from old stables, or in the North Wing of the abbey, a luxurious two-bedroom bed and breakfast.
More information: Combermere Abbey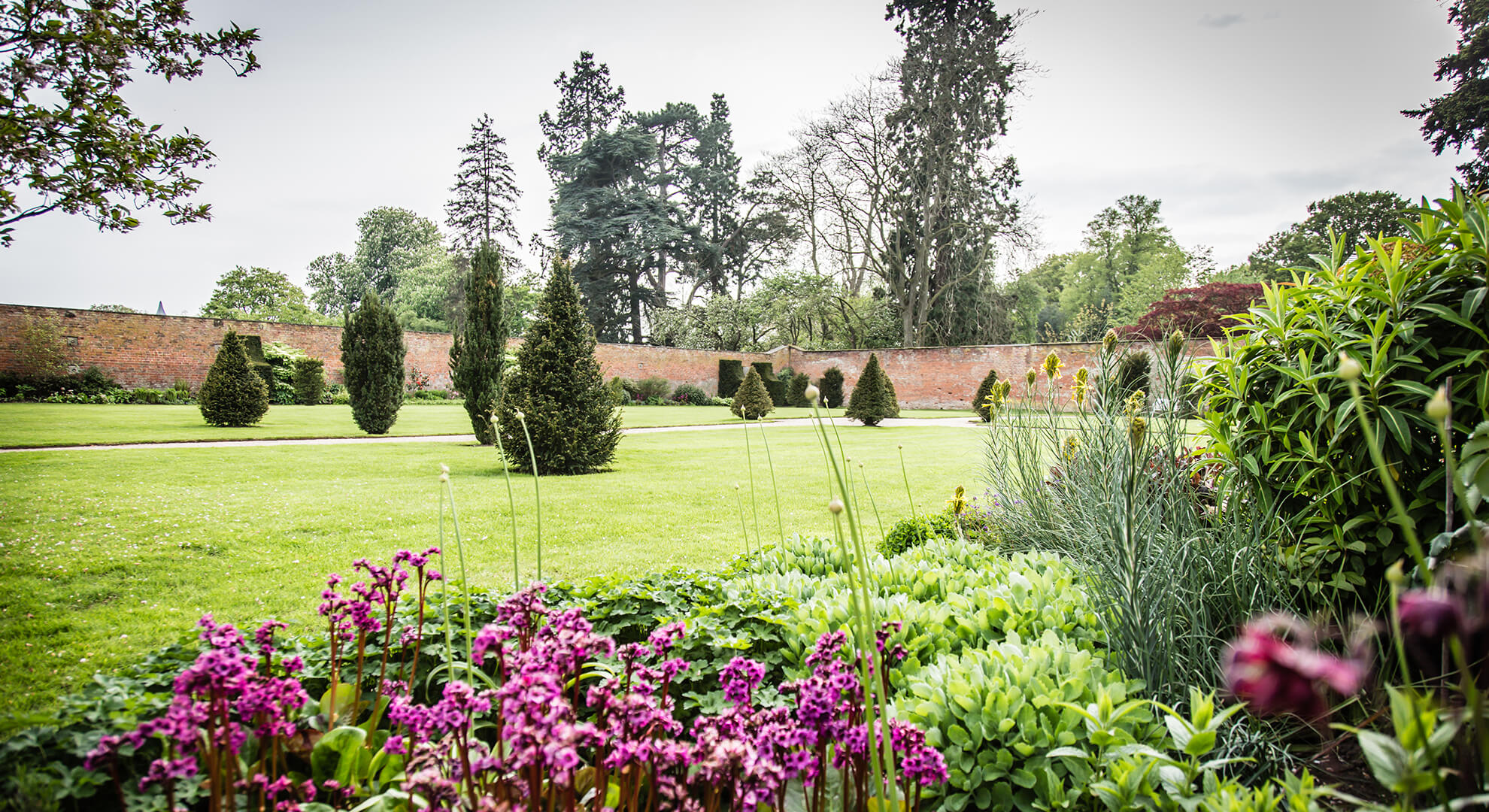 Stanmore Hall Touring Park
This is a perfect scenic base if you're visiting Shropshire in a caravan or motorhome. The highly-rated park is set within the landscaped grounds of Stanmore Hall. Pitches
enjoy views across wooded grounds and a lake, and the facilities are excellent. The historic market town of Bridgnorth is five minutes' drive away.
More information: Stanmore Hall Touring Park