Join the Sabrina team this up-and-coming Summer Holidays to discover our popular 45-minute cruise, departing from Victoria Quay near the Welsh Bridge. The Sabrina gently sails to the English Bridge and returns back to where you boarded for the end of the trip. We run 7 trips a day, every day, on the hour from 10am with 4pm being the last trip of the day.
Enjoy beautiful views along the River Severn and photo opportunities on the outward journey before listening to an entertaining commentary from our knowledgeable captains on the return leg. We offer a wide range of hot and cold drinks as well as snacks from our onboard bar, which are served to your table by our hospitality team.
Adult: 16-64 years old £9.50
Concessions: 65 and over, carers, disabled & students £8.50
Child: 3-15 years old £5.50
Family: 2 Adult & 2 Child tickets £25
Under 3-year-olds are free of charge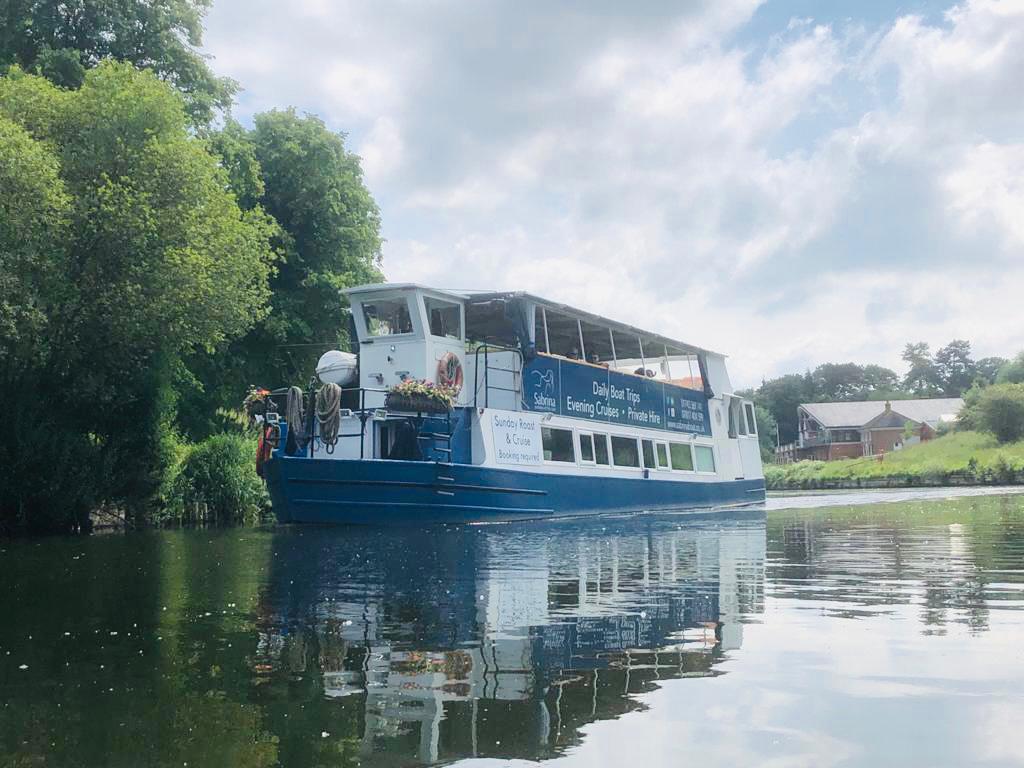 Why not join us for a Sunday Lunch cruise, setting sail at 1pm you'll enjoy a relaxing 45-minute cruise. After which it's just a short 5–10-minute walk to our partner restaurant Flame and Flute, 4-5 Market St, Shrewsbury SY1 1LE, for your delicious 2-course Sunday lunch.
Adult Sunday Lunch & Cruise: £24
Concession Sunday Lunch & Cruise: £23
Child Sunday Lunch & Cruise: £17
Looking for an evening cruise? Come on-aboard our Tuesday evening cruise which departs at 7pm. For those wanting to extend their evening, we offer a special cruise and dine deal with our partner restaurants: Avatar, The Riverbank, The Alb & The Loopy Shrew.
Adult Meal & Cruise: £25
Concession Meal & Cruise: £24
Child Meal & Cruise: £17
Tickets can be booked online at www.sabrinaboat.co.uk or you can call our office on 01743 369741.