Current Key Information:
Please find below some further information and answers to Frequently Asked Questions surrounding the ongoing Coronavirus (COVID-19) situation in Shropshire.
Can I visit Shropshire?
Yes. Shropshire is open for day visits and overnight stays with your household or support bubble.
Can I stay in Shropshire?
Domestic overnight stays are allowed in self-contained. Self-contained accommodation is any accommodation that does not require shared use of facilities. Please find a selection of self-contained accommodation in Shropshire Here.
Are non-essential retail stores open?
Yes, non-essential retail stores are open.
Are restaurants open?
Hospitality venues with outdoor service are open. There is no longer a curfew or the requirement for alcohol to be accompanied by a substantial meal – customers must order, eat and drink while seated. Please find a selection of eateries with outdoor dining in Shropshire here.
Are attractions open? 
Yes, most outdoor settings and attractions including outdoor hospitality, zoos, theme parks, drive-in performances/events are open. Please find a selection of outdoor attractions and activities in Shropshire here.
Are leisure facilities open?
Yes, indoor leisure facilities such as gyms and spas are open. This does not include saunas and steam rooms, which are due to open on 17th May.
What isn't open?
Accommodation with shared facilities (Hotels, B&B's, Hostels) indoor attractions and entertainment (museums, cinemas, children's play areas) and indoor hospitality venues.
When do I need to wear a face-covering?
Face coverings are compulsory at all indoor public spaces, public transport and taxis. This is now required by law and those not wearing a mask could face fines.
The above does not apply if you are exempt. For more information on when you need to wear a face-covering please visit the Government website.
Can I meet up with friends and family?
The rule of six applies to meeting friends and families outside and in gardens. This means you can meet in groups of six or two households with larger numbers outside, provided they stick to Covid guidelines and social distancing rules.
From the 17th May*, what will reopen?
Indoor hospitality. The requirement to order, eat and drink while seated ('table service') will remain.
Indoor attractions and entertainment, such as museums, cinemas and children's play areas.
Remaining accommodation, such as hotels, hostels and B&Bs.
Some large events, including theatres and concert performances and sports events.
For more information, please visit the government website.
*Please note this date is subject to an assessment of the data against the following four tests:
The vaccine deployment programme continues successfully
Evidence shows vaccines are sufficiently effective in reducing hospitalisation and death in those vaccinated.
infection rates do not risk a huge surge in hospitalisations which would put unsustainable pressure on the NHS.
Assessment of the risks is not fundamentally changed by new variants of concern.
Important information on attractions currently operating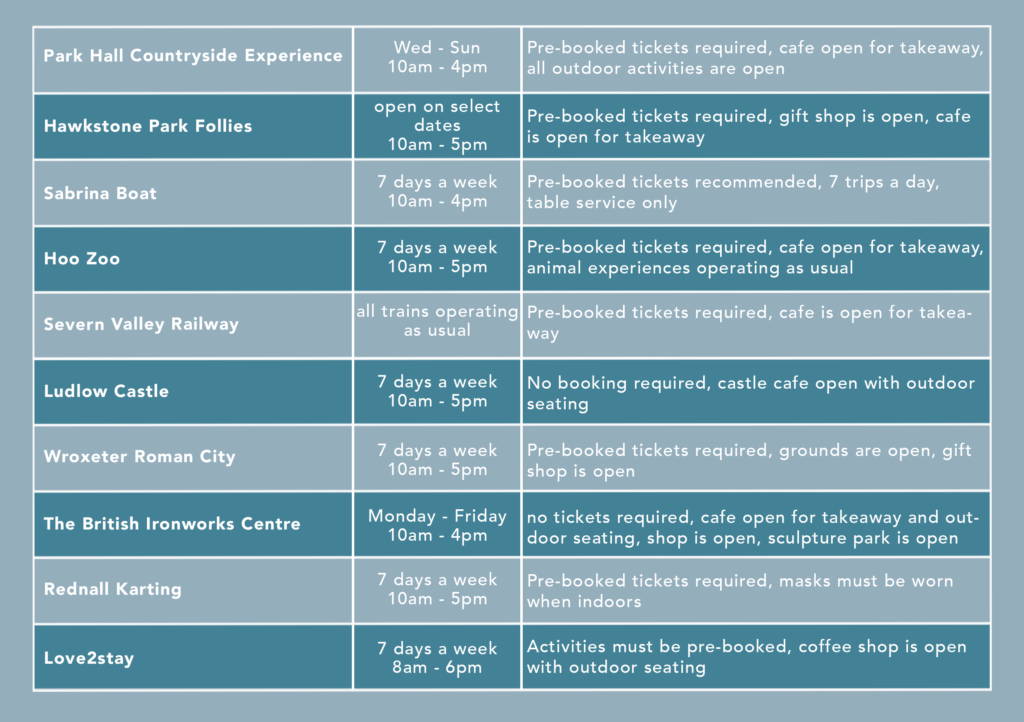 Respect, Protect, Enjoy
When out and about, we need to remember to look after ourselves, one another and the environment around us. So, to make sure we're all doing our bit to tread lightly and travel responsibly, we've put together a few simple steps to help you enjoy your days out as safely as possible. Find out more by following #respectprotectenjoy.
When planning your trip, check that important facilities – like toilets and car parks – are open before you travel so you're not caught short.
If you have an attraction in mind, please check online to see if you need to pre-book a time slot.
Some places may be extremely popular, so get off the beaten track and discover a hidden gem that you can brag to friends about.
Keep two metres apart from anyone outside your household – this not only applies to walking, but running, cycling, sitting and sunbathing too.
Wear your face covering at all times when on public transport like buses, trains, taxis, and minicabs.
Make sure you have a bank card; many outlets are currently only accepting cashless payments – and you don't want to miss out on that ice cream!
Take hand sanitiser with you – you don't know where will be open for you to wash your hands.
Leave the car behind where possible and visit nearby attractions by walking or cycling.
And here are a few more for you to bear in mind when exploring Shropshire's outdoor spaces:
Let's try our best to keep England's outdoor spaces looking beautiful by putting all rubbish in the nearest bins or taking it home if bins are full.
Whilst enjoying the great outdoors more, you're likely to come across wildlife. Try not to disturb them, or any farm animals for that matter. Keep your four-legged friend on a lead and remember to bag and bin any mess they leave behind.
Don't use disposable barbecues as they risk causing wildfires – get a takeaway burger instead.
Stick to designated footpaths and follow local signage for restrictions on routes.
The countryside code contains advice for the public and landowners, making it easier for visitors to help respect, protect and enjoy the outdoors.
We're Good To Go
To help you plan a responsible visit, over 300 businesses in Shropshire have been awarded the VisitEngland 'We're Good To Go' mark. The mark is a way of letting you know which tourism and hospitality businesses have put all the required measures in place according to Government and public health guidelines. The mark shows that businesses have made necessary changes to their day-to-day workings, including social distancing and hygiene measures, to ensure their business is COVID-compliant. Keep an eye out for the mark when planning your trip to Shropshire, so. you can book with peace of mind.