Antique emporiums, sustainable lifestyle stores and creative gift shops are just some of the high street experiences on offer in the North Shropshire town of Whitchurch.
Fast becoming an indie shoppers haven, Whitchurch has a wonderful array of unique independent retailers. From small fashion boutiques and traditional toy & book shops to homeware stores and family footwear, these wonderful one-offs fill the town with personality and inspiration that you won't find anywhere else.
Shopping is all about individual tastes and Whitchurch will not disappoint. Set against a beautiful backdrop of Medieval and Georgian listed buildings, browsing the historic high street you'll also find a zero-waste service, home & garden superstore, art galleries and baby essentials shop to name a few…
Whitchurch Antiques Emporium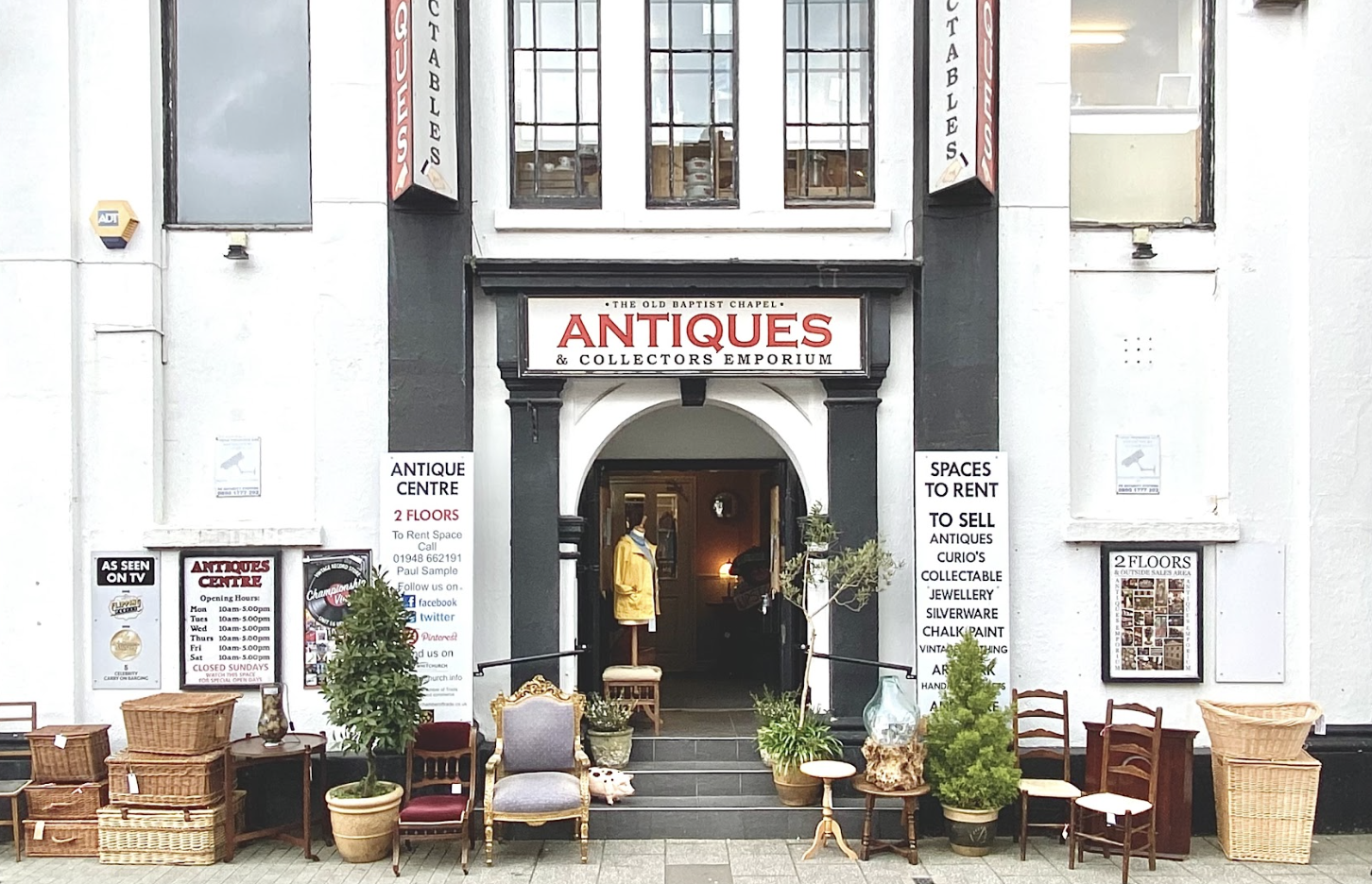 Located in the old baptist chapel in Whitchurch, Green End you will find a wonderful emporium, home to a wide range of antique, vintage, crafted & modern pieces. There are 30 individual traders spanning over two floors, selling an eclectic range of vintage, antiques and collectibles. Including antique furniture, jewellery, lighting, oriental rugs, vinyl records. Stock replenished daily.
Find out more: Whitchurch Antiques Emporium
Gallery Flowers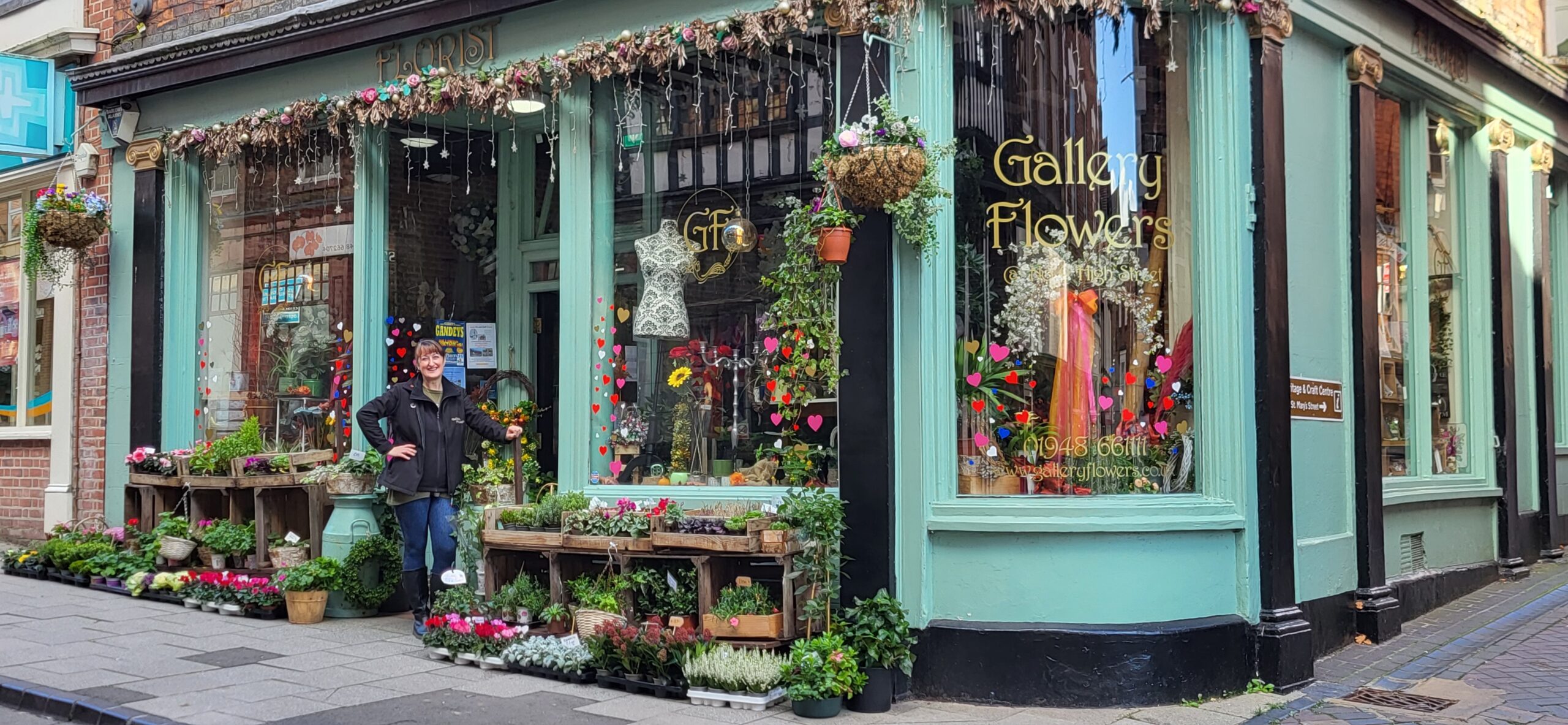 Gallery Flowers has, for more than 21 years, designed and created a full range of floral gifts, bouquets and arrangements for all occasions – whatever you need flowers for and whenever, the talented team is there to help.
Gallery Flowers receives deliveries of fresh flowers every day and guarantee that only the best available flowers and foliage will be used. Our fully qualified florists specialise in wedding flowers – for special wedding flower packages that will make the big day extra special
Find out more: Gallery Flowers
St Mary's Shopping Arcade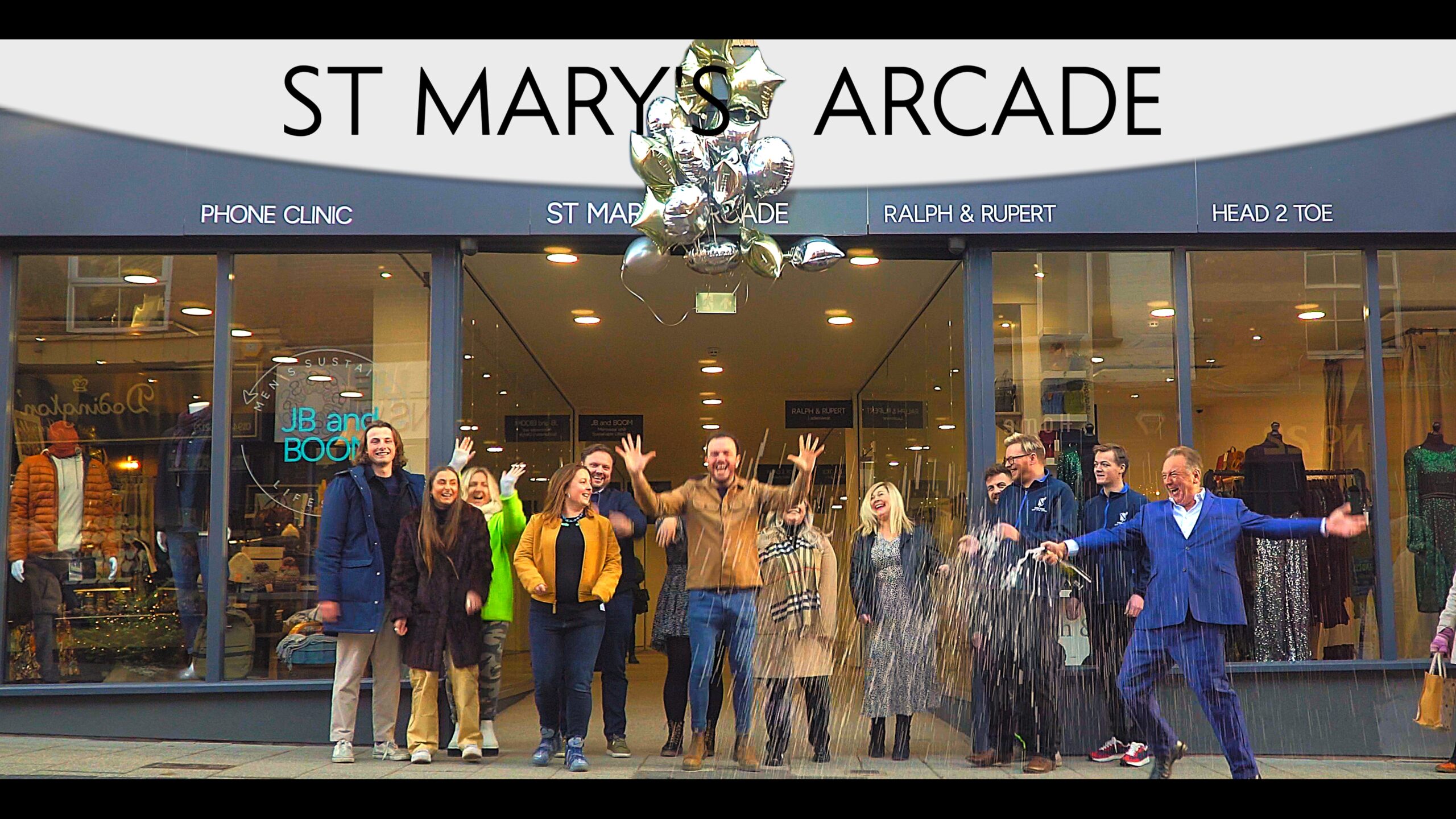 St Mary's Arcade is located in the heart of the High Street in Whitchurch, are six brand new retail units, the local businesses are JB and BOOM, Ralph & Rupert, Mozza, Head 2 Toe Beauty and Phone Clinic, some of whom are already well established within the town.
Find out more: St Marys Arcade
Wagstaffes of Whitchurch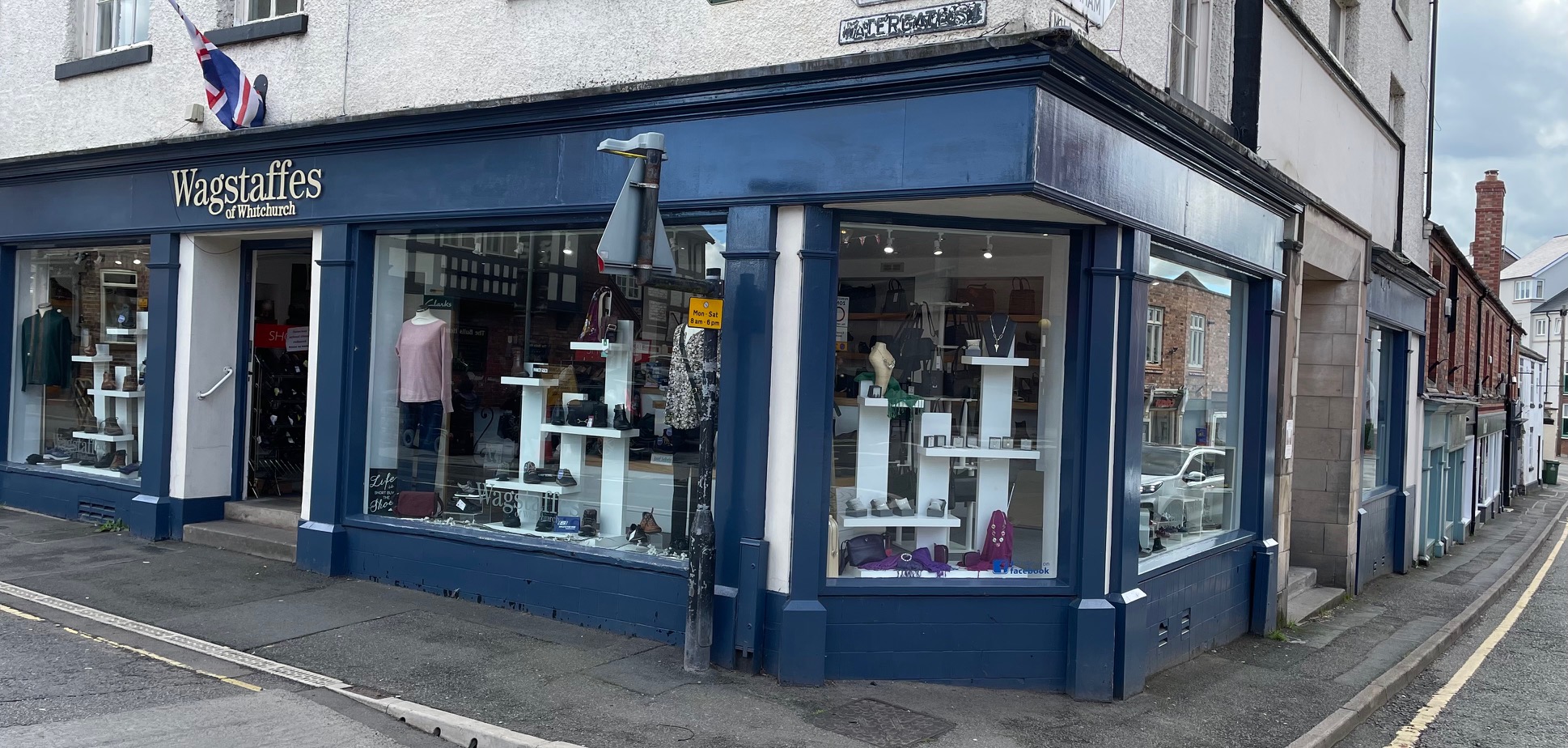 At Wagstaffes we find that quality goods combined with outstanding customer service is a winning formula. We provide footwear for all the family, ladies fashions, handbags, small leather goods, jewellery and accessories. Menswear is soon to be launched.
As an independent retailer we have an extensive range of brands, offering a wide choice of styles & fit.  Our knowledgeable team is on hand to assist you with your purchase, ensuring you have the perfect pair of shoes or outfit. Our aim is to make your visit an enjoyable shopping experience.
Find out more: Wagstaffes
Lisa Lochhead – Gallery & Studio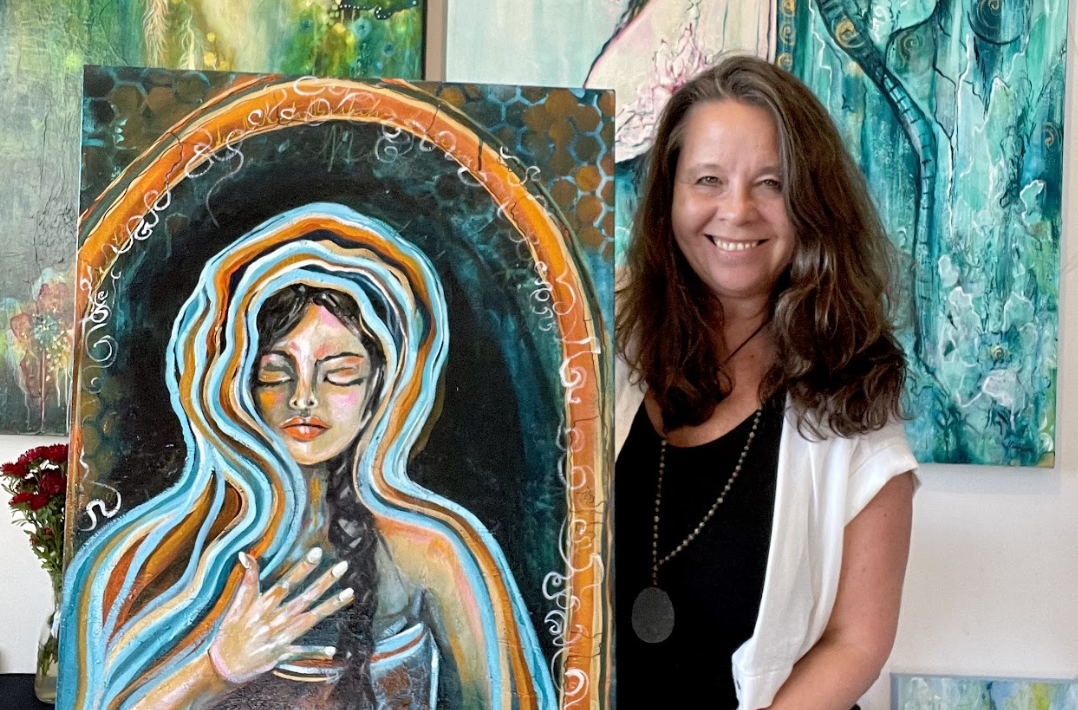 Lisa started painting in 2014 after she was intuitively guided to paint how she felt the connection to the 'Divine Feminine' within her as an unfolding communication. At this time she was going through a major life change as her conditional yes in life was breaking down. As her way of seeing herself and her connection to her place in the world was going through this breakdown she felt compelled to buy a big canvas and pick up a paintbrush and paint. Her extensive background experience teaching meditation and spiritual practices led her to approach creating art as an intuitive, meditative and listening practice. Mystically inspired intuitive and visionary artist celebrating and inspiring the inherent power and beauty of Woman, Womanhood and the Divine Feminine through her soulful art. Artist, Teacher, Facilitator, Creative Catalyst.
Find out more: Lisa Lochhead
Lornashouse Lifestyle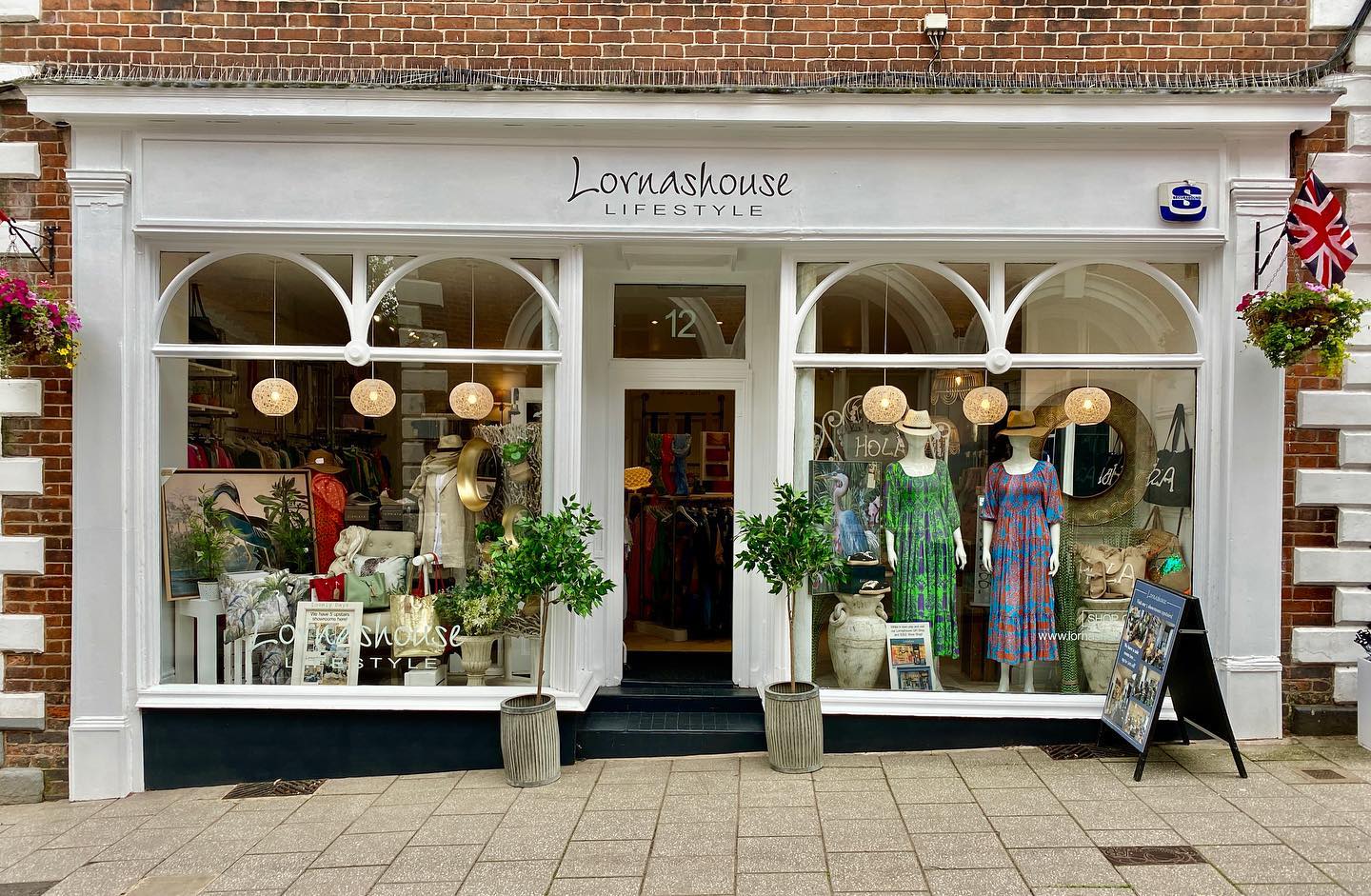 Lornashouse is a family run business set in the heart of the town! Everyone is welcomed by a friendly face whether you're simply popping in for a browse or after something specific. We have something for everyone, either in our 'lifestyle' store where you can find everything from womens clothing and accessories to interiors and soft furnishings for the home! Also make sure you explore our lovely gift shop and shoe shop 'Sole'.
Amongst our many brands are made in Italy ' Lagenlook' clothing, Powder Design, Joma Jewellery, Emu, Lily & me, Chalk Clothing, Khost by M&co, Superga Trainers, Refresh Boots, Yodeyma perfume & much more!
Find out more: Lornashouse
MOO and BOOM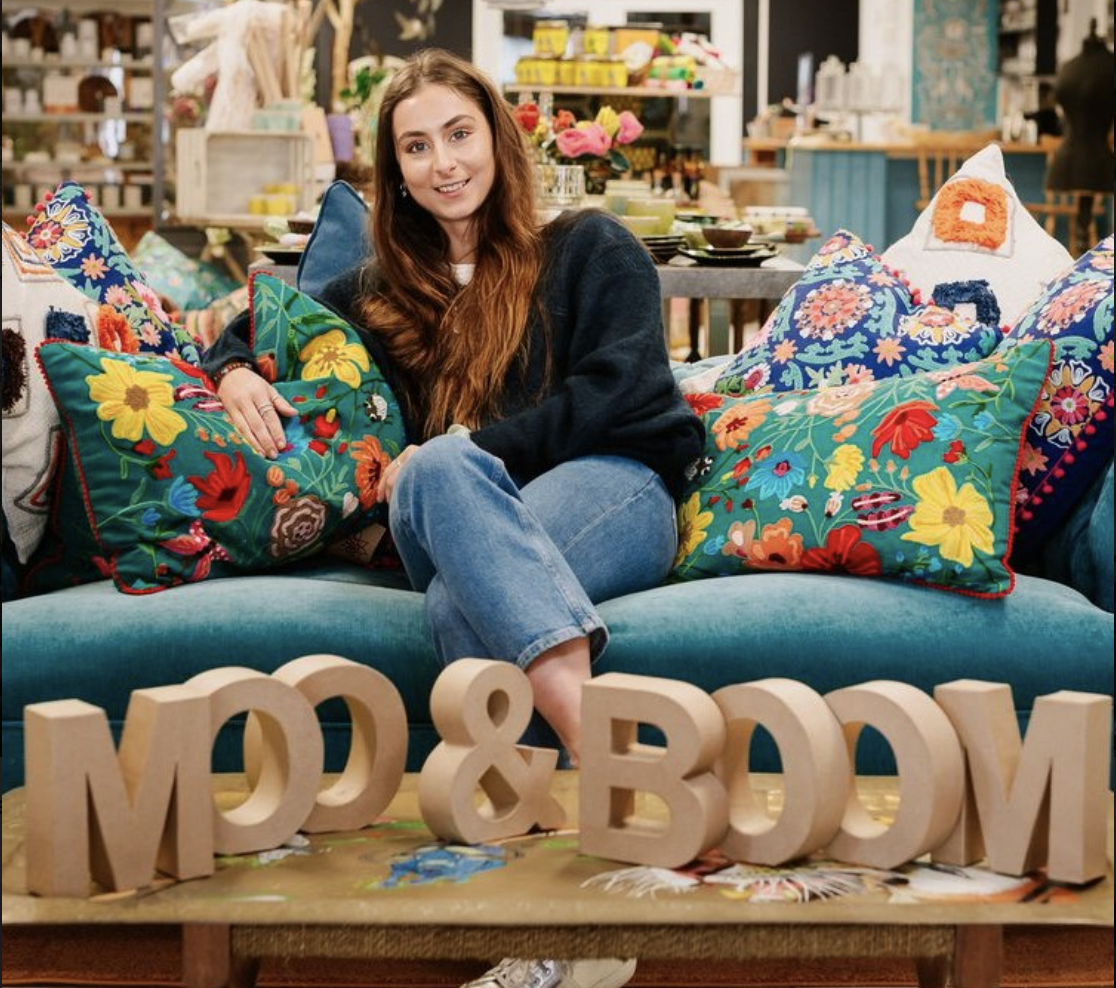 Welcome to MOOand BOOM, family-run, independent retailer offering a vast range of sustainable living, homeware, clothing, gifts and so much more, from the UK and ethically sourced from around the world.
I started the business through Lockdown and my vision was to bring together a store that captured the essence of well-being by being conscious of the planet. Our products are sourced with sustainability being a key factor, we upcycle furniture as well as buying antiques, fair trade gifts, natural beauty products and sustainable fashion in our beautiful Store located in Whitchurch Shropshire. We have a Studio that lends itself to Yoga, Meditation, Pilates, Tai Chi, Journaling, Art and so much more it is a community hub that brings people together.
MOOand BOOM has a niche little café space that lends itself to Gluten free, Vegan and freshly prepared food, the specialist teas are loose leaf and the coffee is extra special as all our suppliers have an ethical approach to production.  The Studio space that holds workshop space does regular classes on Pilates, Yoga, Mediation, Pottery, Journaling and Art, we also hold Art exhibitions and Photography displays.
We specialize in Sustainable lifestyle so if you are all about the Planet and want your home to reflect that with conscious shopping choices then we are the shop for you, from Interior styling, ladieswear, gifts, ceramics, stationery and antiques we have you covered.
The Cafe' sells vegan and gluten free bakes and on select days homemade freshly prepared healthy foods sourced locally.
We encourage everyone to join our journey to make small steps to a cleaner environment and what better way to start than in your home.
Find out more: Mooand Boom
Homefolk Interiors + Gifts
Mother + daughter owned neighbourhood store with a lovingly curated collection of fun and quirky homeware accessories inspired by a modern boho style with a bold twist. We celebrate the unusual and unexpected, using colour and texture to help bring your space alive.
Supporting 30+ artisans and makers, we source and stock a range of eclectic treasures and beautifully handcrafted gifts that will delight for years to come.
In store, you'll find a mix of natural wood and rustic textures mixed with Scandi style and floral patterned textiles, beautiful art prints celebrating life and colour, and collections of global-inspired artifacts and animal influenced oddities. We believe in a relaxed approach to décor, and that you should surround yourselves with things that bring you joy and make your heart sing.
Find out more: Homefolk
Make Your House a Home
Hi everyone, I'm Sharron, owner of Make Your House a Home.
I have always had a passion for interiors and homeware and in 2017 I turned my dream into a reality and set up shop in the beautiful town of Whitchurch, Shropshire in the Watergate Arcade.
My shop offers an array of unique and inspiring home accessories & hardwares which I select from the variety of trade shows throughout the year across the UK. Here at Make Your House A Home, there is something for everyone; lighting, clocks, kitchenware, cushions, throws and so much more.
Find out more: Make Your House A Home
Doodle Alley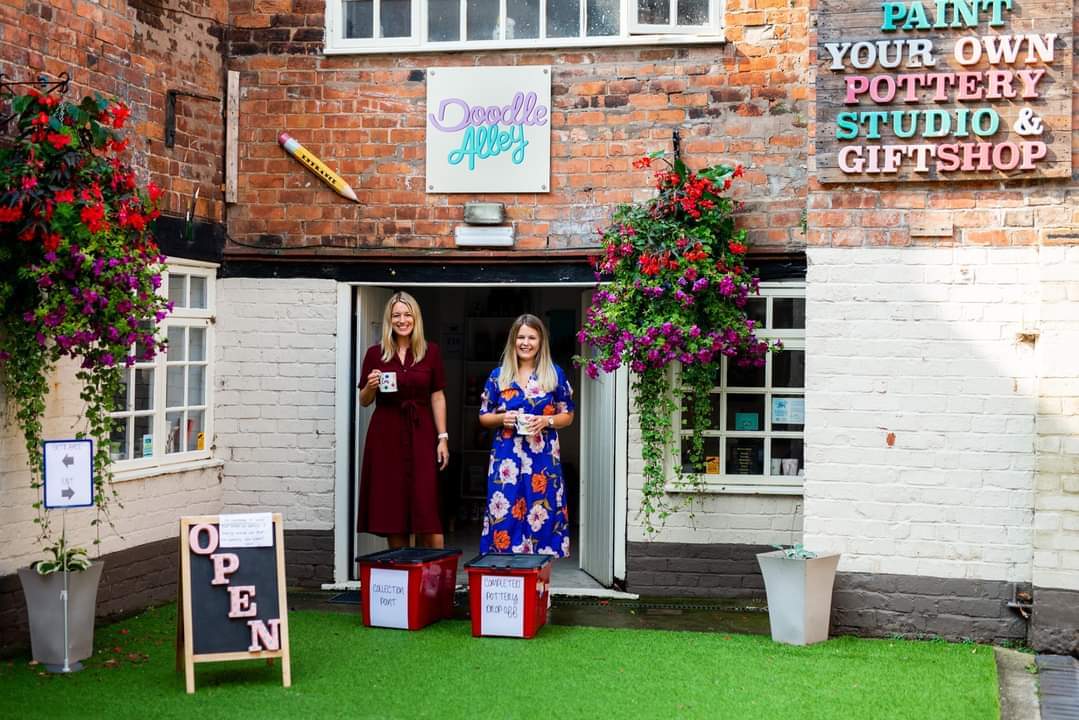 Doodle Alley is based in the heart of Whitchurch, Shropshire. Our biggest baby is our Paint Your Own Pottery studio where it all began!
HOW IT WORKS: When you arrive at Doodle Alley we will be there to greet you and tell you how it all works. You are invited to choose a piece of pottery from our ever changing selection (which let's face it is the hardest part) with over 200 pieces to pick from! Once your group have selected we will show you to your table and give you a brief overview of how it all works.
Ceramic paint is wonderful as it just washes right off! So don't worry if you or your guests get covered – we promise it comes off clothes!
LENGTH OF STAY: Our slots are based on 1hr 30 mins but don't panic if you haven't finished we can pop some paints in a takeaway kit for you to finish off at home and drop back for firing (but if we have space we will always squeeze you a bit of extra time!).
PRICE: Our prices vary to suit all budgets but start from £9.95. You can get a good idea of our pottery prices within the 'Takeaway Kits' section in the menu.
FIRING: Your pieces are left with us to be glazed and fired. They will have a beautiful durable finish.
COLLECTION: At the end, during payment we will take your full details and drop you a call when they are ready. You can expect collection within two weeks of your painting session.
If you are just passing,or on your hols we are more than happy to post out your masterpieces once they are fired for a small extra cost!
Find out more here: Doodle Alley
Bookshrop Booksellers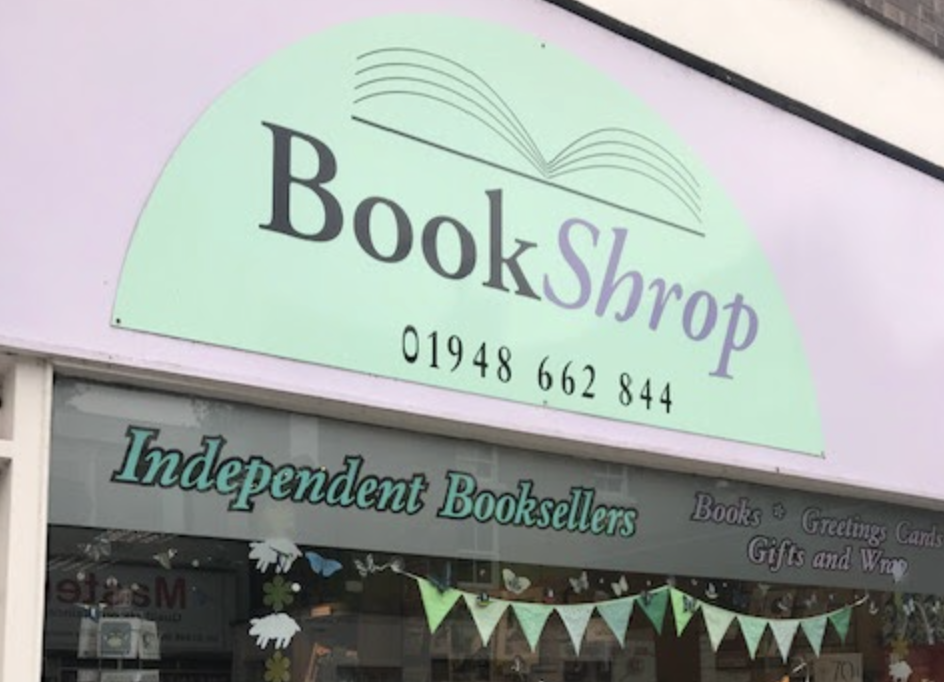 Whitchurch's only independent bookshop, since 2005. Prominently located in Green End, we sell a wide range of adult and children's titles, greetings cards, jigsaws and gifts.
Find out more: Bookshrop
Hopscotch & Skittles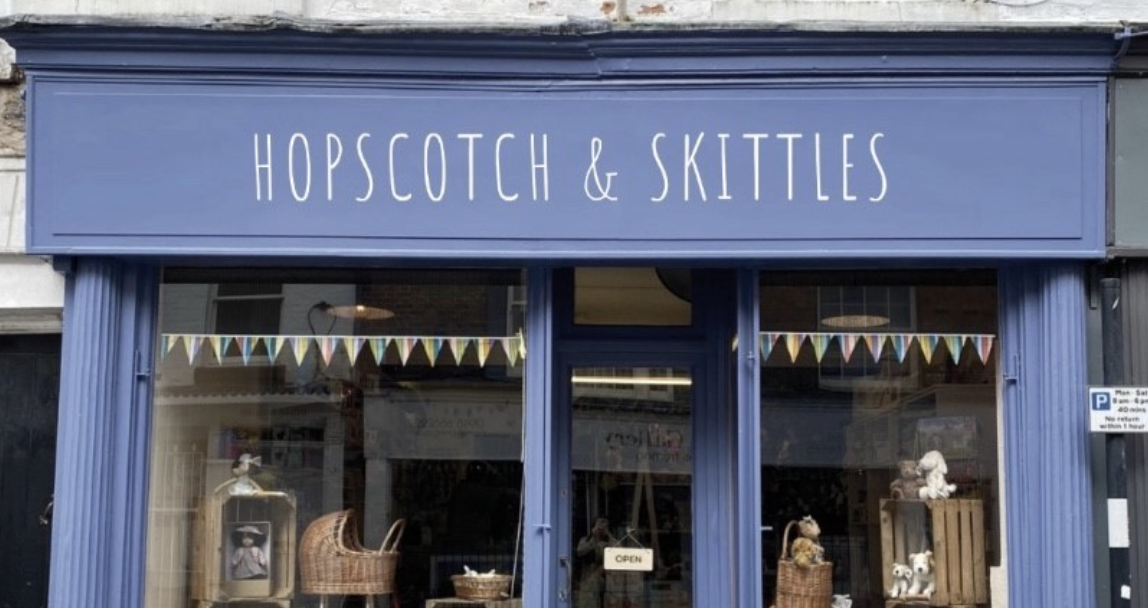 Hopscotch & Skittles is a small independent toy shop, selling beautiful quality wooden toys & gifts. We cater for newborns to children aged 6+. Lots of lovely special gifts.
07866988951
Colour Supplies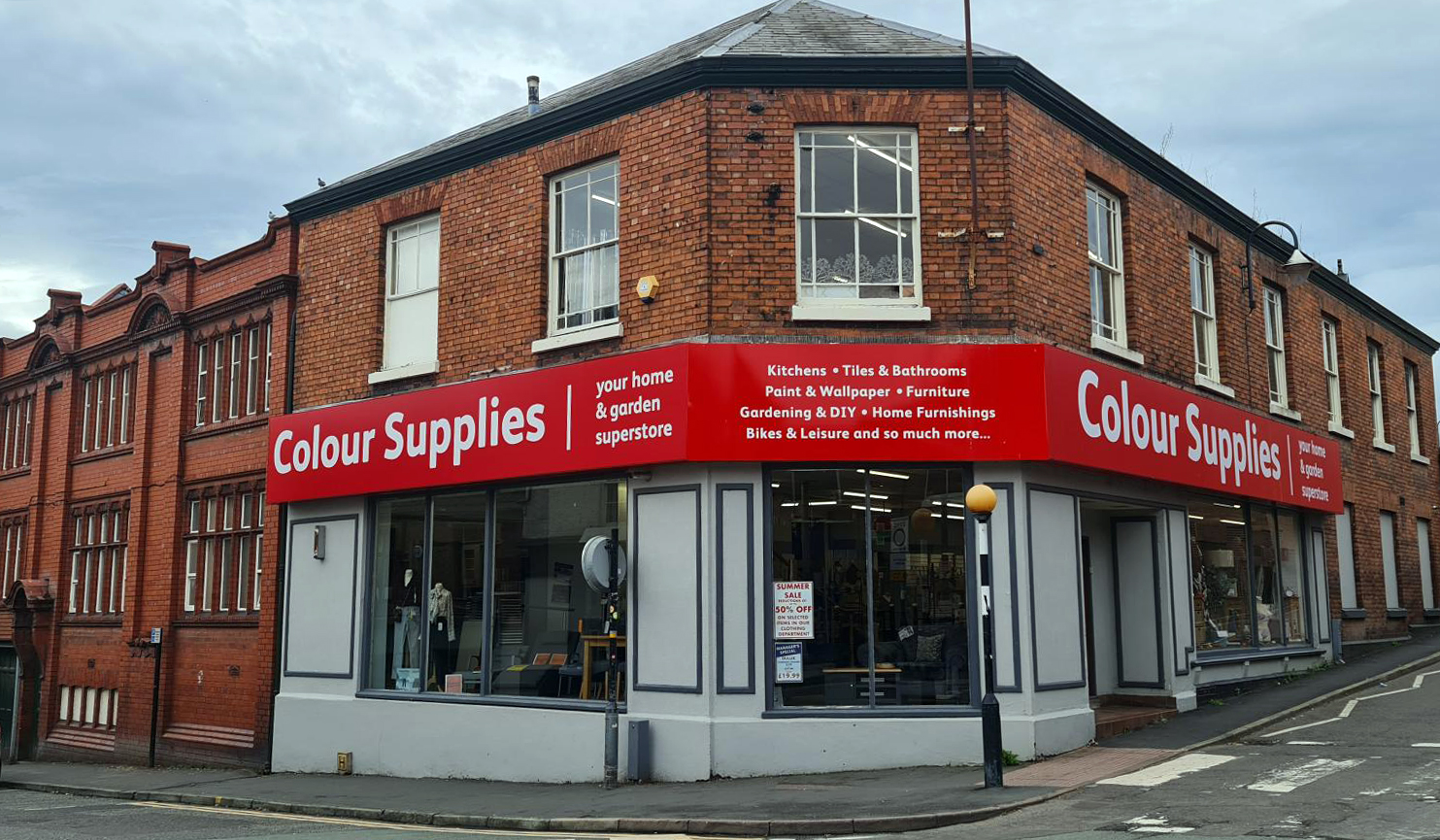 Colour Supplies is one of the longest running independent businesses in Whitchurch, being established in 1971, the original family still being at the helm.  Our fantastic staff are available to answer any query, some having been with us for decades, with a wealth of product knowledge.  From decorating to gardening, gifts to interiors we offer a huge range of products all at competitive prices, everything you'd expect to find in a high street department store.  We also have home & garden superstores in Oswestry and Wrexham.  Our Whitchurch department store hosts a ladies fashion department with top lingerie brands and a professional measuring and fitting service, stocking Fantasie, Freya, Wonderbra, Sloggi and other top underwear brands. Our staff look forward to welcoming you to our thriving town centre, with a host of other interesting independent shops and eateries.
Find out more: Colour Supplies
Crafty Birds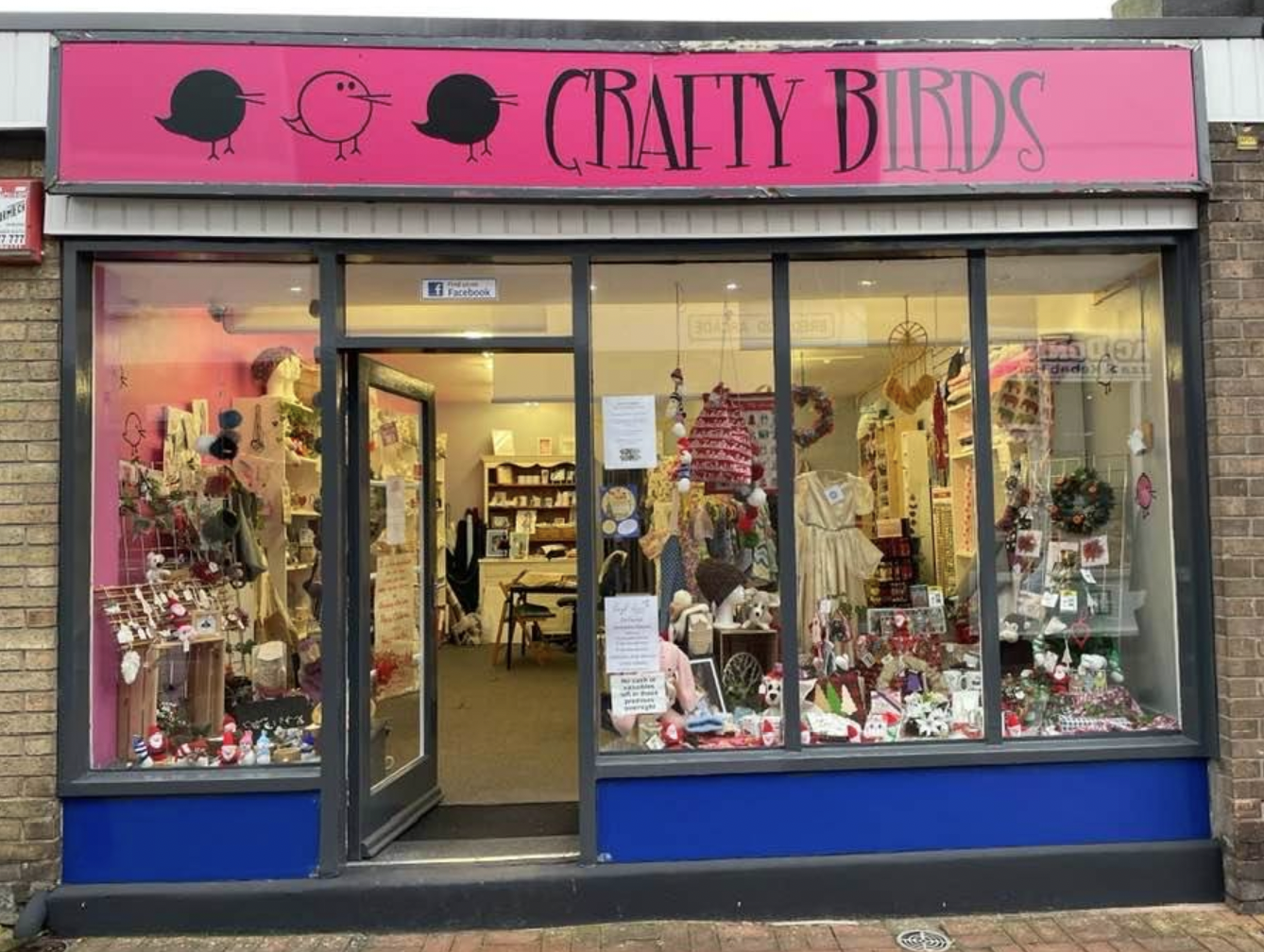 We don't just sell 'wool'!
Whether you're just starting off, or a seasoned pro, we carry a large selection of yarns, knitting needles, crochet hooks and accessories. If you need some help getting started, our helpful staff will be delighted to share their extensive expertise.
We do alterations and sewing lessons, haberdashery and fabric and lovely locally crafted gifts!
Find out more here: Crafty Birds
Green End Pharmacy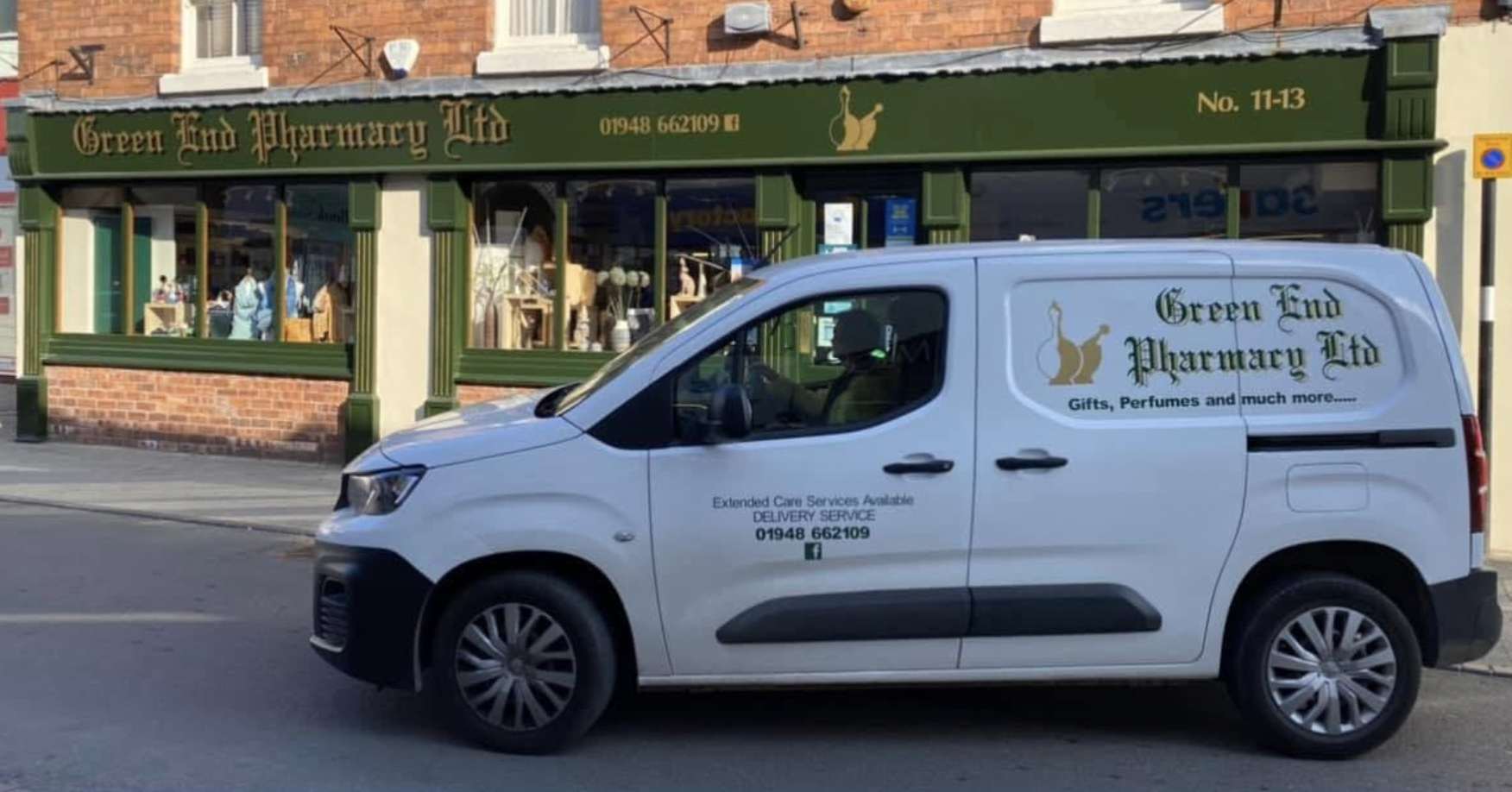 Not just a pharmacy, call in for a browse, we have something for everyone! Quality gifts, Jewellery, Accessories, Ladies and gents fragrances.
Find out more: Green End Pharmacy Ltd
Little Beginnings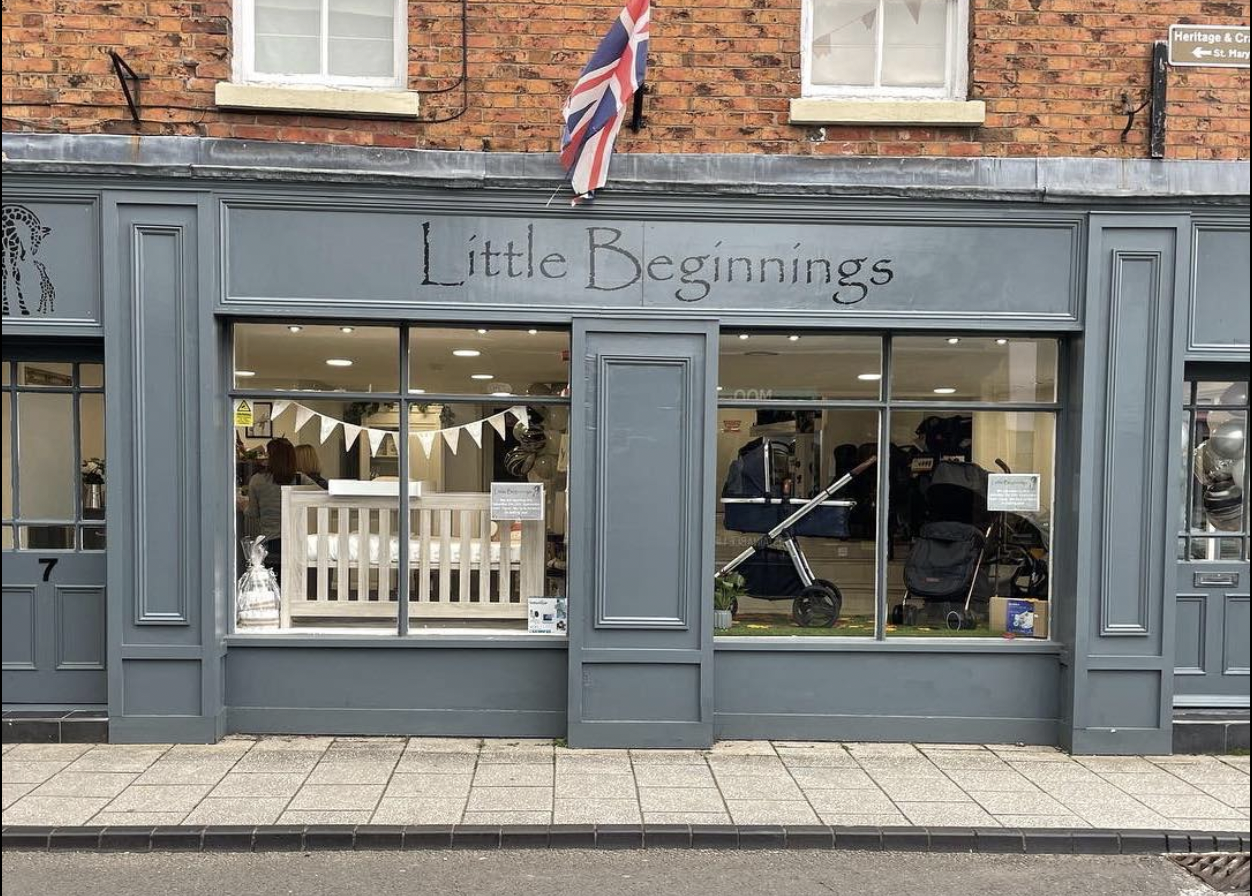 Find out more: Little Beginnings
Just Ask Jane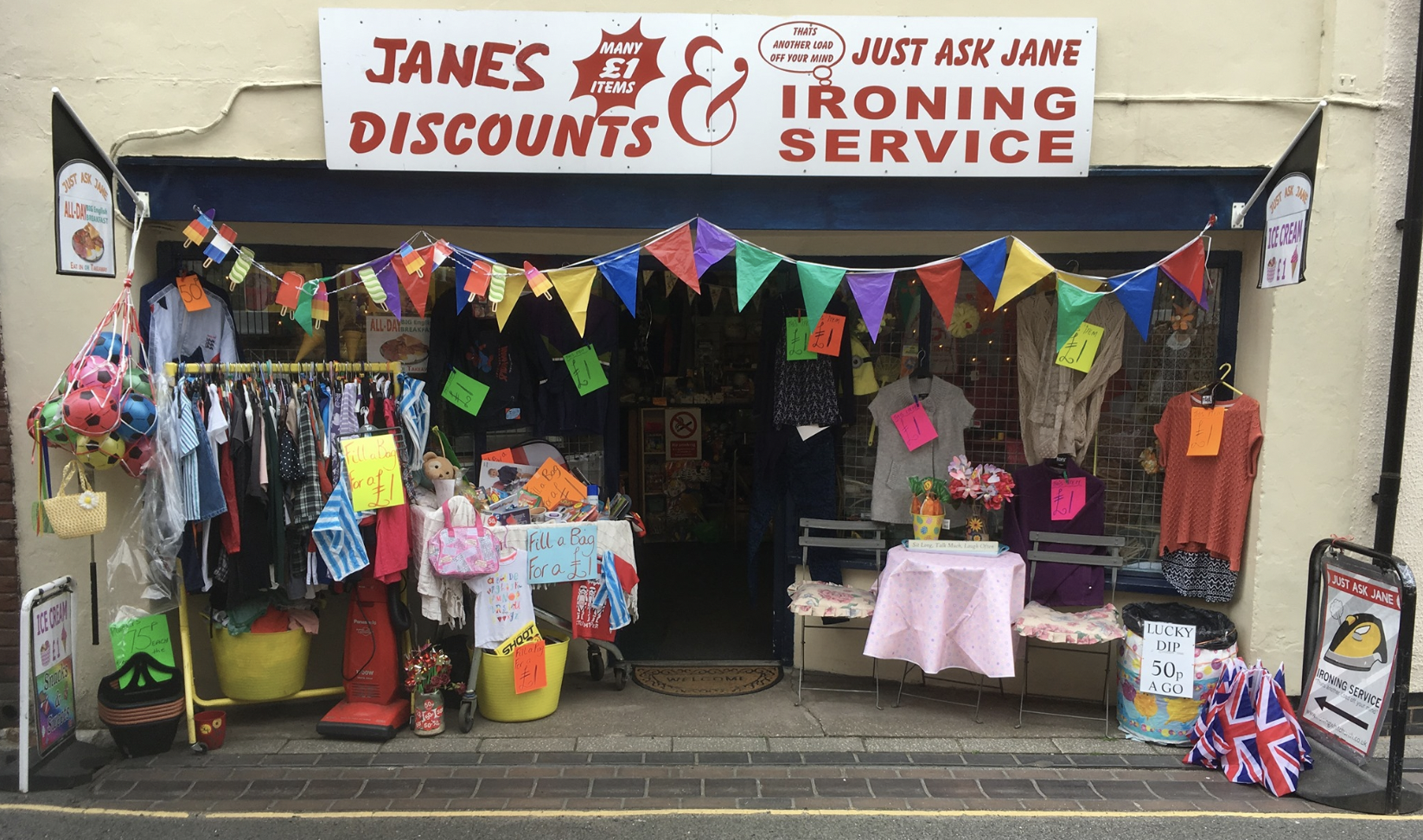 Just Ask Jane is a seasonal discount shop and ironing service on Deermoss Lane. Take a load off your mind with single item ironing to baskets full. Helping local charities.
Find out more here: Just Ask Jane