Bishop's Castle – an unspoilt medieval delight!
Moving to Bishop's Castle two years ago, I felt as if I had come home. It is the most welcoming place I have ever been.
Bishop's Castle is an unspoilt, working town dating from the Medieval period. Built on a very steep hill, it is surrounded by a spectacular Area of Outstanding Natural Beauty on the border with Wales, midway between Ludlow and Shrewsbury.
The town is at a junction of several old drover's routes and tracks which led travellers, farmers and stock to the markets. Over the years, they have also brought in artists, potters, authors, musicians and free thinkers of every hue. As a result the town has always been famous for its welcome to visitors, its music, its hostelries – at one time having over 40 pubs! its independent shops, its fairs and festivals and its slightly eccentric demeanour.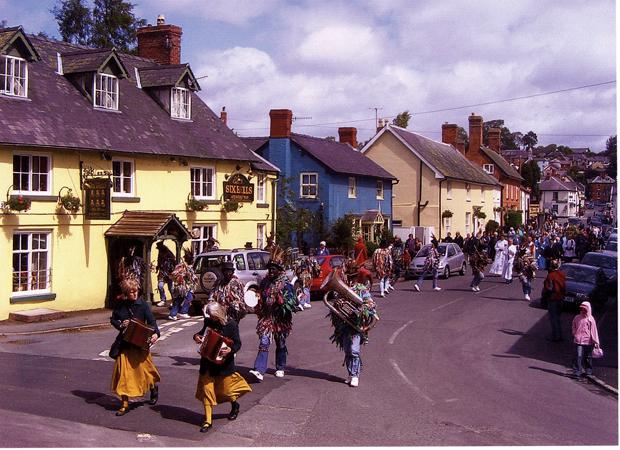 Only a few of the original motte and bailey castle walls of 1085 remain. But this is where it all began. From here, a trio of Norman streets still runs parallel down the steep hill from the castle towards the Church.
Over 160 'listed' houses, a huge number for so small a place, front these streets. Take a closer look at the houses. What appears to be a classic Georgian house may, in Bishop's Castle terms, be just a relatively modern façade only 300 years old but hiding a heart of Tudor Oak. Some of the eccentrically painted facades hint at the quirkiness of the residents of this appealing, alternative town.  Spot the spotty house near the Three Tuns  if you can, or see whether you can find the house that unzips to reveal the brickwork behind the stucco – or even a giant performing elephant.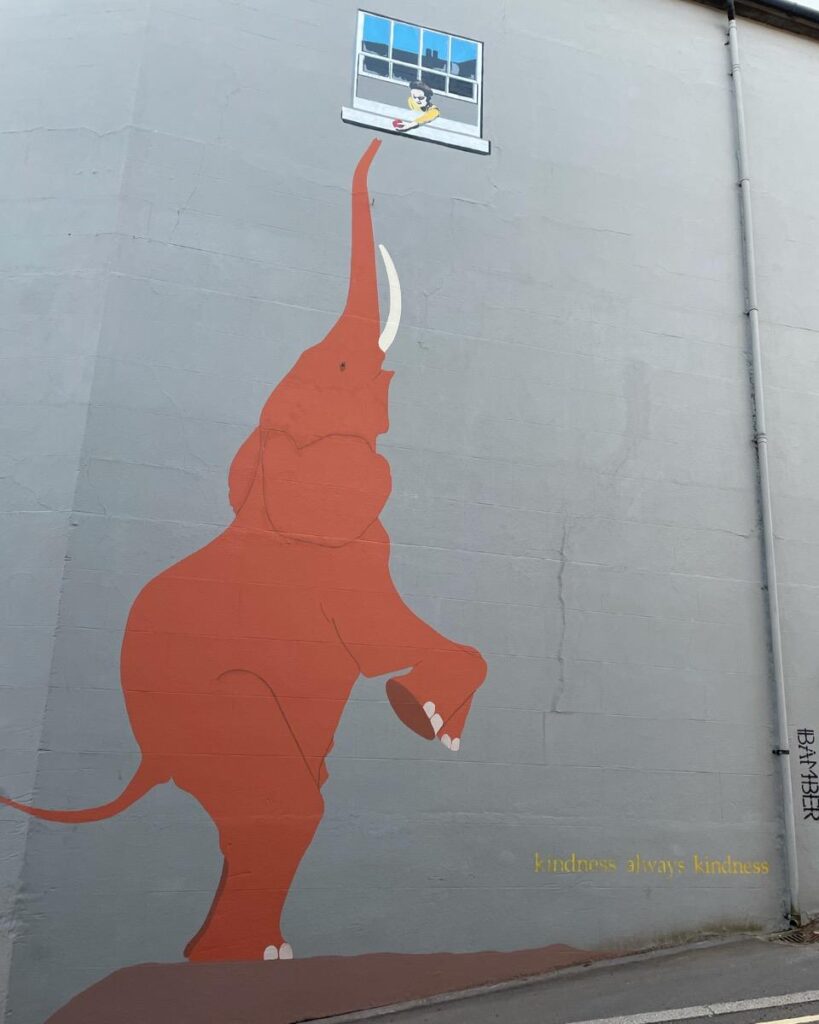 The town comes to life with the many festivals – the Michaelmas Fair, Beer Festival, Party in the Park, Arts and Crafts and the many musical and cultural events.
There are wonderful hostelries and period bed-and-breakfast lettings here. It's a great base to explore the Shropshire Hills. And dogs are very welcome.
The Shropshire Way, Kerry Ridgeway and Offa's Dyke are all nearby. Many public footpaths lead directly from the town into pristine countryside with unrivalled views of Shropshire and into Wales.
The five amazing pubs to visit, include The Three Tuns, the historic Six Bells, splendid Castle Hotel where many visitors stay and The Vaults, one of the best live music venues in Shropshire.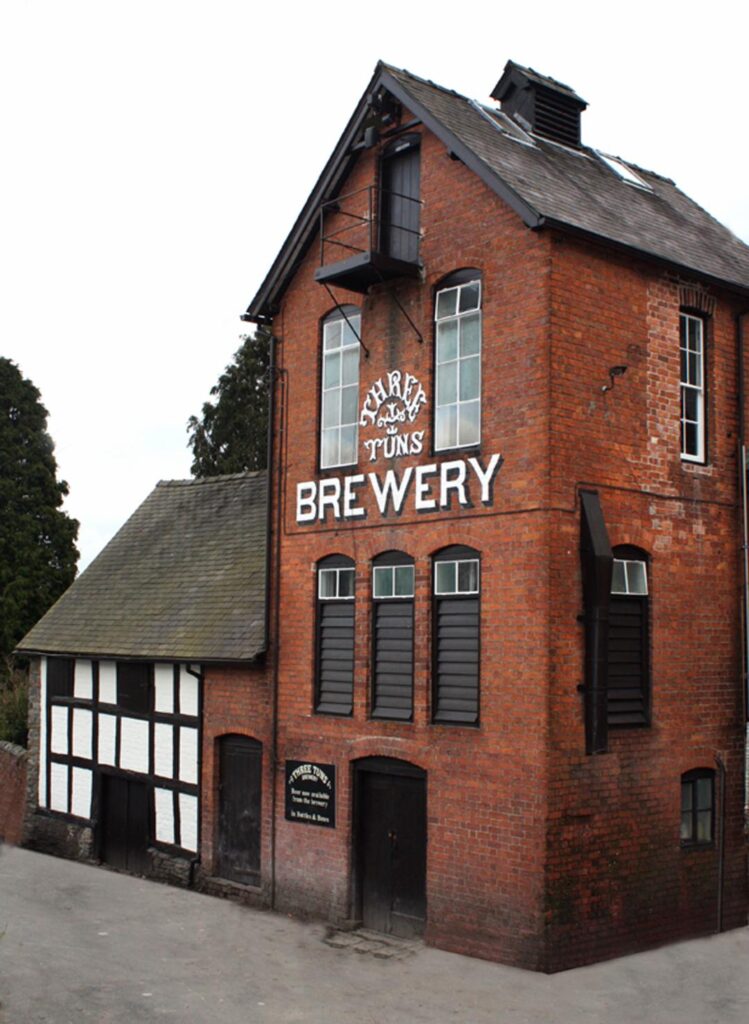 There are coffee and food shops, both traditional and wonderfully exotic, to be found in Market Square and down the High Street.
With over 20 small independent shops selling glassware and gifts, books, textiles, CDs, cards and antiques, the town is a treasure-trove for unusual and quirky gifts, as well as for the everyday basics.
For a small town of only 2,000 people – a number thought to be unchanged for 1,000 years – the town has remarkable leisure facilities.  There is pay and play tennis, a crown bowling green, a cricket pitch with the best views in Shropshire,   the SpArC complex with its theatre for films and streamed and live performances, swimming pool, gym and squash courts and pitches for football and other team games – and cycle hire and cycle routes galore.
And Bishop's Castle has no parking charges or restrictions.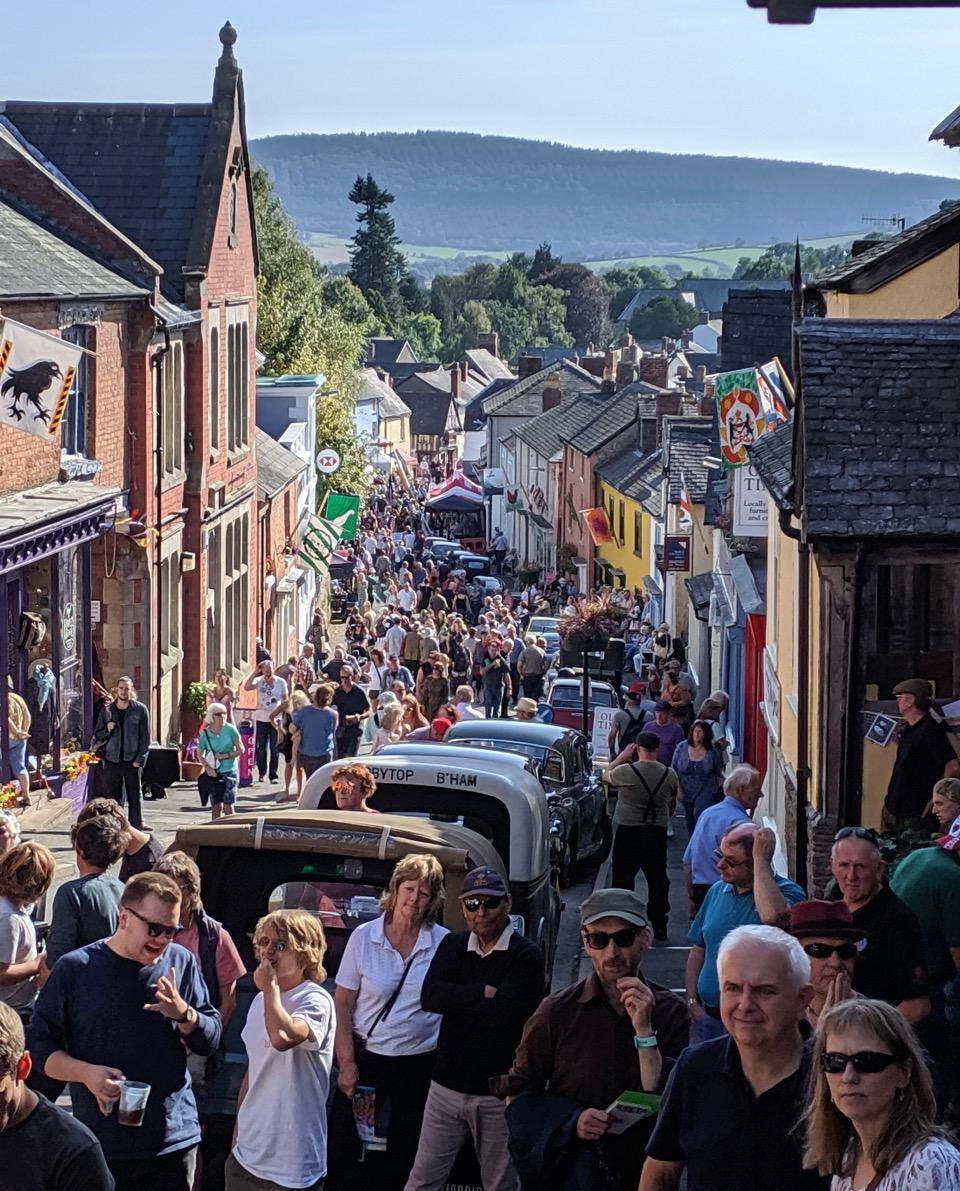 Walking around the town
A good place to start is the renovated Town Hall (1760) which sits high on the steep hill and has a fabulous view of the High Street. It hosts craft fairs, farmer's markets, musical events and houses the Information Centre. It can advise on the best websites to access and provide information with lots of leaflets on local history and things to do-
a Town Trail covering all the main sights,
an Elephant Trail – the town has an elephant on its Powis Coat of Arms – and loves elephants,
a Fairy Trail for children on land adjacent to The Wintles, an environmentally focussed concept housing scheme .
For me, to get a good impression of the town, start at the Town Hall, enjoy the shops going up the High Street and in the Market Square to the Three Tuns Brewery (1642) in Salop Street – having booked your brewery tour.  It claims to be the oldest brewery in Britain. Head back to the Old Market Square with its multi coloured houses, look in at the Castle Hotel passing the Elephant House – where Lizzie, a young circus elephant lived with her friend a Shetland pony called Dannie in 1939 – and into the garden for a coffee – and what a view, continue to Castle Street with its Georgian houses turn left into Welsh Street back to the Market Square, having  checked out the view down Union Street as you pass – it will make you think 'Hovis', then turn right down time worn cobbles to the ancient 'House on Crutches' which continues to watch benevolently over the town from on high, just as it has done for hundreds of years – the museum here is worth a visit. Stop for a coffee or bap at the 'Happy Bap' with its lovely garden or a samosa at Tara's Chai shop and on past the historic Porch House (1564) down the main street.
If you have time check out the old railway weighbridge at the bottom of Station Street,  almost all that remains of the Bishop's Castle railway that closed in 1935. A pint at the Six Bells then beckons. This should be followed by a visit to the Victorian Church of St John the Baptist with its presumed Norman Tower – and of course six bells four of which recently celebrated their 400 th birthday.
The churchyard, part of God's Acre, is where our tour ends. It contains some amazing Georgian gravestones and one commemorates an unknown African who died in the town in 1801. There is no record of how or why he or she was here but they were obviously welcomed, valued and esteemed. The expensive gravestone, extraordinarily, was funded by public subscription, well before the abolition of the slave trade. The inscription reads "Here lieth the body of I.D. A native of Africa who died in this town September 9th 1801' – "God has created of one blood all nations of men." – the abolitionists mantra.
Bishop's Castle, as I have found, still has that open heart and continues to welcome everyone. It is a timeless place and well worth a visit.