A place to stay is about much more than getting a good night's sleep. You'll find amazing quirky accommodation that fires the imagination all across Shropshire from Shepherds Huts and Login Cabins to Igloos and even train cabins. Settle for a stay you'll never forget.
All aboard Coalport Station Holidays – your ticket to a quirky experience.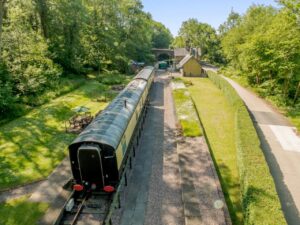 Coalport Station Holidays offers exceptional self-catering accommodation in two railway carriages in the grounds of the old Great Western Railway at Coalport. Come and stay in one of the renovated railway carriages and relax in comfort surrounded by two acres of beautiful woodland.
From the outside, the carriages look like historic GWR rolling stock, but it should be noted, on the inside, they offer the ultimate in modern holiday accommodation. This peaceful setting is also within walking distance of excellent quality food and traditional ales.
Book your quirky experience here!
Call Cruckburn your home for the night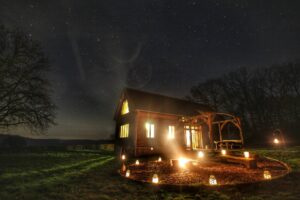 Here you'll have an unforgettable holiday in this quiet, hilltop, rural retreat. Enjoy breakfast with beautiful views over Shropshire and Herefordshire, and out to the hills near Ludlow. Roam Cruckbarn's woodland and field, or explore the country walks beyond.
Stargaze at night by the campfire, or cosy up inside around the log-burner. Under sumptuous linen, drift off to sleep in one of 2 bedrooms. Cruckbarn was created from 100 oaks that grew in the surrounding ancient woodland, in fact it was built by hand! It has been a "grand design" and something of a labour-of-love. Cruckbarn sleeps 4-5 in a comfortable king, double or single bed.
Sleep under the stars at Woodland Escapes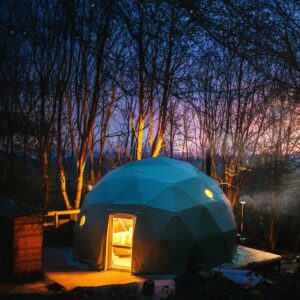 Discover how it feels to wake up in 45 acres of Shropshire's beautiful countryside in one of many unique woodland retreats. Woodland Escapes is second to none.
Stay in the Star Gazing Tree House and sleep beneath a canopy of stars, immersing yourself in pure luxury in the heart of the woodland. The Star Dome and Tree Dome offer the simple joys of the great outdoors; designed for nature cravers, adventure chasers, peace and quiet seekers, stargazers and memory makers. All of Woodland Escapes glamping properties have their own private facilities and, not to mention, hot tubs!
Unplug at Woodland Escapes here!
Cosy up in your own Log Cabin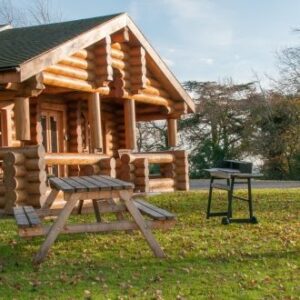 This Luxury Log Cabin sits in a five-acre paddock in the grounds of a large country estate in Welsh Frankton and is the ideal location for a relaxing stress-free holiday for both you and your furry friends. Here you can relax in the cabin or be more adventurous and visit some local places of interest.
There are wonderful views over the Shropshire Plains from the Lodge, the area is also renowned for scenic walks, fishing, boating, sailing and wildlife.
Book your cosy night at Brynallt Country Park
Fancy a more luxurious camping experience?
At Love2stay the days of roughing it on a campsite are over!
Glamping makes sure that you have the best of both worlds as you can connect with nature and super-fast Wi-fi at the same time. You can spend your day's pond dipping and your evenings cocooned in warm water – that's glamping with hot tubs included!
Outside, enjoy your own outdoor hot tub, outdoor fire put and private sun deck. Inside, apart from the sumptuous lounge furnishings, flat screen tv and a fully fitted kitchen.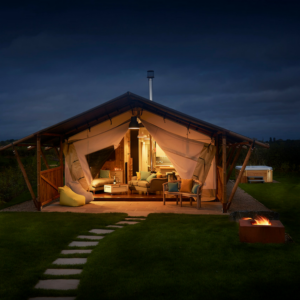 Book your top-class camping stay!