Shropshire has a strong farming heritage. Not only does agriculture keep our views beautiful, but it also produces the outstanding food on your plate.
This field to fork mentality is amplified by are extremely talented chefs – men and women who know this is the perfect place for food lovers. Up and down Shropshire, you'll find some of the best fine dining restaurants in the country.
Ludlow, in particular, has a longstanding reputation as Shropshire's foodie town.
The Feathers Hotel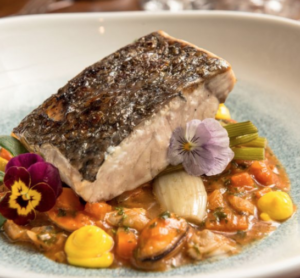 In the very heart of Ludlow, you'll find a stunning 17th-century half-timber framed hotel known as the Feathers. In fact, it's been known as the Feathers Hotel for over 350 years!
Set in their stunning dining room, you can be prepared for some culinary delights when dining here.
Their motto is every meal should be memorable, exquisitely indulgent and leave you wanting to re-live it time and time again. Chef and his talented brigade use locally sourced produce and have a very good understanding of the seasons, meaning you only get the best quality ingredients. If you choose to dine at the Feathers, expect every dish to be served up with a twist of imaginative genius with the very best flavours of British roots infused with the culinary skill of French cuisine.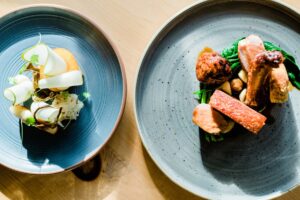 Located just a few miles from the county town of Shrewsbury, in the sleepy but picturesque village of Upton Magna.
This is no ordinary coaching inn. the Haughmond is a rejuvenated and re-styled 17th-century inn, with stylish interiors and original features. The dining experience here reflects the inns past and Its present. Expect bold, unpretentious cooking with brilliant, seasonal, Shropshire ingredients, served by a dedicated team, who love to eat out as much as you do. Find out for yourself why The Haughmond has featured in the Michelin guide for the last 5 years.
North of Shrewsbury, in the quaint town of Whitchurch you'll find an unusual twist to fine dining.
Wild Shropshire offers a micro seasonal, terroir led dining experience. The word 'Terroir' refers to environmental factors such as the soil, climate and topography which affects the taste and appearance of certain crops. The multi-course tasting menu is based solely on what is available locally at that time, whether that be from the allotment, what can be foraged, farmed or produced by some of the amazing local artisans in the area. Their philosophy is to give you dishes distilled down to their essence, only containing what it needs to.
Looking to develop your palette? Come dine in Shropshire!