Shropshire's ancient woodlands are home to some of the UK's most magnificent bluebell displays. This springtime unfurling is at its peak from mid-April to early May making it the idea time to book a stay and go a-wandering in the woods. Visit Shropshire's top suggestions include:
Sallow Coppice in the South Shropshire Hills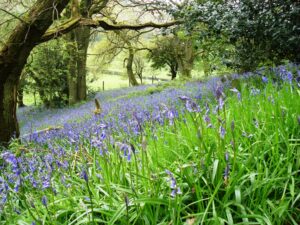 For a proper sea of blue, the bluebell woods of Sallow Coppice, near Craven Arms in South Shropshire, are hard to beat. Their incredible blaze of colour and spring scent can be enjoyed on a circular walk from the Shropshire Hills Discover Centre (which has an award-winning café onsite). As well as taking in the bluebell carpet, the Sallow Coppice circular offers wonderful views of English Heritage's fairytale turreted medieval manor house, Stokesay Castle (soon to feature in Lena Dunham's new comedy, 'Catherine Called Birdy')
For more information: http://www.shropshiresgreatoutdoors.co.uk/route/shropshire-way-circular-walk-5-sallow-coppice/
Blue dalliance in the National Trust's Dudmaston 'Dingle'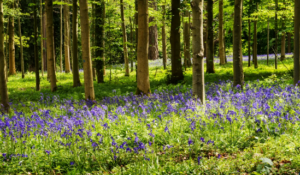 During late spring, the National Trust's Dudmaston Estate is swathed in dainty blue beauties. For the best displays, visitors can follow 'Captain Geoffrey's Estate walk,' through the south facing Long Covert (where the sun's warmth releases a delicate bluebell fragrance), and onto the 'Belle Vue' of the Dingle which is especially deserving of its name during bluebell time. nationaltrust.org.uk/dudmaston
Enjoy the bluebells and a pint from The Bear in Hodnet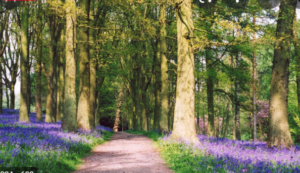 The Bear has been part of the community in Hodnet, Northeast Shropshire, for 500 years. Fresh from a major makeover last year, the pub with rooms is well placed to enjoy the 2.5 Hodnet to Tunstall Woods linear 'Blue Bell Walk' in spring. For more sightings, set in 60 acres of woodland, Hodnet Hall and Gardens is renowned for its brilliant bluebells displays.
Open daily from 14 March £8.50 adults and £1 children http://www.hodnethallgardens.org/ Telephone:01630 685786
Bluebells, bunnies and frolicking goats at Park Farm Countryside Experience near Oswestry, North Shropshire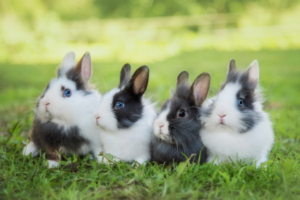 While the 'Woodland Bluebell Nature Walk' at Park Hall Countryside Experience and Farm is a must-do springtime amble – the sightings of baby animals are also certain to bring gasps of delight. Visitors can interact with the lambs, pet the guinea pigs, and watch the bunnies have fun in their own 'Burrowland' themepark. Hours can also be spent mesmerised by the goats as they frolic in their dedicated playground. Here, the spring-born kids literally leap on trampolines and enjoy their very own goat swing.
For human kids there's a huge indoor play barn plus an outdoor adventure playground, zip wires, and vehicles to ride. www.parkhallfarm.co.uk £11.95
Bluebells, daffodils, and wild garlic at Wenlock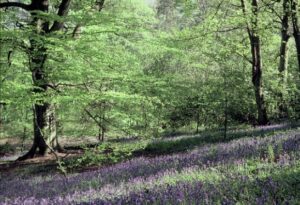 Proper picture box stuff, Much Wenlock is a mix of medieval, Tudor, Georgian and Victorian buildings, many of which are decked in spring flowers. Easily accessible from the town is the National Trust's Wenlock Edge which emits a blue and purple haze every spring with carpets of bluebells as well as wood anemone, violets, primroses – even the odd early purple orchid. Throughout spring walkers (and foragers) along this fascinating limestone ridge will be guaranteed wild garlic too.
Shropshire Great Outdoors features a selection of walks from Much Wenlock: http://www.shropshiresgreatoutdoors.co.uk/route/wenlock-homer-head-walk/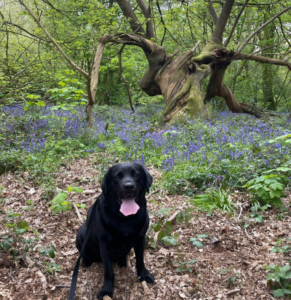 Springtime peek into the bluebell woods of Combermere Abbey private estate
With more than 1000 years of history, family owned Combermere Abbey has undergone many guises. From its 1133 beginnings as a Cistercian monastery, it has been a Tudor mansion, Victorian gothic showpiece and now grade 1 listed stately home cum B&B, wedding, and self-catering accommodation venue. Set in 1000 acres of rural wood and parkland every spring the private estate opens its grounds to the public, enabling visitors to stroll the grounds and enjoy its colourful 'Woodland Walks with Bluebells' programme.
Running at 10am, midday and 2pm every weekend from Saturday 23rd April to Saturday 21st May the ticketed event costs £6 for adults and £3 for children. https://combermereabbey.co.uk
An amazing hill fort set on the border of Wales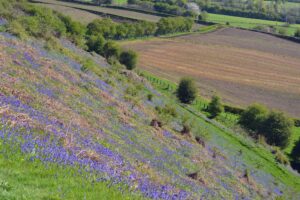 Old Oswestry is one of the best preserved iron age hill forts in Britain and the perfect time to visit is in spring when the bluebells are in flo
wer. As you approach there is a faint blue haze across the impressive ramparts but as you get closer and walk up and over the ramparts you will soon be surrounded by this most English of flowers.
It may be a myth that King Arthur's Queen Guinevere was born here but there will have been many spring mornings over thousands of years when the views of Shropshire have been enhanced by the sight of wild bluebells. Stroll around the top of the hillfort and wonder at the beauty of Shropshire in the spring as you take in the glorious views of this hidden county. Oswestry Hill Fort
STAY in a Bluebell Wood at Riverside Cabins: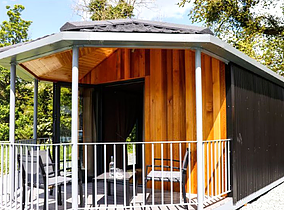 Centrally located to make the most of the bluebell wanderings, Riverside Cabins is hidden away in a tranquil spot beside the River Perry in Ruyton Xi Towns. With nine well-designed catering lodges – some with their own hot tub – it's surrounded by nature. Guests can enjoy bluebell wood walks straight from cabin and fire-pit delights of the specially made area at the edge of the woods. Cabins sleep 2, 4 or 6, with a four-night stay in late April based on two people sharing Babar costing £540 including all bed linen, towels, and heated hot tub on arrival.
https://www.riverside-cabins.co.uk/ Tel: 01939 260495.