Explore the canals and scenic walks around Market Drayton!
The Shropshire Union Canal (Shroppie) was completed in 1835 and played a crucial role in the transportation of goods between the West Midlands and Liverpool. Despite facing competition from the railways, the Shroppie remains a significant waterway today, attracting thousands of boaters each year. this canal offers picturesque views and is perfect for a day of strolling!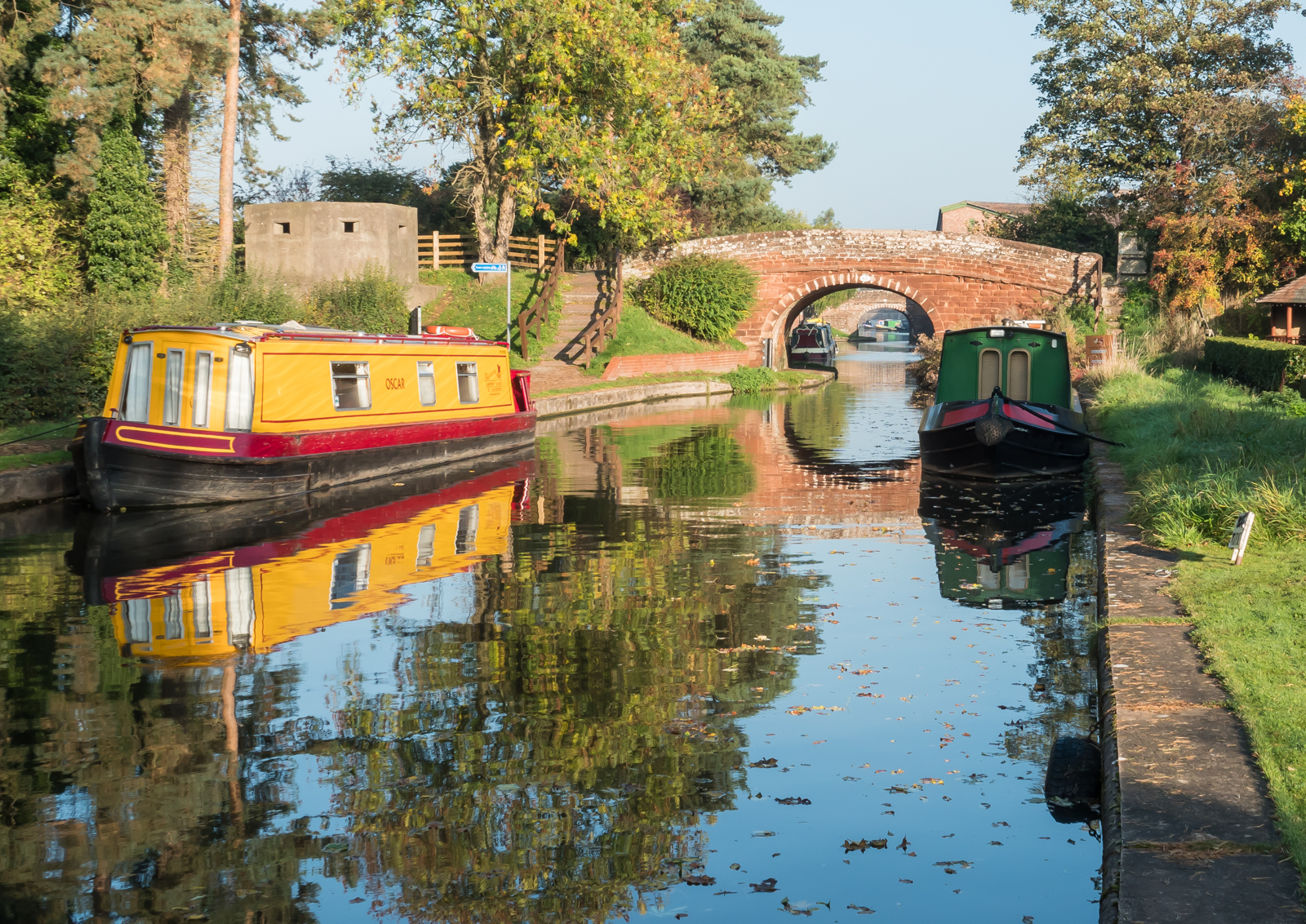 The Llangollen Canal, which branches off from the Shroppie, offers a stunning scenic route that passes through North Shropshire. As you travel along this canal, you'll discover picturesque towns like Whitchurch, Ellesmere, and Oswestry before eventually crossing into Wales.
The towpaths of the canals are perfect for both walking and cycling. They provide a relatively flat and smooth surface, although certain sections may become muddy at times. The Canal and River Trust has made efforts to improve access and signage along the towpaths, ensuring a pleasant experience for walkers and cyclists.
If you venture about a mile from Market Drayton, you'll come across the Tyrley flight, a picturesque set of five locks. This charming area is worth visiting any time of the year, not only for the impressive spectacle of boats navigating the locks but also for the quaint cottages that line the canal. The journey towards Tyrley delights with its tree-lined canals and sandstone cuttings, creating a tranquil and scenic atmosphere.
An alternative route takes you through the deep Woodseaves cutting towards Goldstone Wharf Tavern. Here, you can relax and watch the boats pass by as you sit at the tavern. This section of the walk offers a peaceful and idyllic setting, with the canal winding its way through the countryside.
Walking north along the towpath from Market Drayton provides a more open landscape with expansive views across fields as you approach Cheshire. It's a fantastic opportunity to immerse yourself in the natural beauty of the surrounding countryside.
Finally, a noteworthy historical feature is the presence of pill boxes from World War II. Designed as an additional defense measure in case of invasion, these pill boxes can be found near the Newcastle Road bridge in Market Drayton and hidden among the undergrowth in a field next to the Wharf Tavern at Goldstone near Cheswardine.
Enjoy your exploration of Market Drayton's canals and walking routes, and soak in the beauty and history of this charming area!
Find walking routes around Market Drayton here