If you are looking for a walking break, or day's walking in the Shropshire Hills, Church Stretton will offer you everything you are looking for. There's plenty of parking in the town as well as parking at Carding Mill Valley, which is the National Trust's main car park for the Long Mynd. The encircling hills offer many tempting viewpoints and walks. The town is rarely crowded, but bustles with the business of the day, walking! It's the perfect place to begin your day with a coffee and bun, buy provisions for a hillside lunch and drop back to for a well-earned post-walk drink.
Leaving your car at home?
There are excellent rail links to Shrewsbury from Birmingham, Manchester and to Ludlow from South Wales. Church Stretton railway station is in the heart of the hills, and an excellent base for walking.
Long Mynd and Stiperstones Weekend Shuttlebus
This shuttle bus gets walkers out to the less trodden hills, the finest views and some of the most pleasing pubs in the area. Navigating the often steep, narrow Shropshire lanes by car can be a challenge. The bus takes all the stress away allowing you to admire the views and relax whilst it takes you to the start of your walk. The bus starts from Church Stretton and collects from the Railway Station in the town as well as other stops along the A49 connect to the 435 Shrewsbury to Ludlow bus. See here for details of this years' service.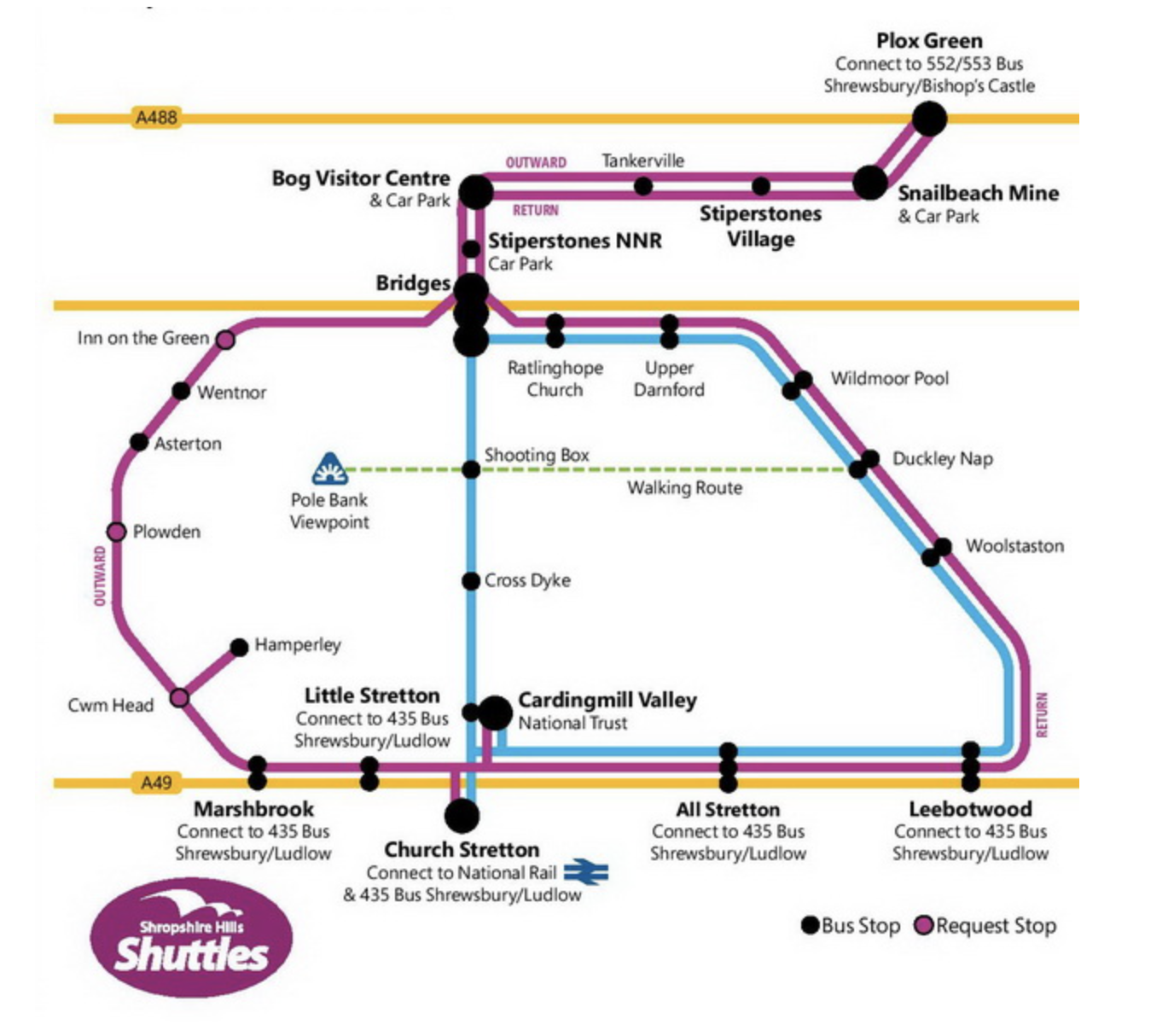 You can walk to another stop, and be picked up, flag the bus down from anywhere along the route, or plan instead to walk back to where you started.
Travelling by Car?
Carding Mill Valley is one of the best-known places in Shropshire and one of the National Trust's busiest attractions in the West Midlands. The car park gets very busy and is often full by mid-morning, especially during the summer. We recommend either arriving before 10am or after 3pm to be assured of a parking place if parking in the valley. The Shuttlebus picks off and drops there at intervals through the day.
You can park in several locations in Church Stretton Town Centre. The town is small, so you are never far from the bus stops, the railway station, shops or food and drink.
Travelling by train?
Book your tickets from Ludlow or Shrewsbury to Church Stretton here: https://tfw.wales/plan-a-journey
Here's an Itinerary to a Saturday car-free trip walking trip.
Walks for Long Mynd & Stiperstones Shuttle Bus
Train from Shrewsbury arrives 09:14am
Train from Ludlow arrives 09:39am
Where to catch the bus
Carding Mill Valley 10:00am (15-minute walk from the station)
Lutwyche Road (Hough & Sons Butchers) at 10:08am (2-minute walk from the station)
Church Stretton railway station (southbound side) at 10:15am
Wentnor Wanders & Adstone Adventures
Option 1 –  A circular walk from Wentnor
Get off at Wentnor – at the church near the Crown pub at 10:49am. It'll be way too early for lunch, so either walk and come back to Wentnor or walk from Wentnor to Bridges and catch the bus there.
http://www.shropshiresgreatoutdoors.co.uk/route/stiperstones-corndon-lps-ancient-trees-and-stones/
Downloadable guide and Outdoor Active listing with GPX
Distance: 6.6 miles
Time: 3 hours
Difficulty: Moderate
This walk takes you to the scenic beauty of Linley Beeches, a row of ancient beech trees planted by French prisoners of war during the Napoleonic War. With an eye on the time, you should make it back in time for a late lunch, but you might want to take some food with you.
Catch the Shuttle at 15:35pm from Wentnor Church for a tour of the Stiperstones and northern end of the Mynd, getting back to Church Stretton at 17:15pm.
Alternatively, hop off again at Bridges at 15:47pm and have a drink whilst the bus heads off to complete its outward journey and collects you on its way back an hour later at 16:45pm.
Option 2 – Walk to Bridges over Adstone Hill Adstone Walk – Bridges to Wentnor
Distance half walk: – 3 miles
Duration: 2 hours
Distance full walk: 5 ½ miles (circular)
Duration: 3 hours
Difficulty: Moderately challenging – superb views
Essentially, you'll be doing this walk in reverse from the middle Point 6 to get the views. Then if you decide to stay in Bridges for lunch* and not go back to Wentnor, you'll have seen the best bits.
Downloadable guide and Outdoor Active listing with GPX
Return Options
The bus (Bus route B – the blue bus) arrives at Bridges at 14:00pm and goes back to Church Stretton.
The bus (Bus route A, the maroon bus) arrives at Wentnor at 15:35pm then stops at Bridges at 15:47pm, catch this for a scenic tour of the Stiperstones.
The last bus from Bridges departs at 16:45pm to return to Church Stretton.
Other walks from Bridges Darnford Walk
Distance short route: 4 miles
Duration: 2 hours
Distance longer route: 6.5 miles
Duration: 3 ½ hours (circular)
Follow the Shropshire Way back to Church Stretton, via the Darnford Valley and Carding Mill Valley. You can also flag down the bus at Duckley Knap at 14:05 pm and 16:55 pm if you'd prefer to walk at a leisurely pace.
Walks from the Bog
Alternatively, stay on the bus and get off at The Bog Visitor Centre – there's a great café, toilets and a shop here. There are a number of walks leaflets available. Alternatively, you can follow the Shropshire Way back to Bridges for lunch* or catch the 1400 bus back to Church Stretton. If you want to take your time, have coffee at the Bog, then walk back to Bridges at a more leisurely pace.
http://www.shropshiresgreatoutdoors.co.uk/route/walking-with-offa-13-the-bog-stiperstones/
http://www.shropshiresgreatoutdoors.co.uk/route/the-nipstone-wanderer/
*NOTES
The Bridges pub has a limited menu at present because its kitchen is being re-furbished. See website for details.
We recommend that you pick up a copy of OS Explorer series 217 1:25,000 map – available from Burway Books next to the Shuttle stop in Church Stretton on Beaumont Road.