If you're a history buff, you'll be in your element exploring Shropshire. The county is jam-packed with historical sights. They range from the substantial remains of one of Britain's biggest Roman towns to the many attractions associated with the Industrial Revolution at Ironbridge Gorge. You can also discover a host of medieval castles – built to keep the neighbouring Welsh at bay, the county has over 30 – and a cornucopia of timber-framed Tudor houses.
We've highlighted the very best places to visit in Shropshire from key periods of British history, from the Bronze Age right through to the 20th century. The county also has a wide choice of historic places to stay, and we've picked out a few of the best, with options to suit all budgets.
Bronze Age
Mitchell's Fold Stone Circle was constructed some time between 2000 and 1400 BC. Dramatically set in high moorland on Stapeley Hill ridge in south-west Shropshire, the large circle consists of 15 standing stones; there were probably 30 originally. As with other prehistoric circles, the purpose of this circle isn't clear, but it may have been to do with ceremonies or lunar or solar events.
Iron Age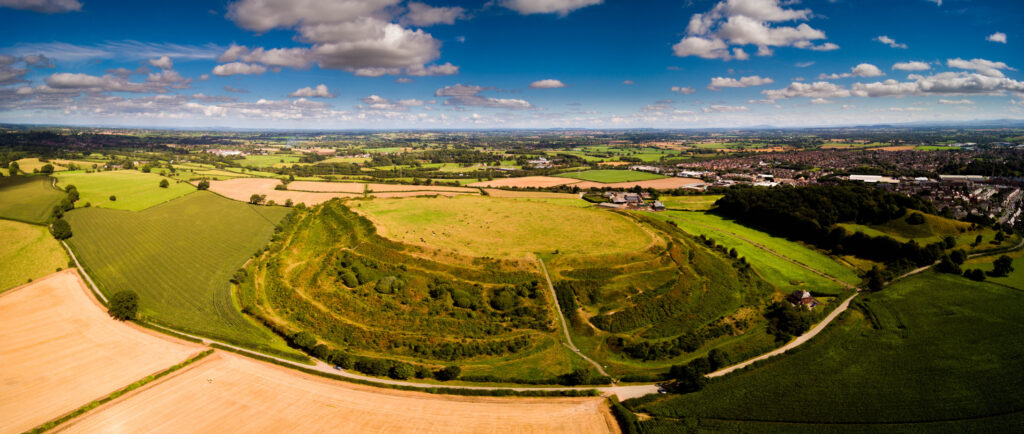 Shropshire may have as many as 50 hillforts dating from the Iron Age (800 BC to 43 AD). Old Oswestry Hillfort is one of the most impressive and extant of such hillforts anywhere in Britain, and sometimes referred to as "the Stonehenge of the Iron Age". It is vast. Its five sets of ditches and earth ramparts, which are up to six metres high, enclose a central area of around 21 acres.
Roman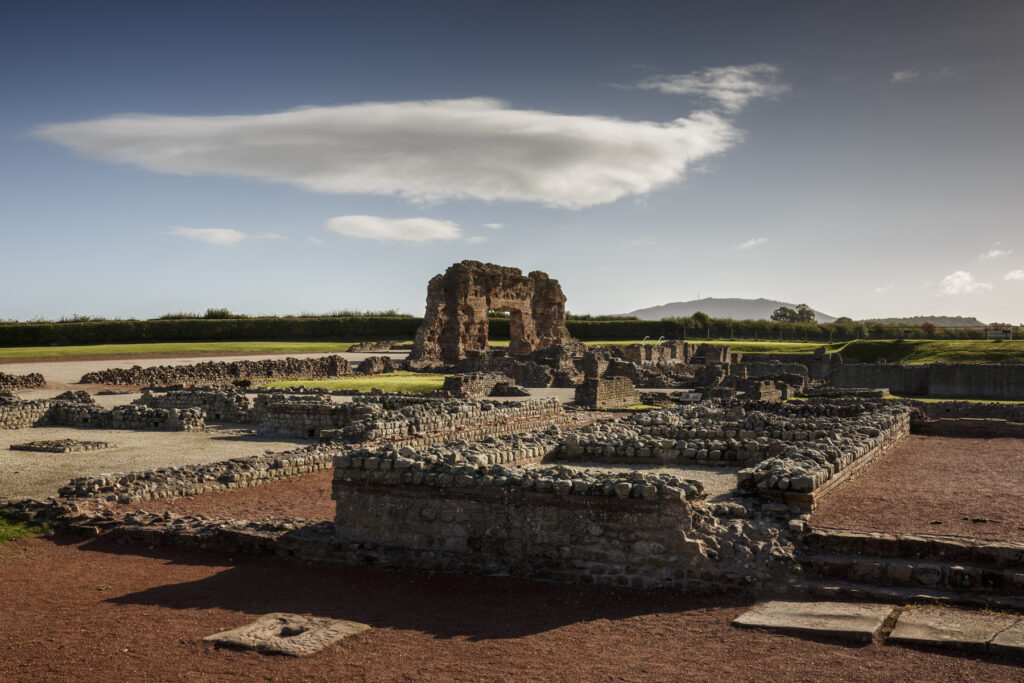 Wroxeter, or Viriconium, was the fourth largest town in Roman Britain. It started out as a legionary fortress and evolved into a substantial civilian settlement almost as large as Pompeii, with a grid of streets and as many as 5,000 inhabitants. You can see the remains of the forum, exercise hall and bathhouse, and visit a reconstructed town house. Audio tours bring everything to life.
Anglo-Saxon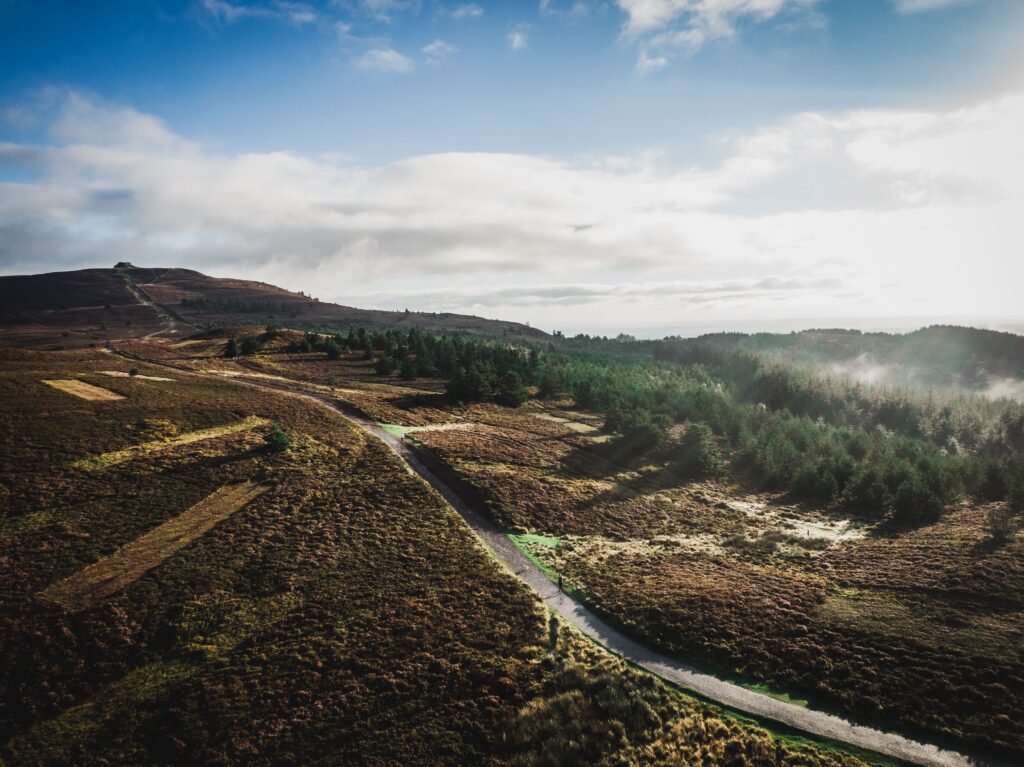 Offa's Dyke, a linear ditch and rampart, is thought to have been built by King Offa back in the 8th century. The largest archaeological monument in Britain, it runs roughly along the English/Welsh border, and can be followed on the 177-mile-long Offa's Dyke Path national trail. Some of the best-preserved sections of the dyke and most scenic sections of the trail lie in the Shropshire Hills Area of Outstanding Natural Beauty, between Knighton and the Kerry Ridgeway near Bishop's Castle.
Medieval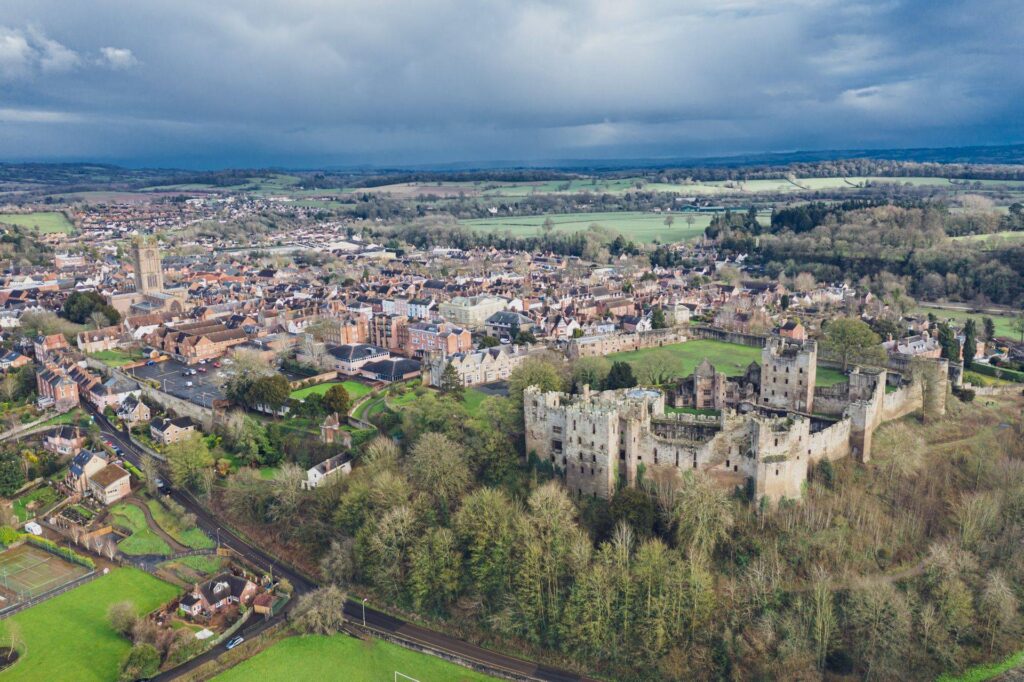 If you visit just one of Shropshire's many medieval castles, make it Ludlow Castle. First a Norman fortress, then extended in later periods as a fortified royal palace, it was abandoned in 1689. In 1722, Daniel Defoe described it as "the very perfection of decay". That description still very much holds true today – picture an imposing and picturesque ruin in the heart of an historic market town, with curtain walls, towers, gatehouses and much else besides.
Stokesay Castle is a very different affair. The title of castle is somewhat misleading. Constructed in the late 13th century by Laurence of Ludlow, a rich wool merchant, it's described by English Heritage as the finest and best-preserved medieval manor house in England. A highlight is the 17th-century, ochre-hued, timber-framed gatehouse with its ornate carvings.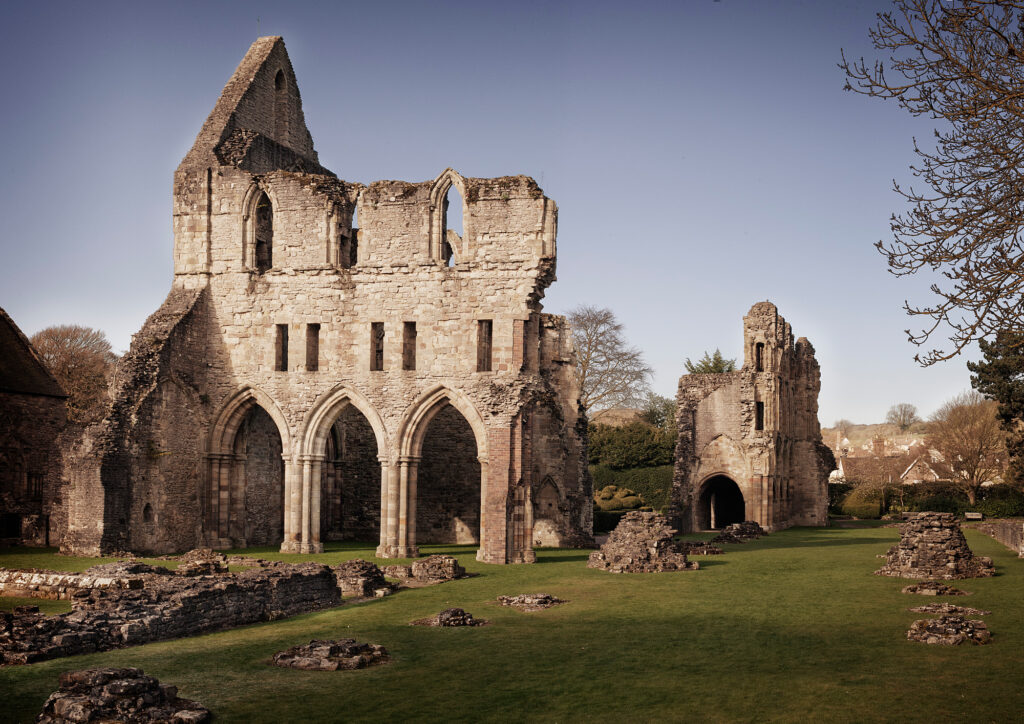 Wenlock Priory, on the outskirts of the beautiful old town of Much Wenlock, is another romantic medieval ruin. The considerable remains date from 1082, making it one of the first Cluniac monasteries in England. Don't miss a decoratively-carved lavabo, a huge water vessel where the monks once washed their hands, and the topiary-filled cloister garden.
Tudor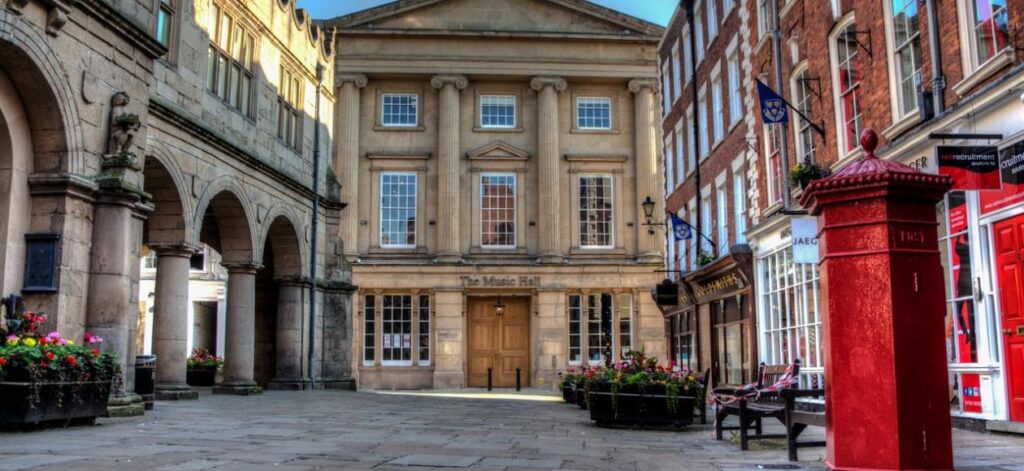 Shrewsbury thrived in the 16th century largely due to its many wealthy drapers – merchants who dealt in the trade of woollen cloth. You'll find lots of fine buildings from the Tudor period, including the Old Market Hall, built by the Guild of Drapers, and Owen's Mansion directly across The Square, one of the most impressive of the town's many black-and-white, half-timbered buildings. To discover more, sign up for a guided walking tour, or buy a leaflet from the Visitor Information Centre detailing a self-guided walk around Tudor Shrewsbury.
Stuart
Boscobel House is a timber-framed lodge where in 1651, after defeat at the Battle of Worcester, Charles II took refuge from Parliamentarians, spending the night in a priest hole. Earlier that day the king had hidden from Cromwell's soldiers in the branches of a nearby oak tree, which thus became known as The Royal Oak. In the grounds of the house stands a descendant of that famous tree.
Georgian
Owned by the National Trust, Attingham Park epitomises the lifestyle of the Georgian aristocracy. The grand Palladian mansion was built in 1785 for the first Lord Berwick (family motto "let wealth be his who knows its use"), and contains a vast collection of Regency furniture, paintings, silver and porcelain. The 4,000-acre estate includes a deer park, woodland, pleasure grounds and restored Georgian kitchen garden, all of which can be explored.
Industrial Revolution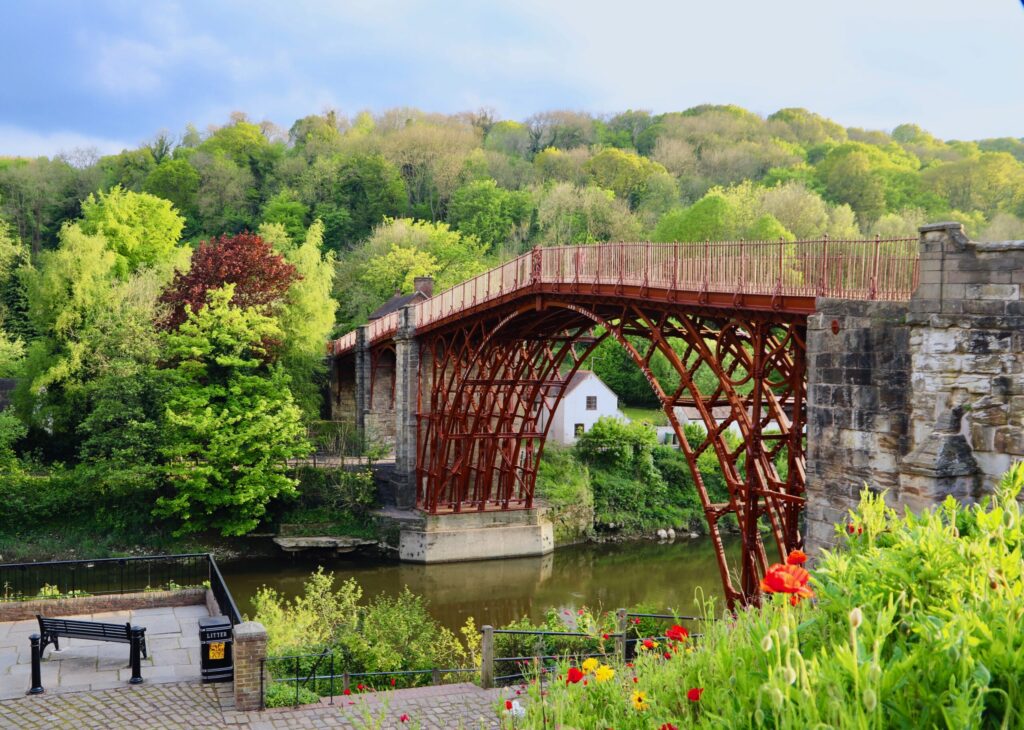 The Industrial Revolution had its roots in the 18th century in a section of the Severn Valley between Ironbridge and Coalport, and in nearby Coalbrookdale and Madeley. The whole area is now a UNESCO World Heritage Site called the Ironbridge Gorge, and includes ten museums and attractions. Coalbrookdale is where everything began, in 1709, when Abraham Darby developed the technique of smelting iron with coke, and the Coalbrookdale Museum of Iron is an ideal starting point for visitors. But the single unmissable sight is the Iron Bridge, the world's first bridge made of iron, which elegantly spans the River Severn.
Shrewsbury Flaxmill Maltings, once a state-of-the-art steam-powered flaxmill spinning linen thread from flax, is another important Shropshire site in the story of the Industrial Revolution. The main mill was the world's first iron-framed building when built in 1797, and as such paved the way for skyscrapers. The complex is undergoing a massive restoration project led by Historic England, with a new visitor centre scheduled to open in spring 2022.
Victorian
Blists Hill Victorian Town is a painstakingly recreated small industrial town set in the year 1900. Part of the Ironbridge Gorge Museum Trust, it is made up of shops, workshops, factories and cottages, occupied by "real" Victorian people going about their day-to-day lives. Some buildings are original to this former industrial landscape site, while others have been moved here brick by brick. The living museum is a fun and educational attraction for all the family.
Twentieth Century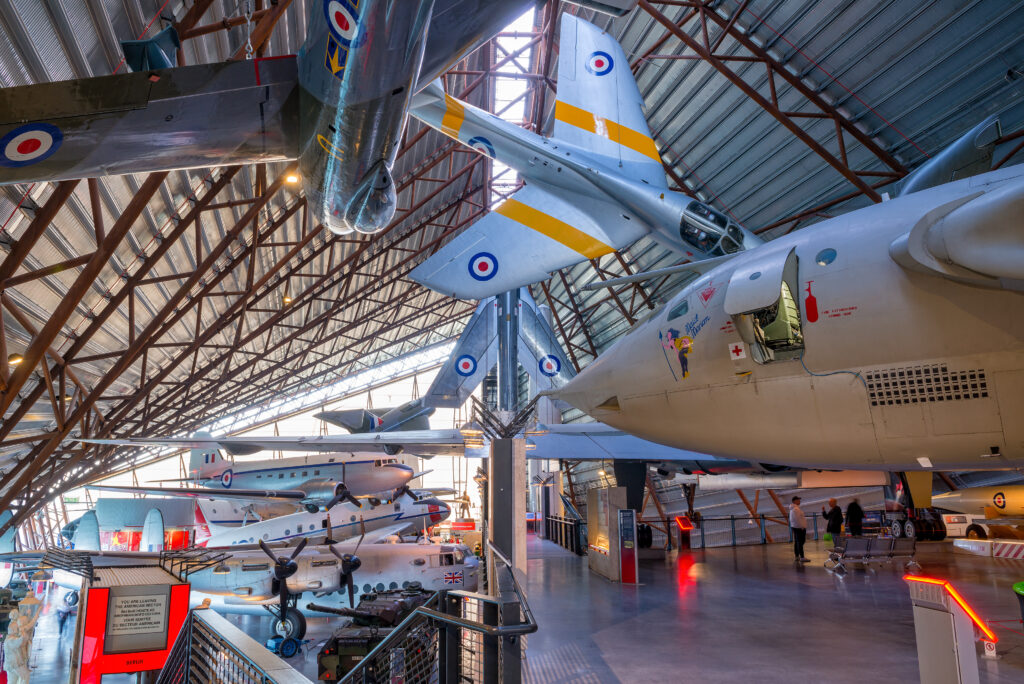 On display in the hangars of RAF Museum Cosford are some 75 planes. There are experimental aircraft in the Test Flight area, the world's oldest Spitfire in the War in the Air Hangar, and three V-Bombers – a Vulcan, Victor and Valiant – in the highly engaging National Cold War Exhibition, which has a much wider scope than just aviation. The museum is free, though there are charges for simulated experiences such as flying with the Red Arrows or in a Spitfire.
Historic Places To Stay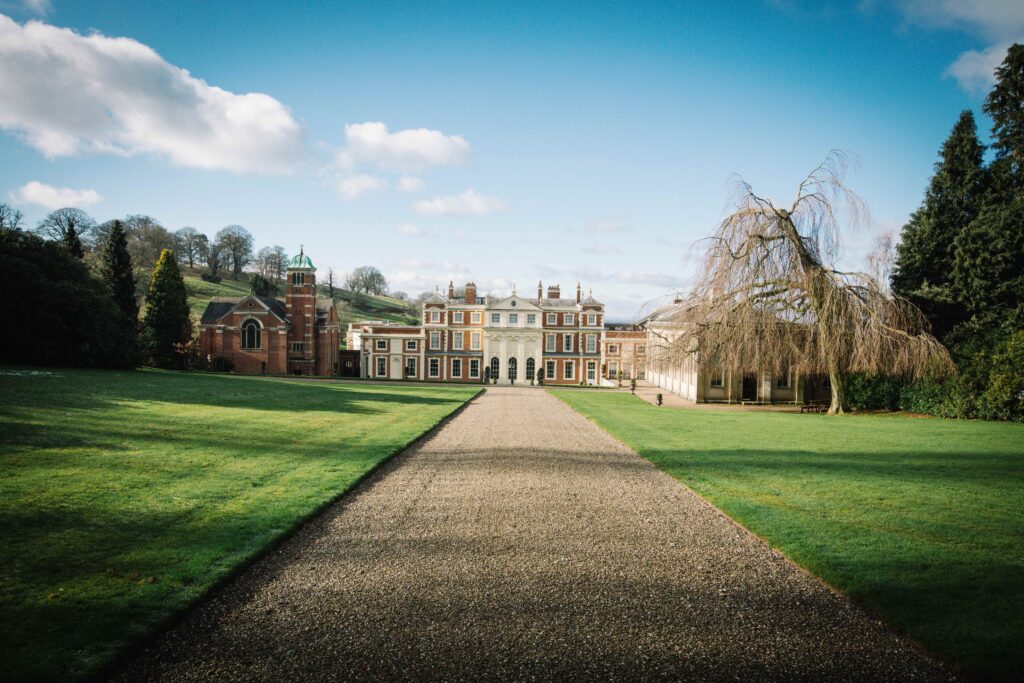 The Feathers Hotel, a Grade 1-listed Jacobean landmark in Ludlow with a wonderful black-and-white timbered façade, has recently undergone a costly makeover. Rowton Castle, a castellated pile dating back to the 13th century around 15 minutes' drive west of Shrewsbury, has four-poster bedrooms and 17 acres of grounds. Whitton Hall, in a hideaway spot between Shrewsbury and the Welsh border, is an elegant, red-brick, early Georgian house where you are welcomed into what is very much a family home. Meeson Hall, a red sandstone manor house built in 1640 and set in eight acres of landscaped gardens and paddocks north of Telford, is a traditionally-styled, small-scale hotel. Hawkstone Hall in north Shropshire bills itself as "a very big house in the country". And that it is: the 18th-century mansion has gilded ceilings and sweeping staircases, and sits in an 88-acre estate. YHA Wilderhope Manor gives you the chance to stay in magnificent historic surroundings on a budget. Halfway between Much Wenlock and Church Stretton, the Elizabethan manor house is a youth hostel. Open March-October only, except for exclusive hire.
If you want to self-cater, The Landmark Trust, which specialises in restoring and renting out historic properties, has half-a-dozen fascinating houses in Shropshire. They include St Winifred's Well, a medieval well chapel, and The Birdhouse, a Georgian pavilion perched above a natural ravine.