Shropshire is a treasure trove of intriguing and often rather quirky facts. For example, did you know that Salop is an old name for the county? And that Shropshire residents are called Salopians?
We've put together 20 more "did you know?" nuggets of information about various aspects of Shropshire – including its countryside, history, culture, food and drink and transport. And, in keeping with the quirky theme, should you be tempted to visit the county to learn and discover more, we've recommended some unconventional places to stay.
Landscape
At 1,347 square miles, Shropshire is the largest county in England without a coastline. It's just a fraction bigger than landlocked Wiltshire.
Shropshire rocks! No other area of equivalent size in the UK has such geological variation. Twelve of the 13 geological periods can be found in the county. In the Shropshire Hills in the south, Ludlow and Wenlock Edge have given their names to similar rock types found around the world.
Shropshire has a mini Lake District. It's made up of beautiful, wildlife-rich "meres", formed by retreating glaciers around 12,000 years ago and fed not by streams but water draining from the surrounding land. The Mere at Ellesmere is the biggest; Cole Mere can be walked right around.
History
The village of Ruyton-XI-Towns, between Oswestry and Shrewsbury, is the only settlement in the UK with Roman numerals in its name. Ruyton of the Eleven Towns got its unusual name in the 12th century, when its castle controlled 11 nearby townships.
Ever wondered why so many pubs are called The Royal Oak? It's all to do with the future King Charles II hiding in 1651 from the Parliamentarians in an oak tree in the grounds of Boscobel House, where you can see a descendant of that very tree.
Shropshire boasts a UNESCO World Heritage Site in the form of Ironbridge Gorge, acknowledging the area's key role in the birth of the Industrial Revolution in the 18th century. The landmark Iron Bridge itself, erected over the River Severn in 1779, was the first bridge in the world made of iron.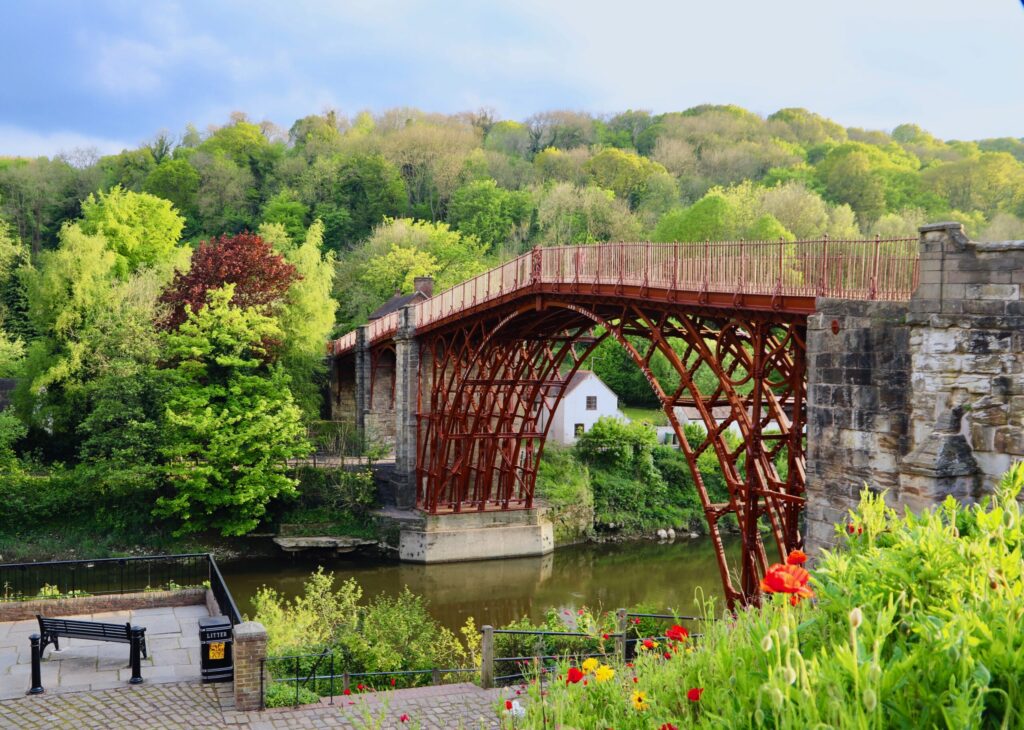 When built in 1797, the Main Mill at Shrewsbury Flaxmill Maltings was the world's first iron-framed building. Its construction paved the way for modern skyscrapers. A new visitor centre is due to open at the complex in spring 2022.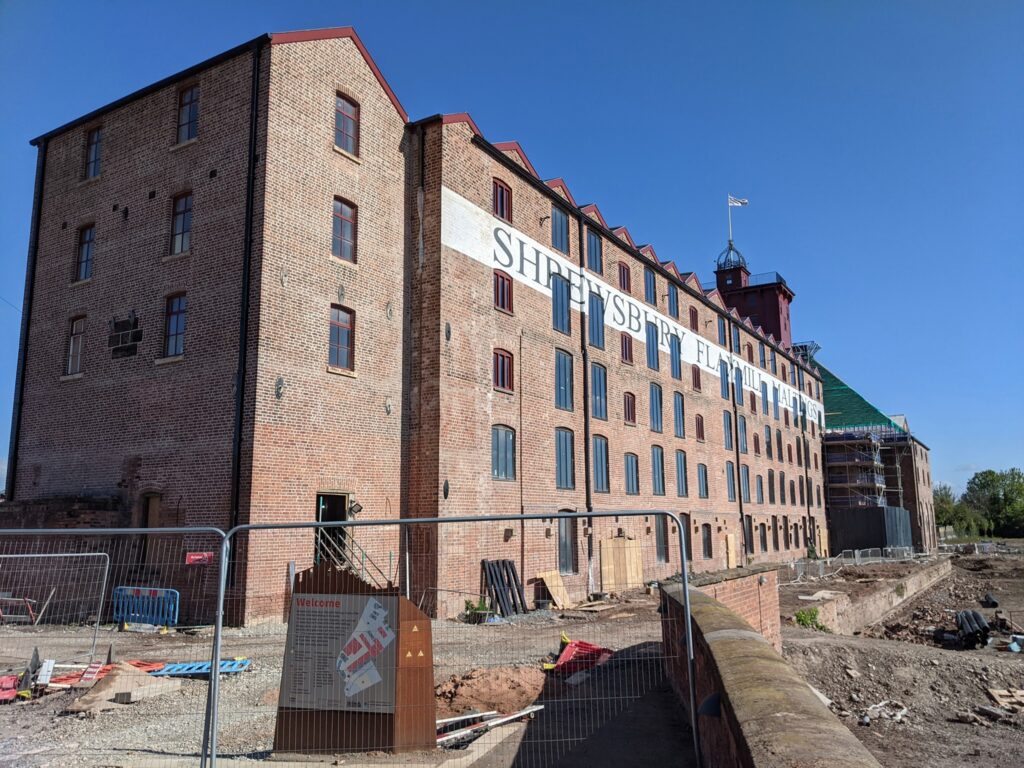 Charles Darwin was born in 1809 in Shrewsbury and educated at Shrewsbury School. A statue of the naturalist sits outside Shrewsbury Library, which was once the school, and you can follow a Darwin walking trail around the town.
The modern Olympic Games have their roots in, of all places, the little Shropshire town of Much Wenlock. Back in 1850, social reformer William Penny Brookes launched the Wenlock Olympian Games, which still take place each year. A visit to Much Wenlock by Baron Pierre de Coubertin in 1890 was instrumental in reviving the international Olympic movement. Learn more on the town's Olympian Trail.
Culture
A Shropshire Lad, a collection of 63 poems by A E Houseman that wonderfully evoke the county and English countryside, has never been out of print since it was first published in 1896. Funnily enough, Houseman was born in Worcestershire, never lived in Shropshire or even spent much time there. His ashes, however, rest in Shropshire, at St Laurence church in Ludlow.
The 1984 adaptation of Dickens' A Christmas Carol, starring George C Scott, was filmed in Shrewsbury. The headstone prop of Ebenezer Scrooge can be found in the graveyard of St Chad's church. Dickens actually gave a reading of A Christmas Carol in Shrewsbury's Music Hall in 1858.
The Poetry Pharmacy prescribes poems rather than pills. The beautiful Victorian shop on the high street of arty Bishop's Castle is a bookshop, events centre and writers workshop space. It also has art, gifts and stationery to address emotional ailments, and you can book poetry consultations.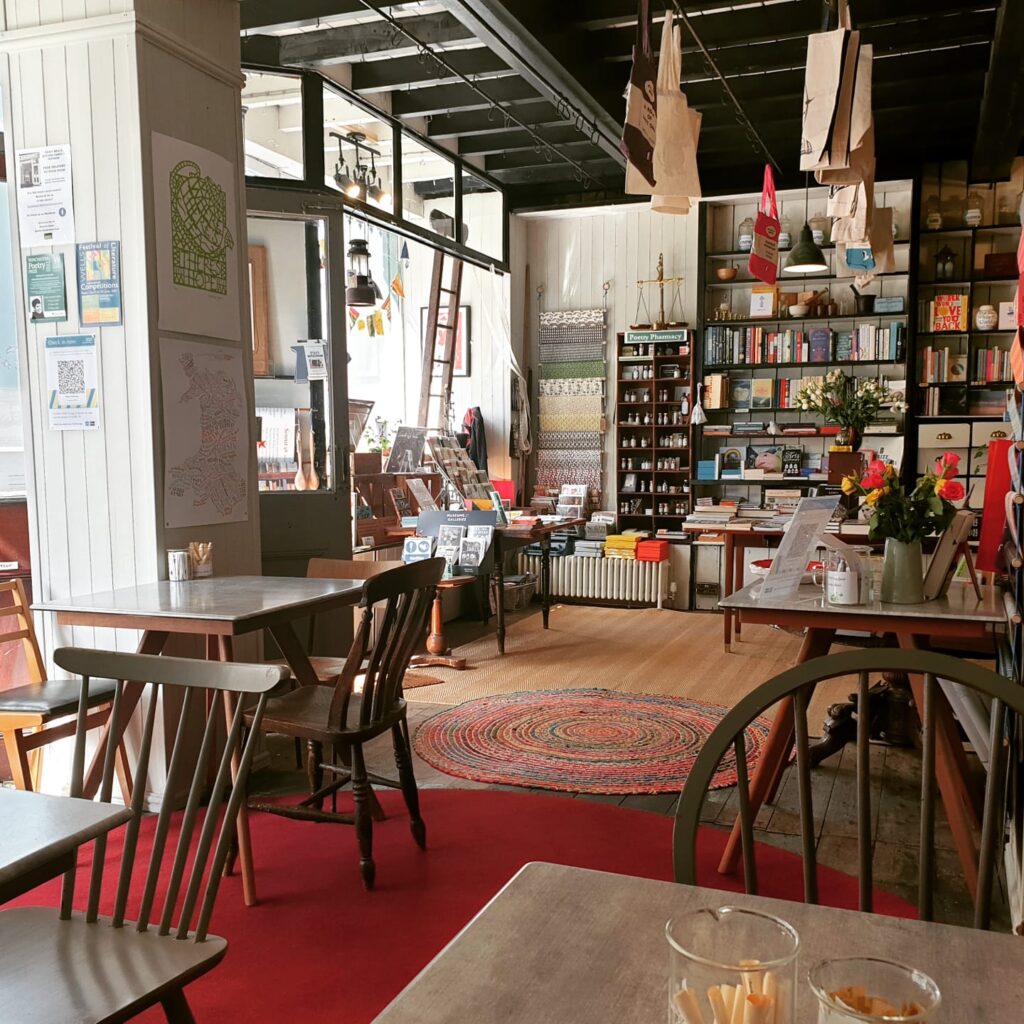 Shrewsbury has been dubbed the unofficial capital of the UK cartoon industry. Charlie Adlard, the artist behind The Walking Dead series, lives in town, and John Wagner, co-creator of Judge Dredd, resides in Shropshire. They and other creatives have collaborated in a new comic art trail around Shrewsbury.
Food, drink and shops
The Ludlow Food Festival is the UK's original food festival. When it was established back in 1995, the idea of having an event to promote and celebrate local food and drink producers, along with foodie shops, cafés and restaurants, was a novel idea. The annual festival takes place each year in the grounds of Ludlow Castle (9-11 September in 2022), and has expanded from its origins to include to The Spring Festival (14 and 15 May 2022), which focuses on real ale, music and classic cars, and Magnalonga (14 August 2022), a food and drink walk.
The Three Tuns Brewery in Bishop's Castle makes a fair claim to being the oldest working brewery in Britain. The first brewing licence at the site was issued back in 1642. You can sample the beers in the adjacent Three Tuns Inn, which has similar historic pedigree.
No one is sure why the traditional Shropshire dish of fidget pie is so called. It may be because it once had five sides (or was "fitched") to make it easily portable, or it smelt like a polecat (for which "fitch" is another term), or due to the ingredients – typically gammon, apples, potatoes, onions and cider – moving around a lot in their pastry case. The pie can be bought in Ludlow Farm Shop.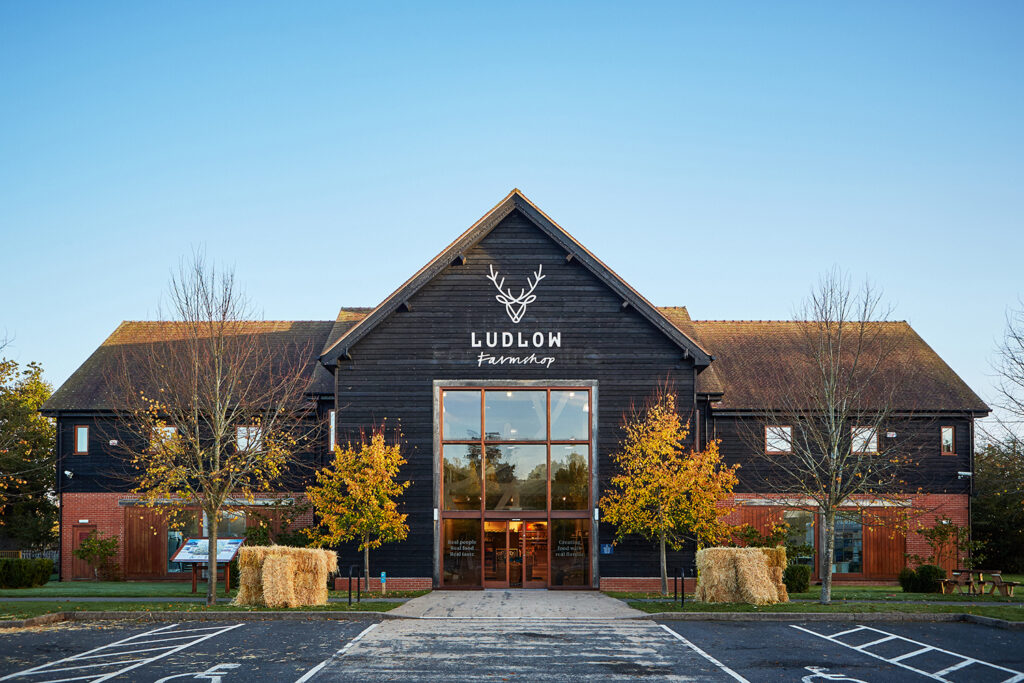 The whinberry – also sometimes called wimberry – is the Shropshire term for a bilberry. The berries are found in season in the Shropshire Hills, especially around the Stiperstones. They were an important crop before the Second World War, used as dye in the textile industry. The Stiperstones Inn has whinberry crumble on its menu.
Climbing up from English Bridge to the centre of Shrewsbury is Wyle Cop, the longest row of uninterrupted independent traders anywhere in the UK. In the ancient, timber-framed buildings you'll find shops selling jewellery, clothes, art, books, records, food, drink and much else besides, along with inviting cafés and old coaching inns.
Transport
Ironbridge coracles have been around for hundreds of years. The bowl-shaped craft, made of wood with a waterproof membrane, were used for fishing and transportation – including getting across the River Severn before the Iron Bridge was constructed and after it was built to avoid paying the toll. There's an annual coracle regatta on August Bank Holiday Monday. Shropshire Raft Tours is planning on renting out coracles in Ironbridge in summer 2022.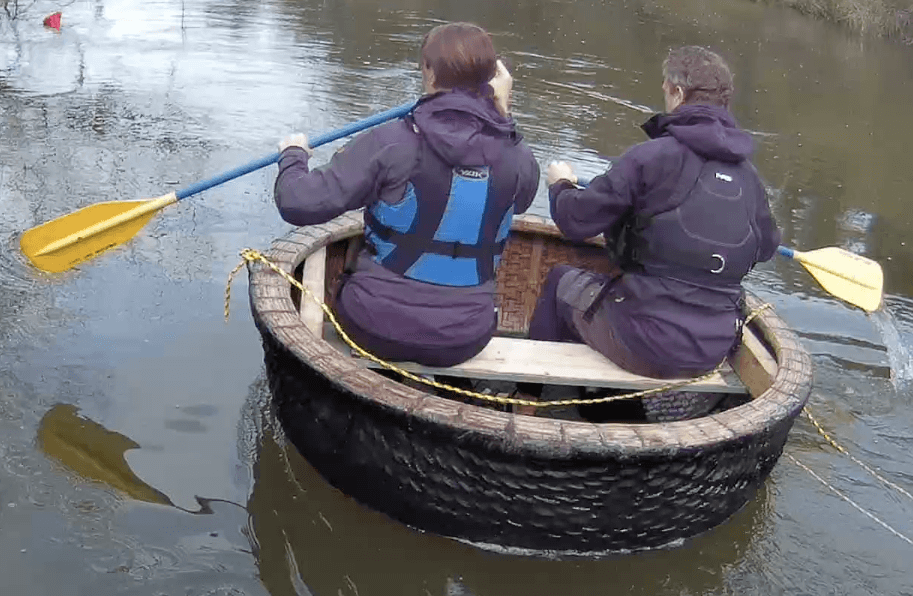 Linking Bridgnorth's Low Town and High Town is the UK's steepest inland funicular railway. The Bridgnorth Cliff Railway has been operating since 1892, and the splendid aluminium cars that run along the 201ft tracks are of 1955 vintage.
Unusual places to self-cater in Shropshire
Coalport Station Holidays offers two beautifully converted railway carriages, sleeping four and six, in a disused country railway station within the Ironbridge Gorge World Heritage Site.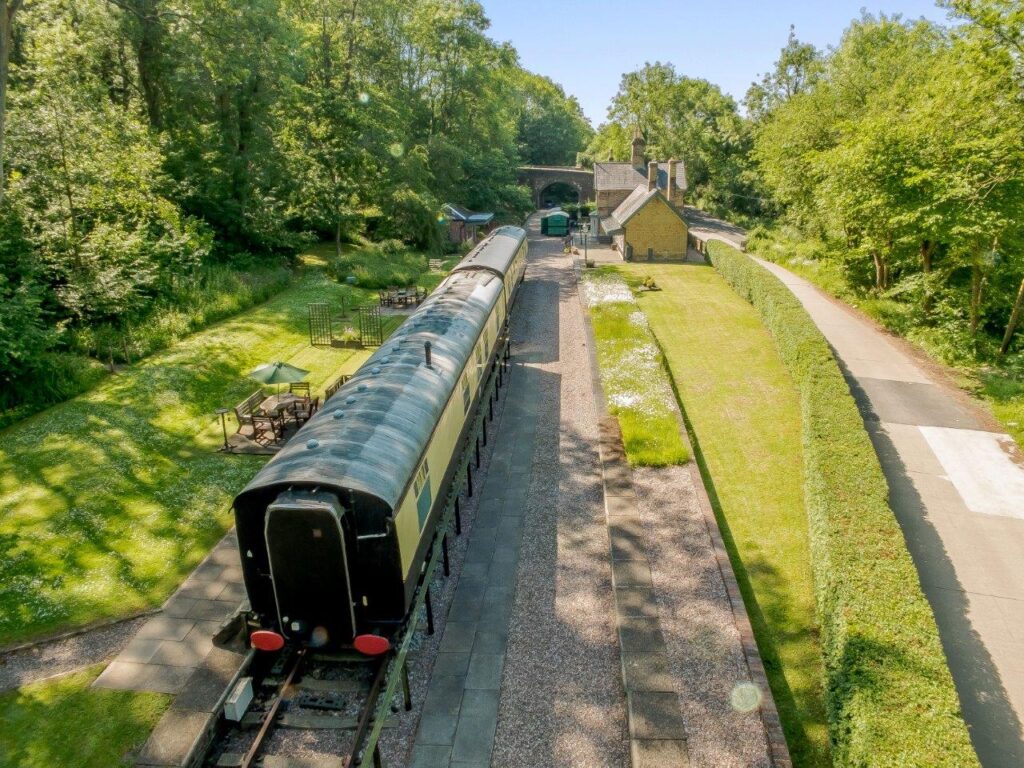 The Boars Head Pub in Bishop's Castle is a smartly furnished former inn dating from the 16th century, rented out in its entirety. Sleeping 23, it comes with all the traditional fixtures and fittings you'd expect of a pub, including of course a bar. You can ask for beer to be stocked on tap or bring your own supplies.
Hencote provides luxury glamping – safari lodges with wood-burning stoves, hot tubs and bathrooms with underfloor heating – on a wine-producing estate near Shrewsbury, with vineyard tours and wine tastings included in packages.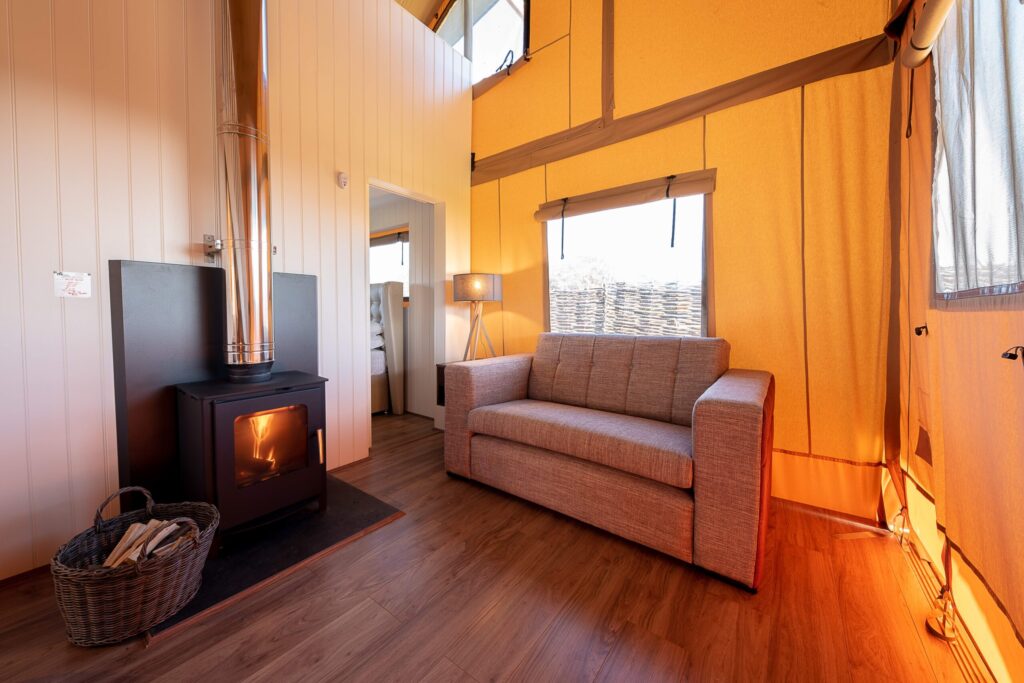 Dracup's Cottage is a remarkable little home (sleeping two) in Bridgnorth, with a pillared knights' cavern cave and rooms quirkily painted and decorated by the one-time owner, artist Anthony Dracup.
Walcot Hall, which is ideally placed to explore the Shropshire Hills, has some quirky accommodation within its extensive estate grounds, from a wheelwright's shop and repurposed chapel to a glamping fire truck and showman's caravan