Shropshire is one of England's least densely populated counties. It's a deeply rural part of the world. Encompassing verdant hills, ancient woodlands, windswept moorland and mysterious lakes, the scenery can be spectacular. A quarter of the county is covered by the Shropshire Hills Area of Outstanding Natural Beauty, much of which is just as beautiful as our national parks.
Pretty much the whole of Shropshire is fantastic for walking. The countryside is criss-crossed with nearly 3500 miles of footpaths, bridleways and byways, and there are also several long-distance walking routes to throw into the mix. The 200-mile-long Shropshire Way spreads in a figure of eight loop over the county. Some 28 miles of Offa's Dyke Path National Trail passes through Shropshire.
Below we've picked out nine walks. All are circuits – you start and finish in the same place – and are day walks. They take in some of Shropshire's best scenery, sometimes visit impressive historical sites, and in most cases take you well away from the crowds.
There's a wide variety in the length and difficulty of the walks. For each walk we've identified who it is most suitable for:
* Amblers – for families with younger children and people with limited mobility
* Ramblers – for active people with moderate levels of fitness and families with older children
* Scramblers – for confident, challenge-seeking walkers with higher levels of fitness.
We've also picked out an appealing place to stay near to each walk.
For more ideas, the walking section of Shropshire's Great Outdoors website – Shropshire's Great Outdoors – is a fantastic resource, with details of dozens of walks.
---
Unspoiled south-west Shropshire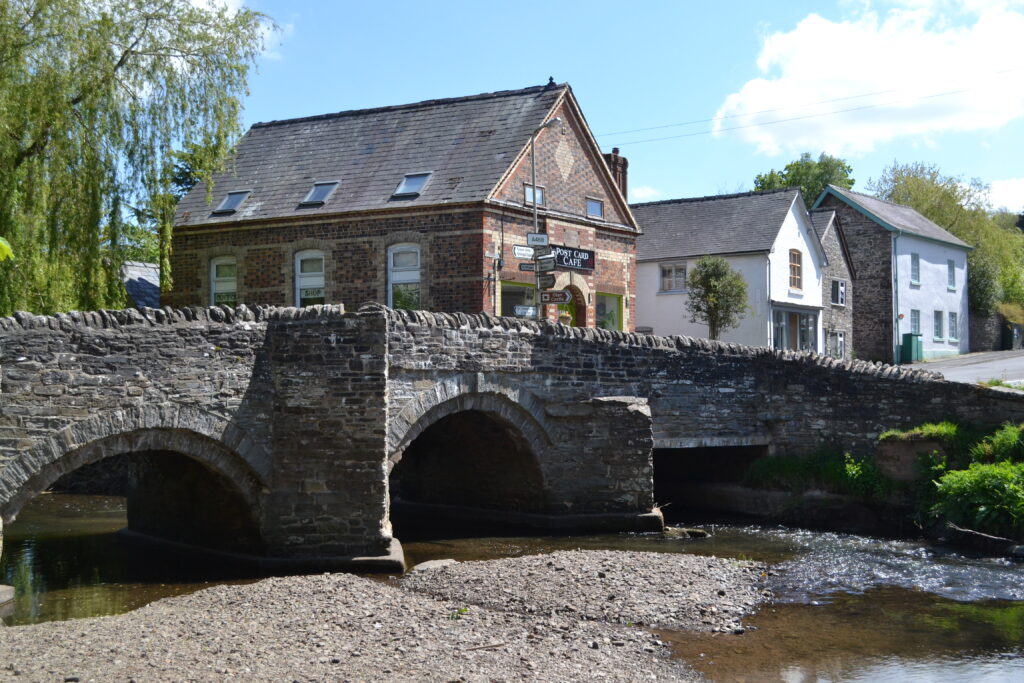 The wide expanses of wonderfully quiet and hilly countryside in the south-western corner of Shropshire offer some of the county's most enjoyable off-the-beaten-track walking territory. This varied and rewarding 6.5-mile walk starts in Clun, a characterful village with the substantial remains of a Norman castle. As the route ascends the Clun Valley, great views open up towards Wales and Ludlow. Climbing up through woodland, you reach Bury Ditches, an Iron Age hillfort dating from around 500BC, that is all the more memorable for being surrounded by trees. Then it's back to lovely Clun on a different route, where you could recuperate in the welcoming White Horse Inn, which has its own micro-brewery.
Suitable for: ramblers/scramblers.
More information: Hills Forts & Woodlands of Bury Ditches Walk
There's the option of a shorter route (4.5 miles) skipping the fort.
Where to stay: The School House B&B, a former Victorian schoolhouse in Chapel Lawn turned into high-quality guesthouse that is very geared up for walkers. It's about 10 minutes' drive south of Clun.
---
Striking tors and ancient trees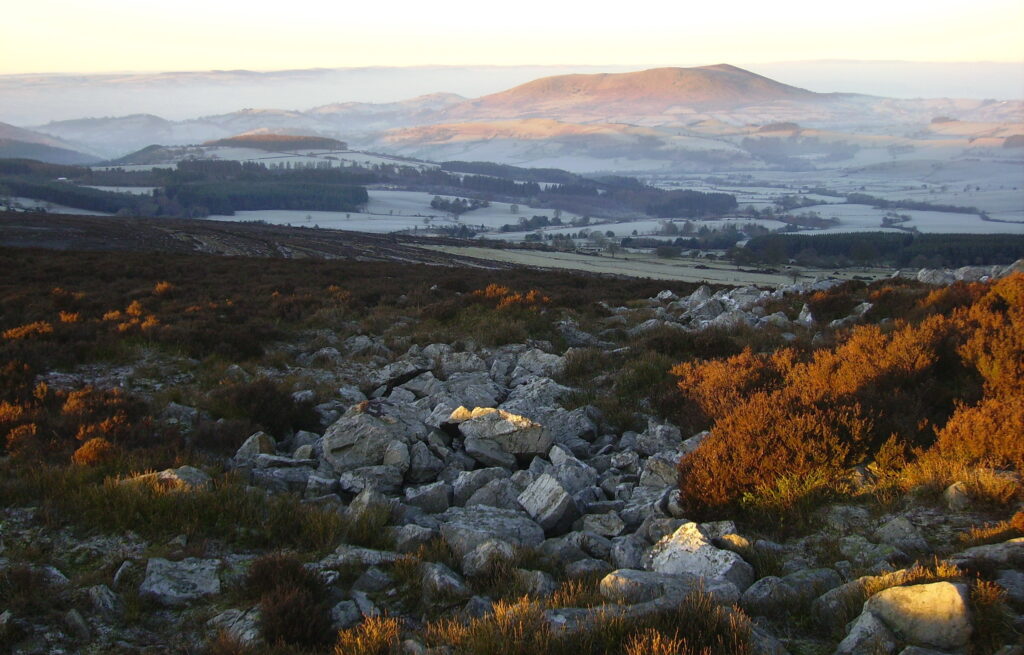 The Stiperstones is a dramatic six-mile ridge of wild heathland with outcrops of quartzite rock along its spine. This 5.3-mile-long walk from the village of Snailbeach, at the northern end of the Stiperstones, follows part of the ridge, taking in stunning views into Wales. But the hike has lots of other highlights too. You pass ruins of old lead mines and restored "squatter" cottages built by the miners, and enter The Hollies nature reserve, a grove of some 200 gnarled and very old holly trees – some are thought to be getting on for 400 years old. Later in the walk, you visit another nature reserve called Brook Vessons, an atmospheric and secluded place known for its giant rowan, birch and crab apple trees.
Suitable for: ramblers/scramblers.
More information: Countryfile, Snailbeach and The Hollies, Shropshire
Where to stay: One of the three holiday cottages in the village of Stiperstones rented out by The Stiperstones Inn.
---
Shropshire's highest peak
Following a part of the Shropshire Way and paths used in prehistoric times, this seven-mile hike from the hamlet of Abdon takes you up, over and around Brown Clee Hill. One of its twin summits is the highest point in Shropshire (540m). As you might expect, the views are spectacular. To the east there is nothing loftier until you reach the Urals in Russia. The moorland – a wild expanse of bracken and heather – offers solitude and tranquillity now, but the hill was heavily quarried from medieval times through to the early 1900s: tell-tale signs such as bell pits can be seen. The route also passes the ramparts of Nordy Bank, a striking Iron Age fort. Brown Clee lies roughly half-way between Bridgnorth and Ludlow.
Suitable for: ramblers/scramblers.
More information: The Shropshire Way, Circular Walk Brown Clee
Where to stay: The Pheasant at Neenton, a community-owned, 18th-century country inn which is acclaimed for its food. It's a 15-minute drive away from the start of the walk.
---
Shropshire's best section of Offa's Dyke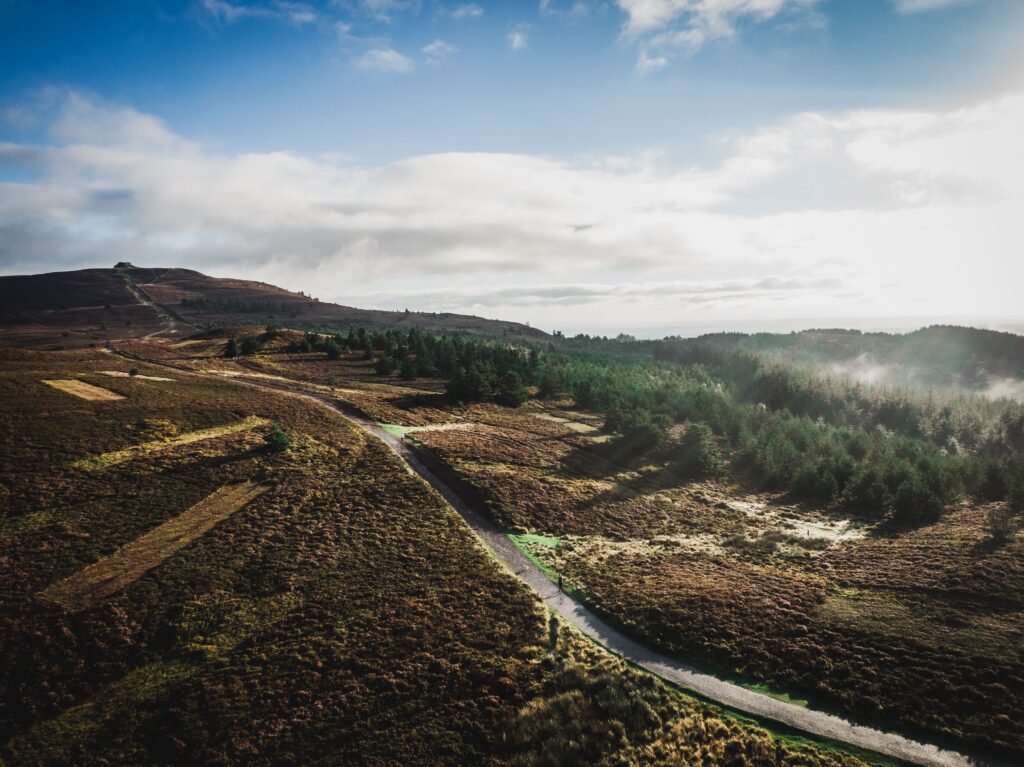 This fairly strenuous seven-mile hike from Selattyn to Bronygarth follows arguably the most impressive and best-preserved section of Offa's Dyke – the vast bank and ditch constructed back in the 8th century – within Shropshire. Here, the linear earthwork actually marks the English/Welsh border. The walk also takes in much else of interest, notably Selattyn Hill's Bronze Age ring cairn and Victorian tower used as a World War Two lookout, along with old lime kilns and field systems. There are distant views to enjoy of Chirk Castle, a Marcher fortress begun in the late 13th century.
Suitable for: ramblers/scramblers.
More information: Offa's Dyke Path Circular Walk, Tower & Ramparts
The complete walk is in a figure of eight form, and can be tackled in two shorter loops.
Where to stay: Pen y Dyffryn, a lovely country-house hotel on the English/Welsh border, 10 minutes' drive from the start of the walk near Selattyn. The hotel provides details of many walks starting from its front door.
---
Oswald's Trail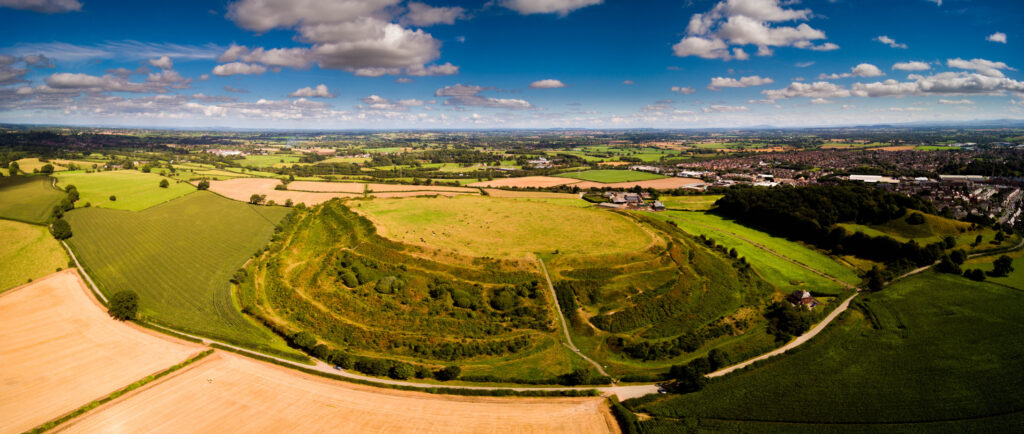 The rolling countryside around the ancient market town of Oswestry in north-west Shropshire, close to the Welsh border, has lots of places of historical interest. You can take them in by following Oswald's Trail, a 12.6-mile circuit of Oswestry named after an Anglo-Saxon king who died in a nearby battle. Highlights include vast Old Oswestry Hillfort, one of the most impressive Iron Age hillforts in Britain, and Oswestry Old Racecourse Common – set on a high plateau, the course dates from the 18th century. The route also includes short sections of the trails along Offa's Dyke and the lesser-known Wat's Dyke, another linear earthwork.
Suitable for: ramblers.
More information: Oswalds Trail
Where to stay: Wynnstay Hotel and Spa, a Georgian coaching inn converted into a four-star hotel, in the centre of Oswestry.
---
Around Shropshire's mini Lake District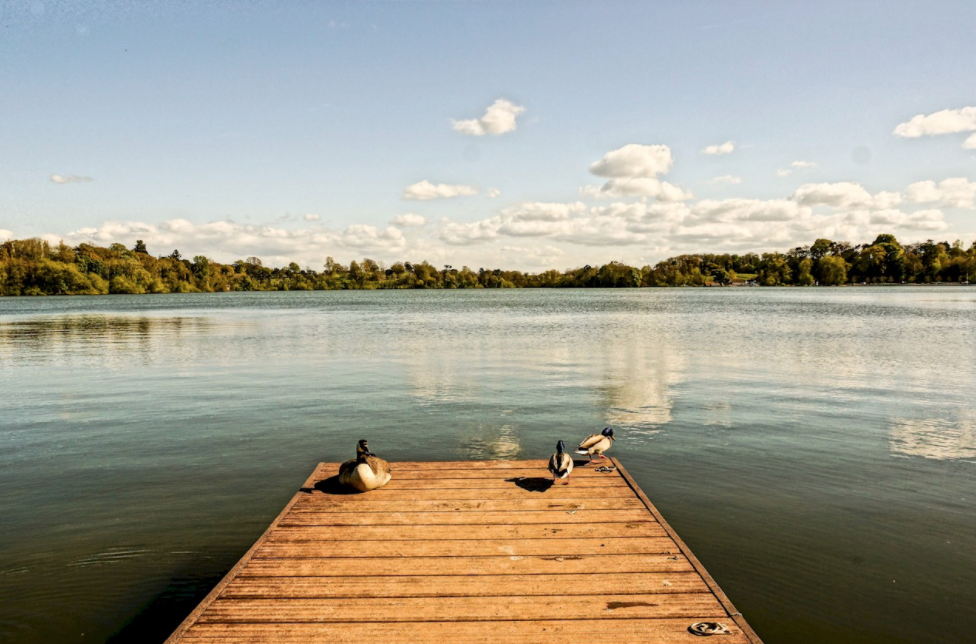 Shropshire has a collection of scenic lakes, called meres, that were formed by retreating glaciers in the last Ice Age. This seven-mile Meres Meander walk starts in the market town of Ellesmere, takes you along the towpath of the Shropshire Union Canal, past Blake Mere, then around beautiful Cole Mere, which is encircled by mature woodland and hay meadows. The walk then cuts through the countryside back towards Ellesmere and the shores of The Mere, by far the largest and most visited of the lakes. On the walk you can expect to see gulls and ducks aplenty, and maybe kingfishers, dragonflies and rare lilies and irises in the warmer months.
Suitable for: ramblers, plus amblers for the shorter walks.
More information: Meres Meander– which also suggests options for shorter walks around the meres.
Where to stay: The Red Lion, a friendly old coaching inn in Ellesmere, a stone's throw from The Mere.
---
Industrial heritage walk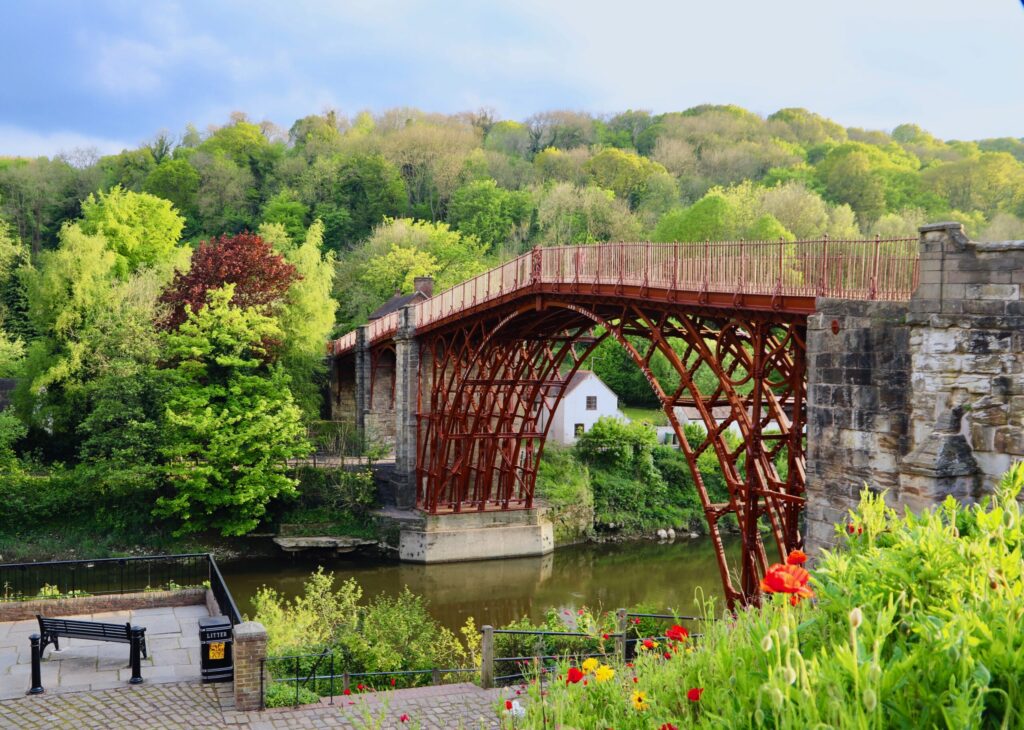 Ironbridge Gorge UNESCO World Heritage Site isn't just about museums related to the Industrial Revolution. You can also explore the historic landscape on a network of informative trails. The 3.5-mile-long circular Iron Trail begins at the iconic Iron Bridge, and follows the Wharfage along the River Severn. It continues up to Coalbrookdale and on to Dale Coppice and Lincoln Hill, which in the 18th century were laid out with "Sabbath Walks" for workmen and their families, and had ornamental follies from which to take in the views. The view from where the Rotunda stood is quite something.
Suitable for: amblers.
More information: Severn Gorge Walking Leaflet
For more walking routes in the Ironbridge area see: Severn Gorge Countryside Trust
Where to stay: Ironbridge Holidays has a selection of inviting self-catering apartments and cottages in and around Ironbridge.
---
A family-friendly adventure
If you're looking for an undemanding walk in north Shropshire with lots to engage the kids, this 2.5-mile exploration of Grinshill and Corbet Wood should fit the bill. Sandy paths and woodland tracks take you past old quarries that provided the sandstone used to build many of the county's finest churches, as well as the English and Welsh bridges in Shrewsbury. From the easily-reachable summit of Grinshill Hill, far-reaching views unfurl over a patchwork of fields, with the Shropshire Hills in the distance. Information boards explain about prehistoric flints and fossils found in the area. The start of the walk is nine miles north of Shrewsbury.
Suitable for: amblers.
More information: Shropshire's Great Outdoors, Grinshill & Corbett Wood
For more family-friendly walks in Shropshire created with children in mind see: Shropshire's Great Outdoors Family Walks
Where to stay: Amblewood Cottage or Woodpeckers, a pair of cosy-looking, self-catering rentals in the village of Grinshill, with direct access to the woodland and hillside walks.
---
A foodie hike
Ludlow Magnalonga brings together two aspects of what makes Shropshire so special – lovely countryside and superb local food. The annual event, scheduled for 14th August in 2022 (its nineteenth year), takes the form of a circular walk starting in or near Ludlow, passing along footpaths and quiet country lanes and going up and down hills near the county's foodie capital. The route is different each year but always about eight miles long. During the walk you have several refreshment pitstops, where you're served mouth-watering produce from around Ludlow and the Welsh Marches, such as stews, pies, scotch eggs, cheeses, cakes and ice-cream, along with local ale, perry, cider and cordials.
Suitable for: ramblers.
More information: The Magnalonga. Tickets (£28-£30 per person) go on sale mid-June 2022 and are likely to sell out fast.
Where to stay: Steeple Mews Holiday Homes, six stylishly furnished holiday homes in a gated courtyard development in the heart of Ludlow.